Statistically Speaking: Preds ride Rinne to victory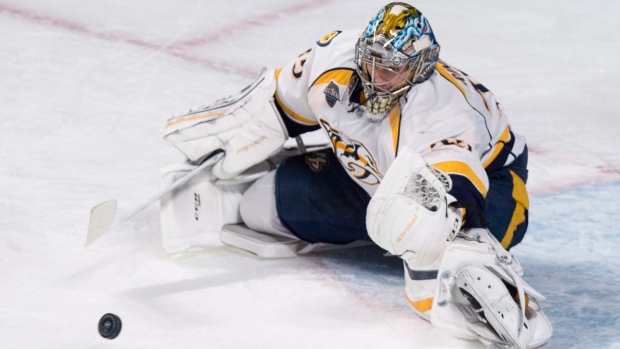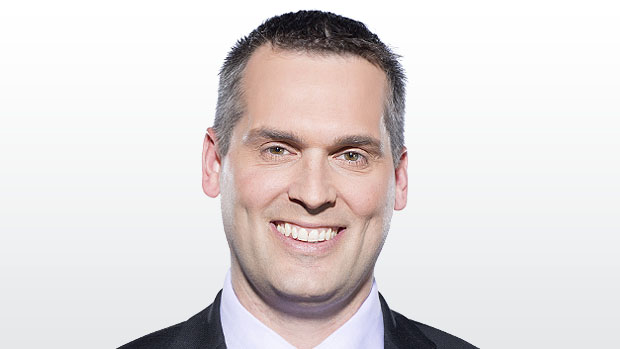 Rinne backstops the Predators to another win; Elliott, Smith, the Blues' big line and more in Scott Cullen's Statistically Speaking.
The Nashville Predators stole two road games to start their series with the Anaheim Ducks, and they've held an advantage in goal thanks to Pekka Rinne, who stopped 27 of 29 shots in a 3-2 Game Two win.
Rinne is very much a wildcard for the Predators and their playoff hopes. He's been a (top three) finalist for the Vezina Trophy three times, so he holds a reputation for being a top-tier puck-stopper, yet he's been clearly below average in three of the past four seasons, ranking 20th out of 24 goaltenders in save percentage among goaltenders that played in at least 160 games.
Through two road games in Anaheim, Rinne has stopped 54 of 58 shots (.931 SV%), which has been better than his Anaheim counterpart John Gibson (54 of 60, .900 SV%) and, as a result, the Predators return home with a 2-0 series lead.
HEROES
Brian Elliott - St. Louis' goaltender turned away 44 of 46 shots in a 3-2 Game Three win at Chicago; the 31-year-old led the league with a .930 save percentage during the regular season, and has stopped 105 of 109 shots (.963 SV%) in three games against the Blackhawks.
Reilly Smith - Making an early Conn Smythe case, the Panthers winger put up a goal and two assists in a 4-3 overtime loss to the Islanders. He has eight points (4 G, 4 A) and 15 shots on goal in three postseason games. Of course, for Smith to really have a shot at the Conn Smythe, he's going to need to advance through the first round and the Panthers are currently down two games to one.
Jaden Schwartz, Jori Lehtera and Vladimir Tarasenko - In addition to Schwartz netting the game-winner on a third-period power play, this Blues line controlled play (18 for, 4 against, 81.8 SAT%) at even-strength in Game Three. Oh, and they did it while matched primarily against Chicago's top defence tandem of Duncan Keith and Niklas Hjalmarsson.
ZEROES
Alex Killorn, Tyler Johnson and Nikita Kucherov - Tampa Bay's top line, which was so dangerous in the first two games, couldn't get loose in Game Three, as none of the three managed a shot on goal. They ran into trouble going head-to-head against Detroit's newly-formed checking line comprised of Riley Sheahan, Luke Glendening and Justin Abdelkader.
Matt Martin and Cal Clutterbuck - The Islanders' fourth-line bangers were on for all three goals against, and had poor possession numbers together (4 for, 17 against, 19.1 SAT%) in a 4-3 overtime win against Florida.
Miikka Salomaki and Paul Gaustad - Nashville's fourth-line forwards were hemmed in the defensive zone (2 for, 14 against, 12.5 SAT%), in a 3-2 win at Anaheim.
Anaheim's lack of discipline - Came away with one power play, compared to Nashville's five, in Game Two, but that lopsided count was earned, according to Ducks head coach Bruce Boudreau, who lamented after the game, "Too many penalties, for sure. We were just stupid out there. The penalties we take, sometimes, are just so selfish and so dumb."
STANLEY CUP HALF FULL/HALF EMPTY
Andreas Athanasiou - The flashy Red Wings rookie scored a goal, and turned heads with a spin-o-rama move that created another scoring chance, but still only played 9:05 in Detroit's 2-0 Game three victory against Tampa Bay.
VITAL SIGNS
Petr Mrazek - After Jimmy Howard started the first two games at Tampa Bay, the Red Wings turned to Mrazek, who had been their No. 1 for most of the season, and Mrazek posted a 16-save shutout in a 2-0 Game Three win.
Kevin Bieksa - The veteran blueliner was back in the Anaheim lineup, for the first time since suffering an upper-body injury March 24, and played 17:46, almost entirely alongside partner Cam Fowler.
Steve Ott - St. Louis' agitator played his first game since December 5, finally recovered from a torn hamstring. He delivered four hits in 6:29 at Chicago.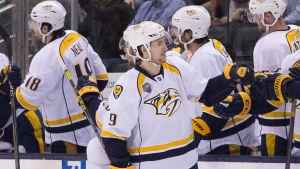 SHORT SHIFTS
Predators RW Craig Smith scored a goal and added an assist in a 3-1 win at Anaheim; he has goals in both games of the series…Predators LW Filip Forsberg had a pair of assists, continuing his strong second half into the postseason. Including playoffs, Forsberg has 37 points (20 G, 17 A) in 34 games since the All-Star break…Islanders RW Kyle Okposo contributed a pair of assists for the Islanders vs. Florida, giving him five points (1 G, 4 A) in three games…Islanders C John Tavares added a couple of assists, and has six points (2 G, 4 A) through three games…Islanders rookie D Ryan Pulock had a goal and an assist against Florida; the 2013 first-rounder had four points in 15 games late in the season, and has the ability to generate offence from the back end…Blues rookie RW Robby Fabbri had a pair of assists (while playing just 9:31) and rookie D Colton Parayko scored a goal in a 3-2 win at Chicago. The pair of first-year players have a chance to raise the Blues' postseason hopes…Ducks LW Andrew Cogliano had a goal and an assist, giving him three points (1 G, 2 A) through the first two games of the series.
Much of the data included comes from www.war-on-ice.com, corsica.hockey, stats.hockeyanalysis.com www.hockey-reference and www.naturalstattrick.com
Scott Cullen can be reached at scott.cullen@bellmedia.ca