Statistically Speaking: Rookie runners step up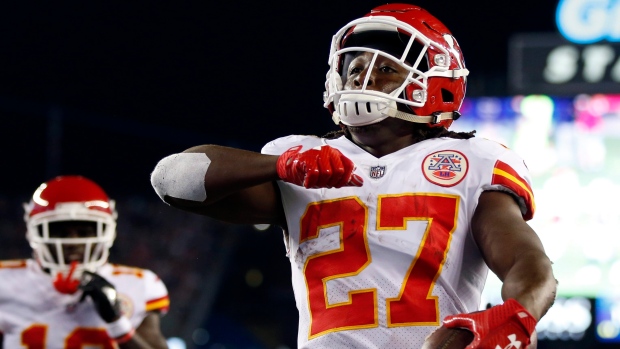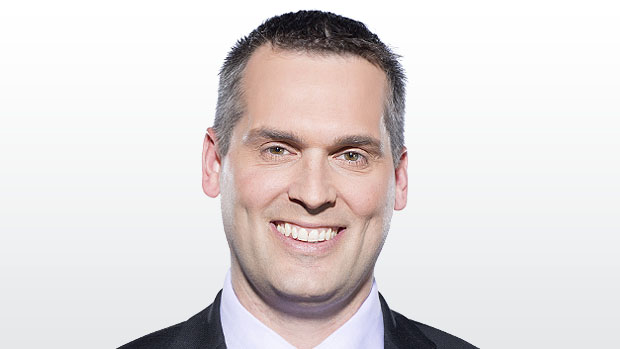 One of the big stories to watch in the NFL this season will be the impact of rookie running backs, as it appears that there will be at least a handful of freshman runners capable of making a difference.
It started early, with Kansas City's Kareem Hunt – taking over the starting role after Spencer Ware's season-ending knee injury – piling up 246 yards and three touchdowns (on 22 touches) in Thursday night's win at New England; all coming after he fumbled on his first touch of the game.
The success continued for the rookie runners on Sunday.
Jacksonville's Leonard Fournette (124 YDs, 1 TD, 29 touches) ran for nearly as many yards as quarterback Blake Bortles accumulated passing in a 29-7 win at Houston.
Panthers running back Christian McCaffrey comes into the season with big expectations and he had a solid game (85 YDS, 18 touches) at San Francisco, but there is at least some concern for fantasy owners that Jonathan Stewart is not only going to get touches, but Stewart is going to be the primary short-yardage back.
Perhaps the most surprising rookie running performance from Week One goes to the Bears' Tarik Cohen, who had huge numbers (113 YDS, 1 TD, 13 touches) in a reserve role against Atlanta.
This is a starting point. Cincinnati's Joe Mixon (more on him later) has a chance to have a significant role and the Vikings have big plans for Dalvin Cook, starting with the Monday nighter against New Orleans.
HEROES
Alex Smith, QB, Kansas City (28 of 35, 368 YDS, 4 TD) – Odds were heavily against Alex Smith outdueling Tom Brady, but the Chiefs veteran had the second-most passing yards that he's had in a game.
Matthew Stafford, QB, Detroit (29 of 41, 292 YDS, 4 TD, 1 INT) – The yardage was not special for Stafford, who has thrown for more, but hitting four touchdowns for the 11th time in his career is enough for Stafford to get accolades.
Antonio Brown, WR, Pittsburgh (11 REC, 182 YDS, 11 targets) – No touchdowns, but the top receiver in the league had a monster game at Cleveland, catching everything thrown his way.
Tyreek Hill, WR, Kansas City (7 REC, 133 YDS, 1 TD, 5 YDS on two carries) – Hill does raise the bar for the Kansas City passing game. His speed allows Hill to make big plays and that, in turn, gives Smith an opportunity to put up bigger and better numbers.
ZEROES
Andy Dalton, QB, Cincinnati (16 of 31, 170 YDS, 4 INT) – Getting shut out at home against Baltimore is a pretty miserable result and Dalton's five turnovers played a big part.
Le'Veon Bell, RB, Pittsburgh (47 YDS, 13 touches) - It was a surprisingly quiet game for the Steelers back who averaged 157 yards per game last season.
Rob Gronkowski, TE, New England (2 REC, 33 YDS, 6 targets) – It's not as if Gronk was the only Patriot to struggle against Kansas City, and he had a touchdown overturned on review, but two catches for 33 yards is not sufficient from the top tight end.
Brandon Marshall, WR, N.Y. Giants (1 REC, 10 YDS, 4 targets) – There were plenty of receivers that didn't get A-plus results in Week One, but with Odell Beckham Jr. out, the opportunity was there for Marshall to lead the way at Dallas, and he was barely involved.
10 POINTS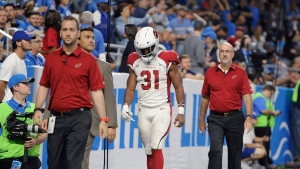 1. This is probably the biggest story of the week, but who wants to lead with such a depressing angle? Cardinals RB David Johnson, my top-rated player coming into the season, suffered a wrist injury at Detroit and it could be a long-term problem. Kerwynn Williams and Andre Ellington are next up on the Arizona depth chart, but that's a massive drop-off.
2. One of the challenges facing fantasy owners is figuring out crowded backfields and who might be getting the edge in those competitions, so let's take a look at some of the Week One results:
The expectation is that Bilal Powell (39 yards on 12 touches at Buffalo) will be the more valued member of the Jets backfield, with an edge, but maybe not a huge one, ahead of veteran Matt Forte (36 yards on nine touches).
With Danny Woodhead suffering a hamstring injury, the Ravens turned to a nearly even split between Terrance West (80 YDS, 1 TD, 19 rushes) and Javorius Allen (71 YDS, 21 rushes). This one seems up for grabs.
Cincinnati has one of the more challenging situations to decipher. Rookie Joe Mixon (24 YDS, 11 touches against Baltimore) has the upside, but holdovers Gio Bernard (79 YDS, 8 touches) and Jeremy Hill (24 YDs, 7 touches) can't be ignored altogether. As disappointing as Hill has been to this point in his career, he still might vulture enough short-yardage carries to have value, or at least cut into the value of Mixon.
It's hard to take much from a blowout loss at the Rams, but Indianapolis gave veteran Frank Gore (52 YDS, 11 touches) and rookie Marion Mack (45 YDS, 1 TD, 11 touches) the same number of touches on Sunday.
Seattle didn't run much against Green Bay, but their mix was interesting. Rookie Chris Carson (49 YDS, 7 touches) had the edge over Eddie Lacy (3 YDS, 5 carries) and C.J. Prosise (11 YDS, 4 carries).
New England's running back situation is usually muddled and it remains so after Week One. Mike Gillislee (45 YDS, 3 TD, 15 carries) had the big fantasy performance because of his touchdowns, and James White (68 YDS, 13 touches) was productive enough, but what about Rex Burkhead (23 YDS, 4 touches)?
3. Lots of prime running backs had mediocre performances in Week One, but a few came through. Bills RB LeSean McCoy (159 yards on 27 touches), Cowboys RB Ezekiel Elliott (140 YDS, 29 touches) and Packers RB Ty Montgomery (93 YDS, 1 TD, 23 touches) were among the high picks at running back that had strong Week One showings.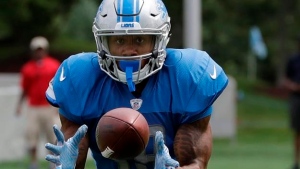 4. It wasn't just rookie runners making an impact in Week One. Some rookie receivers got off to a good start too. Lions WR Kenny Golladay (4 REC, 69 YDS, 2 TD, 7 targets) was a bigger part of the Detroit passing game than Marvin Jones. Titans WR Corey Davis (6 REC, 69 YDS, a team-leading 10 targets) was a popular target for Tennessee QB Marcus Mariota. Rams WR Cooper Kupp (4 REC, 76 YDS, 1 TD, 6 targets) was a solid contributor in his first game too.
5. With Jaguards WR Allen Robinson suffering an injury, Jaguars QB Blake Bortles targeted 10 different receivers, none more than the four times he threw to Allen Hurns and Marqise Lee, both of whom have much more value in Robinson's absence.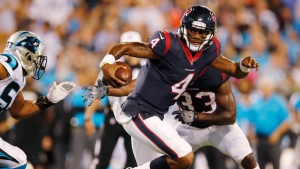 6. The Texans replaced QB Tom Savage (7 for 13, 62 YDS) with rookie Deshaun Watson (12 for 23, 102 YDS, 1 TD, 1 INT) in their 29-7 loss to Jacksonville. Watson does have potential to be a game-breaker, but this is also an accelerated timeline for the 12th overall pick in the 2017 Draft. Watson taking over the job does add more appeal to Houston's receivers, like DeAndre Hopkins, but it could take some time. Houston also surrendered 10 sacks to Jacksonville, so having a mobile quarterback like Watson might help alleviate their offensive line concerns.
Colts QB Scott Tolzien struggled (9 of 18, 128 YDS, 2 INT), as expected, against the Rams and was replaced by Jacoby Brissett. Brissett, who was recently acquired from New England, will have a chance to take the job from Tolzien, depending on how long it's going to be before starter Andrew Luck is ready to return.
7. The top two picks from last year's draft had solid season debuts. Eagles QB Carson Wentz was the second pick and came into this season with expectations because of a solid rookie showing, and he led the Philadelphia attack (26 of 39, 307 YDS, 2 TD, 1 INT) against Washington.
On the other hand, Rams QB Jared Goff was the first pick in last year's draft and had a horrible rookie campaign, causing much doubt about whether he has a future as an NFL quarterback. His first game of his second season (21 of 29, 306 YDS, 1 TD against Indianapolis) was impressive and provides much more promise for Rams receivers – Sammy Watkins, Cooper Kupp, Robert Woods etc.
8. Some lesser-known players were involved in an unexpectedly big way in Week One. Acquired from Seattle just before the start of the season, WR Jermaine Kearse (7 REC, 59 YDS, 9 targets) was the No. 1 option in the Jets' limited passing game.
Bills TE Charles Clay (4 REC, 53 YDS, 1 TD, 9 targets) was a frequent target of QB Tyrod Taylor, which shouldn't come as a huge surprise since he led the Bills in targets last season.
Even after Pittsburgh traded for TE Vance McDonald from San Francisco, Steelers TE Jesse James (6 REC, 41 YDS, 2 TD, 8 targets) scored twice at Cleveland.
Eagles WR Nelson Agholor (6 REC, 86 YDS, 1 TD, 8 targets) had a surprisingly big game against Washington, a career-best in production for the 2015 first-rounder.
Packers WR Randall Cobb has battled injuries and probably entered the season as the No. 3 wide receiver option for Green Bay, behind Jordy Nelson and Davante Adams, but Cobb was the leader (9 REC, 85 YDS, 13 targets) in a win over Seattle.
After Julian Edelman suffered his season-ending knee injury, there was some question about who would take over the slot receiving role for New England and it appeared that Danny Amendola would be the first choice. He was productive (6 REC, 100 YDS, 7 targets) against Kansas City, but he suffered a head injury and the concern with Amendola is that he's had a hard time staying healthy.
9. This is an area that the Patriots will need to work out because Patriots QB Tom Brady was obviously not comfortable against Kansas City (16 of 36, 267 YDS). It's too soon to get worried about Brady, given his performance last season, but there is a need to a reliable interior receiver to fill the role that Edelman had so ably manned in recent years.
10. After a year on the sidelines, Raiders RB Marshawn Lynch was productive (92 YDS, 19 touches) at Tennessee. If he's capable of delivering a Beast Mode kind of season, the Raiders will be much more formidable.
Scott Cullen can be reached at scott.cullen@bellmedia.ca