Statistically Speaking: Rookies Cook and Carson suffer big injuries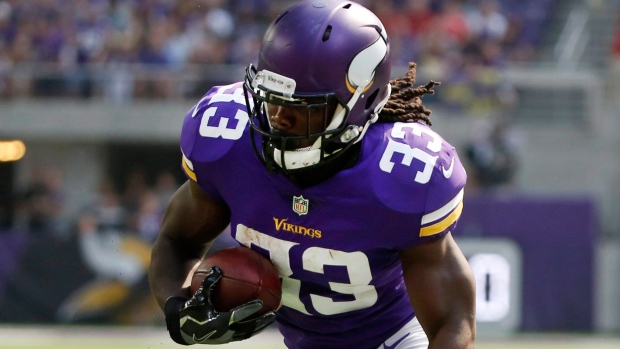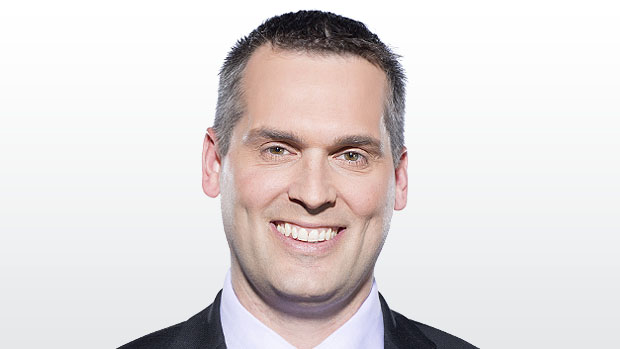 Tough breaks for some rookie runners, Watson turning into a star, Steelers ring the Bell in Week Four and more in Statistically Speaking.
Coming into this season, one of the big stories in the NFL was that there were some rookie running backs in a position to make a big difference with their teams. Through the first four weeks that has played out as expected but, in Week Four, two of them also suffered major injuries.
Minnesota's Dalvin Cook was a second-round pick and had an immediate impact for the Vikings, gaining 444 yards and scoring two touchdowns in his first four games. But, he also suffered a torn ACL that is going to sideline him for the rest of his rookie season.
That means Minnesota will turn to veteran Latavius Murray and Jerick McKinnon to pick up the slack, but it is not likely that they will be as effective as Cook.
Seattle's Chris Carson was a seventh-round pick who took the Seahawks' starting job by Week Two, gaining 267 yards from scrimmage in four games, but suffered an ankle injury coupled with a lower-leg fracture, and that should keep him out of the lineup for a while. In a surprising turn of events, Eddie Lacy returned from exile to fill in for Carson. With Carson out, Lacy, C.J. Prosise and Thomas Rawls will once again compete for playing time.
HEROES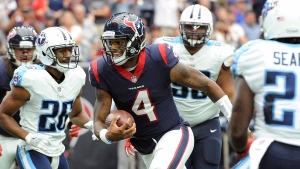 DeShaun Watson, QB, Houston – The rookie quarterback has immediately become a difference-maker. He had a breakout in Week Three, then doubled down in a 57-14 rout over Tennessee by going 25 of 34 for 283 yards and four touchdowns with one interception; adding 24 yards and a touchdown on the ground.
Cam Newton, QB, Carolina – Going to New England wasn't as daunting as might have been expected for Newtwon, was 22 of 29 for 316 yards with three touchdowns and one interception, adding 44 yards and a touchdown in the running game.
Andy Dalton, QB, Cincinnati – The maligned quarterback completed 83.3% of his passes (25 of 30) for 286 yards and four touchdowns in a 31-7 win at Cleveland.
Le'Veon Bell, RB, Pittsburgh – The Steelers turned their offence at Baltimore to Bell, and he responded with 186 yards and two touchdowns on 39 touches, the second-most touches he's had in his career.
Todd Gurley, RB, Los Angeles – It's like the Rams' third-year runner is a completely different player than the one that struggled last season. In a 35-30 win at Dallas, Gurley piled up 215 yards and a touchdown on 30 touches, giving him 596 yards and seven touchdowns in four games.
Bilal Powell, RB, N.Y. Jets – With Matt Forte out, there was a bigger role available for Powell, who responded with 190 yards and a touchdown on 25 touches in a 23-20 win over Jacksonville.
ZEROES
Marcus Mariota, QB, Tennessee – Before suffering a hamstring injury at Houston, Mariota completed just six of 10 passes for 96 yards and two picks. He did rush for two touchdowns.
Jay Cutler, QB, Miami – The Dolphins offence couldn't get going as Cutler completed 20 of 28 passes for 164 yards and one interception while the Dolphins were shut out by the Saints!
Melvin Gordon, RB, L.A. Chargers – The Chargers' running back gained 29 yards on 11 touches against Philadelphia, and has averaged just 3.1 yards per carry through the first four weeks of the season.
Marshawn Lynch, RB, Oakland – The Raiders offence is faltering and Lynch struggled to 12 yards on nine carries at Denver. He has rushed for 30 yards on 15 carries.
Amari Cooper, WR, Oakland – More trouble for the Raiders. With Michael Crabtree out, Cooper responded with two catches for nine yards on eight targets in Denver. Cooper, who is supposed to be a No. 1 receiver, has three catches for 15 yards over the past two weeks.
10 POINTS
1. Some running back emerged with new opportunities. Packers RB Aaron Jones (49 yards and a touchdown on 13 carries vs. Chicago) stepped up when Ty Montgomery suffered a rib injury.
Saints rookie RB Alvin Kamara put up 96 yards and a touchdown on 15 touches against Miami. Kamara's development certainly makes it look like the Saints have no use for veteran Adrian Peterson, who has averaged 3.0 yards per carry on 27 carries through the first four games.
Jets rookie RB Elijah McGuire, a sixth-round pick out of Louisiana-Lafayette, took advantage of an opportunity presented by Matt Forte's injury, and gained 131 yards and a touchdown on 12 touches.
For the second straight week, Ravens RB Alex Collins had nine carries for 82 yards. He hasn't put up huge numbers yet, aside from the fact that he's averaging 8.2 yards per carry on 25 carries over the past three weeks for Baltimore.
Giants RB Wayne Gallman stepped in for an injured Paul Perkins and had 50 yards and a touchdown on 13 touches at Tampa Bay. Given the options in the Giants' backfield, Gallman, a fourth-round pick of Clemson, has a chance to earn a bigger role.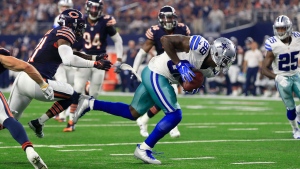 2. Cowboys WR Dez Bryant was productive enough (5 REC, 98 YDS, 13 targets) in a 35-30 loss to the Rams. Bryant has caught 16 of 40 targets so far this season, a career-low 40.0%. At the same time, Cole Beasley hasn't been a reliable option – he has four catches for 21 yards over the past two games.
3. Tight end offers some new threats. Broncos TE A.J. Derby, who was drafted by the Patriots in 2015, had four catches for 75 yards and a touchdown against Oakland.
Bills TE Charles Clay contributed five catches for 112 yards on seven targets at Atlanta. Philadelphia's Zach Ertz and New England's Rob Gronkowski are the only two tight ends with more receiving yards than Clay's 227.
With Tyler Eifert injured, Bengals TE Tyler Kroft had a career-best performance with six catches for 68 yards and two touchdowns on seven targets at Cleveland.
4. Even with Kelvin Benjamin playing (and catching four passes for 104 yards), Panthers WR Devin Funchess had seven catches for 70 yards and two touchdowns on nine targets at New England. Funchess did suffer a calf injury in the game, but he's turning into a much more reliable receiver for the Panthers, catching 63.0% of passes sent his way, up from 39.7% last season.
Injured at the start of the year, speedy Texans WR Will Fuller had four receptions for 35 yards and two touchdowns on six targets against Tennessee, and could be a big-play threat for DeShaun Watson.
Cardinals WR Jaron Brown may be emerging as a big part of the Arizona passing game. He had eight receptions for 105 yards on 12 targets against San Francisco, and has been targeted 29 times in the past three games.
5. While there are a lot of familiar names among the leading runners this year, a couple of surprises sit in the top 10. Denver's C.J. Anderson has churned out 330 rushing yards, to rank fourth, and San Francisco's Carlos Hyde has 321 rushing yards to rank sixth.
6. The running back with the most yards that has yet to score a touchdown is Carolina's Jonathan Stewart, who has rushed for 230 yards, and was supposed to be a touchdown vulture as the more physical of Carolina's primary runners.
7. Some second-string runners with first-string results in Week Four: Falcons RB Tevin Coleman gained 144 yards on 13 touches against Buffalo, while Cardinals RB Andre Ellington put up 114 yards on 14 touches against San Francisco, and Eagles RB Wendell Smallwood contributed 79 yards and a touchdown on 14 touches.
8. Some first-string runners who put up first-string results in Week Four: Cowboys RB Ezekiel Elliott produced 139 yards and two touchdowns on 25 touches against the Rams, Jaguars RB Leonard Fournette gained 145 yards and a touchdown on 28 touches at the Jets, Texans RB Lamar Miller put up 131 yards and two touchdowns on 23 touches in a romp over Tennessee, and Eagles RB LeGarrette Blount rumbled for 156 yards on 17 touches at the Chargers.
10. Beyond the rookie runners, there are more injuries from Week Four:
Packers WR Davante Adams suffered a concussion after a vicious heat for which Bears LB Danny Trevathan received a two-game suspension.
Raiders QB Derek Carr was replaced by E.J. Manuel after suffering from back spasms against Denver.
Falcons WR Julio Jones had just three catches for 30 yards on four targets before suffering a hip injury against Buffalo, but he's expected to be ready for Atlanta's next game.
The same can't be said for Falcons WR Mohamed Sanu who suffered a hamstring injury and should miss at least a couple of weeks.
Bills WR Jordan Matthews requires surgery on his thumb, which will obviously keep him sidelined for a while.
Scott Cullen can be reached at scott.cullen@bellmedia.ca