Statistically Speaking: New, improved Thames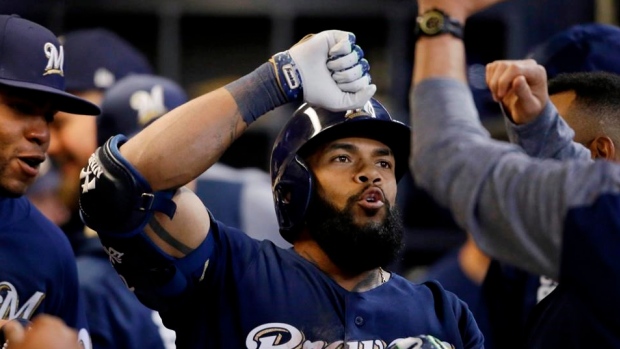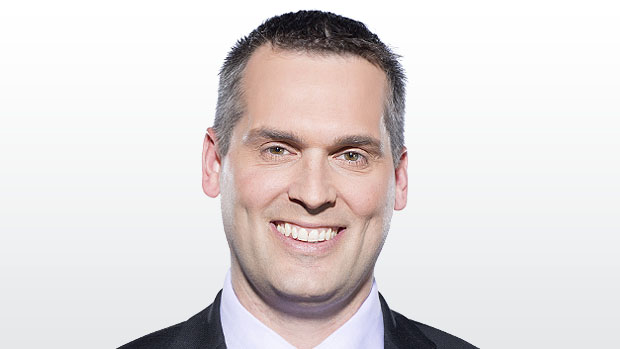 A new and improved Eric Thames is back in the big leagues; Pillar, Shaw, Ramirez, Triggs and more in Scott Cullen's Statistically Speaking.
In 2011 and 2012, Eric Thames got his start in the major leagues, first with the Toronto Blue Jays and then with the Seattle Mariners. In 181 games (684 plate appearances), the corner outfielder has 21 home runs and 62 RBI, hitting .250 with a .727 OPS – basically, a fourth outfielder with some power.
He then spent the next three years annihilating Korean pitching, hitting 124 home runs, driving in 382 and hitting .349 with a 1.172 OPS; ridiculous video-game numbers.
Now, at 30-years-old, he has returned to North America, this time playing first base for the Milwaukee Brewers and he's brought his power with him, slugging eight home runs, six doubles and eight singles in his first 14 games. He's hitting .415 with a 1.481 OPS.
One difference to note about Thames, compared to his first crack at MLB, is that he is more patient at the plate. He saw an average of 3.61 pitches per plate appearance as a rookie with Toronto in 2011, and is up to 4.39 pitches per plate appearance this season in Milwaukee.
As this graphic from ESPN shows, he knows that he can crush middle of the zone pitches, so he's been patient enough to wait for them.
Ultimately, regression is coming. He's not going to finish the season with an OPS over 1.400, or hit .400, or crush 81 home runs. However, for those who took a shot at Thames as a sleeper or snatched him quickly off the waiver wire, it sure looks like he's a legitimate power threat who should have some pretty nice numbers, even after the league gets used to treating him like a serious power threat.
HEROES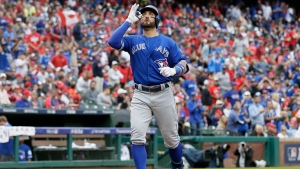 Kevin Pillar – Even in the midst of Toronto's horrific start, their 28-year-old centre fielder is off to a strong start at the plate, hitting .339. Of course, the issue that hangs over Pillar is his refusal to take a walk and he's taken just one in 61 plate appearances thus far. It's all well and good when he has a .380 BABIP, but when that starts to come down, more patience at the plate would serve Pillar well.
Travis Shaw – Another shot of power added to the Milwaukee lineup, Shaw came over from Boston in a trade for relief pitcher Tyler Thornburg, and he's mashed five home runs and driven in 16, posting a .944 OPS in 16 games for the Brewers, this despite a paltry .239 BABIP. So, as his home run power is due to slow down, Shaw is likely catch more breaks on balls in play.
Jose Ramirez – Playing second base for the Indians in the absence of Jason Kipnis, Ramirez has belted four home runs, driven in 16 and is hitting .345 with a 1.034 OPS in 15 games. His walk rate is up too, which is an encouraging sign that the 24-year-old can continue to build on his breakout 2016 campaign.
Andrew Triggs – A 28-year-old journeyman, who started six games for the A's last season, he's gone through his first three starts this season without allowing a run in 17 2/3 innings. He doesn't throw very hard, and has only nine strikeouts, but he is having some success with his cutter. Maybe that cutter will be his magic pitch, but otherwise he comes with a buyer beware label.
Chase Anderson – The 29-year-old right-hander has a 1.50 ERA and 1.00 WHIP in three starts for the Brewers, striking out 16 in 18 innings. He's had some good fortune in terms of stranding runners (84.3 LOB%) and BABIP (.250), but his fastball velocity is up a bit and he's also added an effective cutter to his arsenal.
ZEROES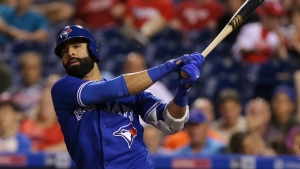 Jose Bautista – It has been an abysmal start for the Blue Jays right fielder, who is hitting .109 with 22 strikeouts in 55 at-bats. He has six hits on the season, with two doubles and no home runs. There's some bad luck in there, but he's been missing more pitches (12.3% swinging strikes) than he has in any season since his rookie year in 2004. It will get better, but if the Blue Jays' season is already a tattered mess, what's the point?
Dansby Swanson – The first overall pick in the 2015 Draft got a taste of the big leagues last year, hitting .302 in 38 games, and opened this season as the starting shortstop for the Braves. However, he's hitting just .131 with two walks in 63 plate appearances.
Curtis Granderson – The 36-year-old has been starting in centre field and hitting leadoff for the Mets, but he's batting just .143 with zero home runs through 15 games. It's been a long time since Granderson hit for a decent average, but he slugged 30 home runs last season.
Kyle Hendricks – Following up a breakout 2016 season, the Cubs starter has stumbled out of the gate this year, posting a 6.19 ERA and 1.38 WHIP through three starts. He's walking more and has already allowed four home runs, but his velocity is down from last season and his change-up has been getting crushed. It's early, but those are some indicators worth keeping an eye on.
Corey Kluber – Cleveland's ace has been smacked around through three starts, allowing five home run and posting a 6.38 ERA with a 1.42 WHIP in 18 1/3 innings. He's had problems with his cutter, and hasn't been throwing it as often has he has in previous seasons.
VITAL SIGNS
J.A. Happ – The hits just keep on coming for the Blue Jays. Last year's 20-game winner has hit the 10-day DL with elbow inflammation. Initial reports are that it's not expected to be serious, but who is feeling good about another Blue Jays starting pitcher on the DL? Mat Latos will be one of the additions to Toronto's rotation in the meantime.
Rich Hill – The Dodgers southpaw can't seem to escape blister problems and he's back on the DL as a result. It's too bad because, since returning to the majors late in the 2015 season, he has a 2.08 ERA and 0.96 WHIP, with 172 strikeouts in 147 1/3 innings over 26 starts.
Logan Forsythe – A broken toe has sidelined the Dodgers' second baseman and leadoff hitter for a couple of weeks. Veteran Chase Utley and utility man Enrique Hernandez are likely to fill in while Forsythe is out.
Howie Kendrick – An abdominal strain has knocked the Phillies left fielder from the lineup. He was hitting .33 with a .883 OPS in 10 games, but Daniel Nava and Aaron Altherr will see more action in left while Kendrick recovers.
Jarred Cosart – The Padres starting pitcher is out with a strained hamstring. Luis Perdomo should return to the San Diego rotation in Cosart's absence.
WAIVER WIRE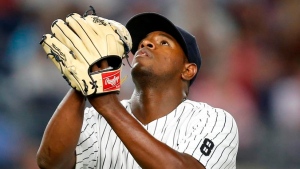 Players being added the most, yet still available in more than half of TSN leagues:
Zack Cozart – Cincinnati's shortstop has gone through hot streaks before, but owns a .683 OPS in his career, so take this hot streak, which includes a .400 average and 1.148 OPS in 14 games, with a grain of salt. Owned: 47.8%
Mitch Moreland – Boston's unheralded first base acquisition has been launching doubles, 11 in 16 games, on his way to hitting .344 with a .994 OPS. Owned: 38.3%
Trey Mancini – Taking over in left field for the Orioles, the 25-year-old power hitter has hit four home runs and is hitting .321 with a 1.152 OPS in 10 games. Owned: 23.1%
Luis Severino – Big expectations led to a bust season in 2016, but the 23-year-old Yankees starter is in much better form this season. He has allowed four home runs, leading to a 4.05 ERA, but has also struck out 27 in 20 innings and has a 0.80 WHIP. Owned: 49.8%
Brandon McCarthy – The veteran right-hander has been effective in three starts for the Dodgers, with more velocity and an effective cutter paving the way to a 2.12 ERA, 1.18 WHIP and 16 strikeouts in 17 innings. Owned: 40.2%
Much of the data included comes from Fan Graphs and Baseball Reference.
Scott Cullen can be reached at scott.cullen@bellmedia.ca