Statistically Speaking: The rest of the NHL rookie class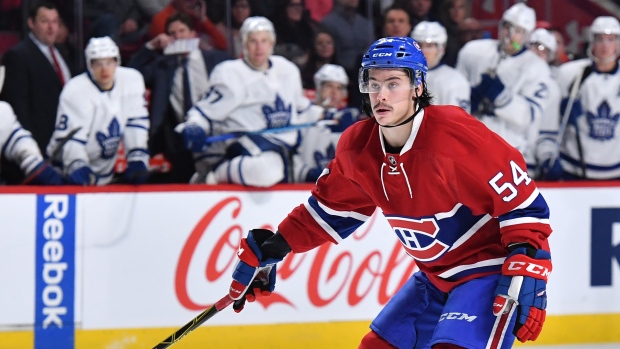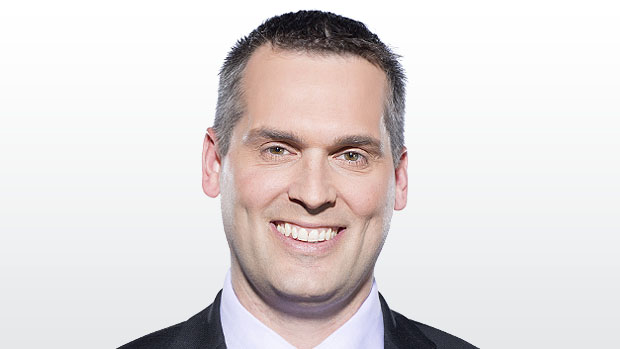 Last week, I broke down some of the top rookies to watch coming into the 2017-2018 NHL season. In addition to that list, though, now that rosters are finalized, there is a long list of rookies ready to break camp with their NHL teams.
Some are highly-touted first-rounders, others are free agent signings. Some will be in the Calder Trophy conversation, others may not last beyond a week. I've tried to figure out any of the "paper transaction" demotions that teams are making for the start of the year but, with perhaps an exception of two, this should cover the rookies who will be on NHL opening night lineups.
Here is a look at the rest of this year's rookie class.
Jacob Larsson, D, Anaheim – The 2015 first-round pick got into four games with the Ducks early last season before returning to Sweden, to play for Frolunda and for Team Sweden at the World Juniors. With Hampus Lindholm and Sami Vatanen still recovering from shoulder surgeries, Larsson may be needed to play a significant role on the Ducks blueline early in the season.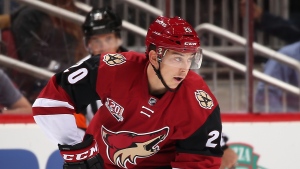 Dylan Strome, C, Arizona – There's not much more that the third pick in the 2015 Draft could have done in junior hockey, producing an astonishing 354 points in 219 games with Erie of the OHL, and while there is certainly an opportunity available for him to play with the Coyotes, he was overwhelmed in an NHL audition last season so he'll need to prove that he's ready for the role this year.
Christian Fischer, RW, Arizona – The Coyotes have lots of young players pushing for spots, and while Fischer may not be as highly-touted as some others, the 2015 second-round pick has scored 50 points in 63 AHL games and contributed three goals in seven games for Arizona last season. The Coyotes should be able to find a regular role for a big skilled winger who can put the puck in the net.
Anders Bjork, RW, Boston – Drafted in the fifth round in 2014, Bjork improved his production steadily throughout his three years at Notre Dame, finishing with 52 points in 39 games last season. The 21-year-old from Wisconsin played for Team USA at the World Championships and is getting a plum opportunity to start the year, skating on the wing with Patrice Bergeron and Brad Marchand. If he can stay there, Bjork could find himself in the Calder discussion.
Jake DeBrusk, LW, Boston – The 2015 first-rounder produced 49 points in 74 games as an AHL rookie last season, and is getting a shot on the left side with David Krejci and David Pastrnak.
Sean Kuraly, C, Boston – The 24-year-old played a dozen games for the Bruins last year, including four playoff games, and while he doesn't have a track record as a scorer, he can fit into a checking role.
Matt Grzelcyk, D, Boston – With Torey Krug injured, the Bruins have an opening on the blueline and Grzelcyk is a similarly undersized left-shot defenceman. He got into a couple of games with the Bruins last season, his first year as a pro, and the 2012 third-round pick produced 32 points in 70 AHL games.
Haydn Fleury, D, Carolina – The seventh overall pick in the 2014 Draft, Fleury isn't flashy. He tallied 26 points in 69 AHL games as a rookie pro last season, and appears set to start on the Hurricanes' third pair alongside Trevor van Riemsdyk.
Martin Necas, C, Carolina – The 12th pick in this summer's draft, Necas is a bit of a surprise to stick with the Hurricanes out of his first training camp. He had 15 points in 41 games for Kometa Brno in the Czech League last season, and while he has long-term upside, his immediate future likely involves battling for a regular job in the Carolina lineup.
Janne Kuokkanen, RW, Carolina – A second-round pick in 2016, Kuokkanen produced 62 points in 60 games for the London Knights of the Ontario Hockey League last season and offers some offensive potential but, like Necas, he's looking at a depth role to start with the Hurricanes.
Alex DeBrincat, LW, Chicago – A junior scoring machine, who tallied 167 goals in 191 OHL games, the 5-foot-7 winger was a second-round pick in 2016 and should be able to bring some finishing ability to Chicago, and if he's a legit NHL scorer, shame on all the teams that passed on him because he's not tall.
John Hayden, LW, Chicago – A third-round pick in 2013, Hayden is an in-your-face winger who uses his size effectively and scored 34 points in 33 games as a senior at Yale before contributing four points in a dozen games with the Blackhawks at the end of last season. He may not be a big scorer, but he can fit in a variety of roles in Chicago.
Anton Forsberg, G, Chicago – Acquired from Columbus as part of the Brandon Saad-Artemi Panarin trade, Forsberg is a 24-year-old who has struggled in his 10 career NHL games, but posted a .926 save percentage in 51 AHL games last year. That's good enough to earn a shot as Corey Crawford's backup with the Blackhawks.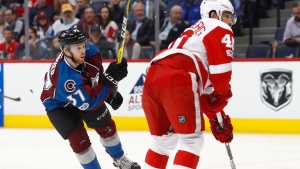 J.T. Compher, RW, Colorado – Part of the package that the Avalanche received in the Ryan O'Reilly trade, the Michigan grad had five points in 21 games for Colorado last season, as well as 30 points in 41 AHL games. The 22-year-old should have a decent shot at sticking with the Avs for a full season this year.
Alexander Kerfoot, LW, Colorado – A 23-year-old who was a fifth-round pick by New Jersey in 2012, the Harvard grad effectively switched spots with Will Butcher, signing with the Avalanche after scoring 45 points in 36 games as a senior. Kerfoot impressed in training camp, but will need to remain productive when the games start to count in order to hold onto his job.
Andrei Mironov, D, Colorado – A sturdy 23-year-old who has been a KHL regular for five years, Mironov was a fourth-round pick in 2015 and while he starts the year with the Avalanche, playing time is not guaranteed, especially after the Avs picked up Patrik Nemeth on waivers from the Dallas Stars.
Sonny Milano, LW, Columbus – Not only do the Blue Jackets have Pierre-Luc Dubois making the jump from junior, but Milano is getting a chance after two-plus AHL seasons. The 2014 first-round pick has great puck skills and produced 47 points in 63 AHL games last season, and does have an opportunity to play on a scoring line to start this year, but he'll need to stay in John Tortorella's good graces to remain in that position.
Gabriel Carlsson, D, Columbus – The 2015 first-rounder got into a couple of games with the Blue Jackets late last season, before skating in five postseason contests, and the 20-year-old is still facing a challenge to earn regular playing time, and maybe it's too soon to place expectations on him, but Carlsson should have a regular role soon enough.
Markus Hannikainen, LW, Columbus – An industrious 24-year-old winger who was signed as a free agent in 2015, Hannikainen had 37 points in 57 AHL games last season, but it doesn't look like he's going to be a big scorer. Nevertheless, he can bang bodies and fill a spot on the fourth line.
Gemel Smith, LW, Dallas – A 23-year-old who got into 17 games with the Stars last season, Smith doesn't have a track record as a scorer, but may be able to carve out a spot on Dallas' fourth line.
Tyler Bertuzzi, LW, Detroit – Drafted in the second round in 2013, Bertuzzi is a gritty, physical winger who offers some offensive upside. He had 37 points in 48 AHL games last season, before adding 19 points in 19 playoff games. There should be an opportunity not only for Bertuzzi to play in Detroit, but potentially move up the depth chart if he can produce.
Martin Frk, RW, Detroit – A 23-year-old who can really fire the puck, Frk had tallied 54 goals in 132 AHL games over the past two seasons, and while he did get into a couple of games with Carolina last season, he may be looking at his best opportunity to play this season with the Red Wings.
Laurent Brossoit, G, Edmonton – The 24-year-old owns a .910 save percentage in 14 career NHL games, but may be required to step up his workload this season because the Oilers surely can't plan on using Cam Talbot in 73 games again this season.
Owen Tippett, RW, Florida – The 10th pick in the 2017 Draft, Tippett scored 44 goals and 75 points in 60 games for St. Mike's of the OHL last season, and he has a chance to play right away in Florida. Maybe he only lasts nine games, before going back to junior, but if Tippett can put some pucks in the net, the Panthers will likely find a way to keep him.
Ian McCoshen, D, Florida – A second-round pick in 2013, McCoshen turned pro last year after three seasons with Boston College. He's not an offensive threat, but a big, physical presence who will compete for a spot on the Panthers' third pair.
Mackenzie Weegar, D, Florida – McCoshen is likely competing for playing time with Weegar, a seventh-round pick in 2013 who can move the puck and had 14 goals and 36 points in 60 AHL games last season.
Adrian Kempe, LW, Los Angeles – A 2014 first-rounder, Kempe remains Calder-eligible this season after playing 25 games (and scoring six points) for the Kings last season. The 21-year-old has speed and skill, but has produced a modest 48 points in 104 AHL games over the past two-plus years.
Jonny Brodzinski, RW, Los Angeles – A fifth-round pick in 2013, Brodzinski scored 64 goals in 120 games over three seasons with St. Cloud State and had 27 goals and 49 points in 59 AHL games last season. That's going to earn the 24-year-old an opportunity to play, potentially in a scoring role, with the Kings this season.
Alex Iafallo, LW, Los Angeles – The 23-year-old winger was signed out of Minnesota-Duluth after putting up 51 points in 42 games as a senior, more than doubling his previous best output in any of his first three collegiate campaigns. Not only has he made the Kings out of camp, but Iafallo may be getting a chance to play a significant role. If he can create chances offensively, the opportunity should be there for him to take advantage.
Oscar Fantenberg, D, Los Angeles – The 23-year-old Swedish blueliner was inked as a free agent after he had 23 points in 42 KHL games with Sochi last season. He should start the season on the third pair in L.A.
Kurtis MacDermid, D, Los Angeles – A punishing 6-foot-5 defenceman, MacDermid has 256 penalty minutes in 114 AHL games over the past couple of seasons. He may be battling for playing time, but undrafted out of the OHL, he's already on an uphill fight to play in the league.
Gustav Olofsson, D, Minnesota – Selected with a second-round pick in 2013, Olofsson looks like he's going to start the season as the Wild's seventh defenceman. He's spent the past two seasons in the AHL, getting into 15 NHL games in that time.
Charles Hudon, RW, Montreal – A fifth-round pick in 2012, the smallish scorer has impressed in the preseason, and his ability to put the puck in the net, along with his waiver status, forced the Habs to keep him around. Hudon has four assists in six games with the Canadiens but he's tallied 55 goals and 102 points in 123 AHL games over the past couple of seasons. He's a skilled winger looking for a chance and the Canadiens not only appear to be keeping him on the team, but it looks like in a top-six role to start the season.
Victor Mete, D, Montreal – A fourth-round pick in 2016, Mete has been a revelation for the Habs, who may not only keep him, but could start the puck-moving blueliner alongside Shea Weber. Mete, who tallied 44 points in 50 games for London in the OHL last season, can skate and move the puck, and if he can hold his own physically, could provide some much-needed skill on the Montreal blueline.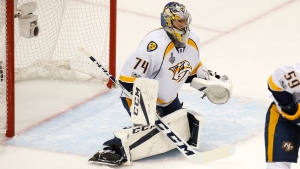 Juuse Saros, G, Nashville – A fourth-round pick in 2013, Saros was excellent as a backup last season, posting a .923 save percentage in 21 games, and even though he doesn't have the size of a prototypical modern goaltender, he could push for more playing time if Pekka Rinne struggles.
Pontus Aberg, LW, Nashville – A second-round pick in 2012, Aberg has progressed steadily, to the point that he scored 31 goals and 52 points in 56 AHL games last season, earning a look with the Predators, where he showed some flashes of his talent, contributing five points in 16 playoff games; could be a useful secondary scorer if given the chance, but also might be stuck on the outside of the opening night lineup.
Samuel Girard, D, Nashville – An undersized puck-mover, Girard put up 149 points in 126 games over the past two seasons in the QMJHL. The 2016 second-round pick has high-end skills and, with Ryan Ellis injured, might be getting a longer look than initially expected with the Predators.
Will Butcher, D, New Jersey – Winning the Hobey Baker Award hasn't historically assured success in the NHL, but the past three (Jimmy Vesey, Jack Eichel and Johnny Gaudreau) have fared all right. Butcher was a fifth-round pick of Colorado in 2013, but signed with the Devils after scoring 37 points in 43 games (winning the Hobey Baker) as a senior and his ability to move the puck should be welcome on a New Jersey blueline that needs an infusion of skill.
Jesper Bratt, LW, New Jersey – One of the more surprising rookies to land on an NHL roster this year, the 2016 sixth-round pick had 22 points in 46 games for AIK in Sweden's Allsvenskan league, which is a step below the top-end Swedish Hockey League. As it is now, he's getting a shot on the Devils' third line.
Blake Coleman, C, New Jersey – The 2011 third-round pick did get into 23 games for the Devils last season, managing a grand total of two points, but he did contribute 39 points in 52 AHL games; he's a depth option.
Filip Chytil, C, N.Y. Rangers – Not only is the 21st pick in the 2017 Draft breaking camp with the Rangers, but he's centering Rick Nash and Mats Zuccarello, a prime opportunity for a young player who had eight points in 38 Czech League games last season.
Logan Brown, C, Ottawa – Taken with the 11th pick in the 2016 Draft, Brown got an especially good look in camp with Derick Brassard out and Colin White suffering an injury. However, once Brassard returns to action, and that's imminent, there isn't going to be a lot of room down the middle of the ice in the nation's capital.
Alex Formenton, LW, Ottawa – A second-round pick this year, Formenton has impressed in camp, but he's still a kid. He had 34 points in 65 games for London of the OHL last season and didn't register a point in 14 playoff games, so it's hard to imagine that he's ready to contribute on a regular basis in the NHL this season.
Robert Hagg, D, Philadelphia – The 2013 second-rounder has played three-plus seasons in the American Hockey League and that grooming has him ready to not only play for the Flyers, but he could slide into the team's top four on the blueline.
Travis Sanheim, D, Philadelphia – The 2014 first-rounder is a strong puck moving defenceman with good size, and it wouldn't be a surprise to see Sanheim play regularly in Philadelphia after he produced 37 points in 76 AHL games as a rookie pro last season. The battle for any of Philadelphia's defence prospects involves trying to unseat Andrew MacDonald from a regular role on the Flyers' blueline and that's apparently easier said than done.
Samuel Morin, D, Philadelphia – It does look like the Flyers are going to open the season with eight defencemen on the roster, and that includes 2013 first-round pick Morin, who is a 6-foot-6 intimidator that has 35 points and 247 penalty minutes in 150 AHL games over the past two seasons.
Josh Archibald, RW, Pittsburgh – A sixth-round pick in 2011, Archibald is a speedy winger who has three goals in 11 games with the Penguins and appeared in four games during last year's Stanley Cup run. The Nebraska-Omaha product doesn't score much – he had 29 points in 61 AHL games last season – so he's a depth option for the Penguins.
Tage Thompson, RW, St. Louis – Injuries have opened the door for the 2016 first-round pick to start with the Blues. He's 6-foot-5 and contributed 64 points in 70 games during two seasons at the University of Connecticut, and it looks like Thompson will have a top-nine role to start the season.
Vince Dunn, D, St. Louis – An injury to Jay Bouwmeester does give the 2015 second-rounder a longer look with the Blues, and he's coming off a first pro season in which he produced 45 points in 72 AHL games. Those puck skills could earn help Dunn a bigger role.
Andreas Borgman, D, Toronto – A rock-solid blueliner that the Leafs signed out of Sweden, where he had 15 points in 45 games for HV71 before adding 10 points in 14 SHL playoff games, Borgman will battle for a spot on Toronto's third pairing.
Brendan Leipsic, LW, Vegas – Picked up in the expansion draft from Toronto, the 23-year-old winger is on the small side, but after he scored 51 points in 49 AHL games last season, the Golden Knights ought to find out if Leipsic can bring that offence to the next level.
Nathan Walker, LW, Washington – The 23-year-old Australian, yes Australian, has been grinding his way through the AHL over the past four seasons. He had a modest 23 points in 58 AHL games last season, but he's an energetic fourth-liner who could stick in that role if he can handle the move up.
Tucker Poolman, D, Winnipeg – A fifth-round pick in 2013, Poolman played three years at North Dakota, posting 30 points in 38 games as a junior last year. He has a steep hill to climb, trying to land a spot on the right side of the Jets blueline, where they already have Dustin Byfuglien, Jacob Trouba and Tyler Myers.
Christian Djoos, D, Washington – A smallish puck-moving defenceman, Djoos was only a seventh-round pick in 2012, but he tallied 58 points in 66 AHL games last season. With the Capitals going through some turnover on the blueline, Djoos will battle journeymen Taylor Chorney and Aaron Ness for a regular turn, and prospect Madison Bowey shouldn't be too far off from landing a spot too.
Scott Cullen can be reached at scott.cullen@bellmedia.ca