Statistically Speaking: The running Saints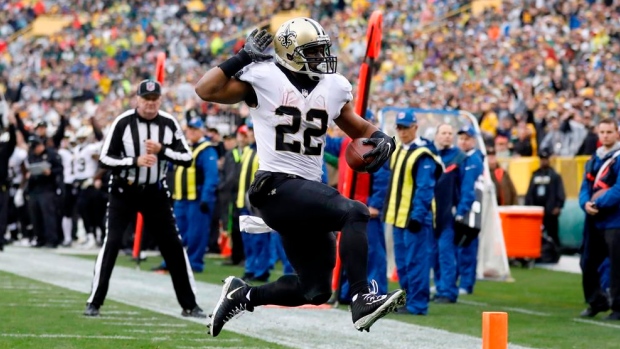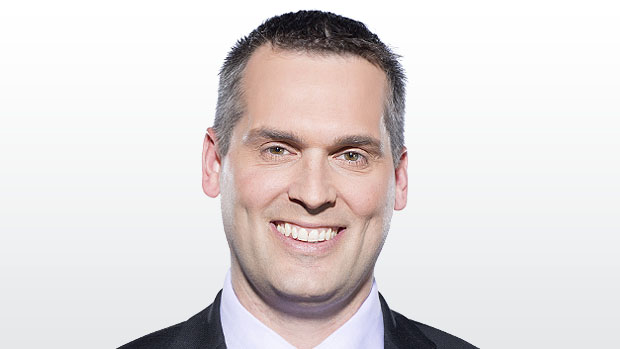 The Saints are marching, Goff is rounding into form in a weird week for quarterbacks, the Chargers have a surprise in the backfield and more in Scott Cullen's Statistically Speaking.
HEROES
Mark Ingram, RB, New Orleans – The Saints running back rumbled for 21 carries, gaining 131 yards and three touchdowns in a 47-10 rout of Buffalo. Backup Alvin Kamara added 138 yards and a touchdown on 17 touches. The Saints have a prolific offence, which isn't necessarily a surprise, but it appears that the running game is a huge part of it, and that might be a tad unexpected.
Jared Goff, QB, Los Angeles – The second-year Rams quarterback completed 25 of 37 passes for a career-high 355 yards and three touchdowns in a 33-6 win against Houston. The past two weeks have been the most productive of Goff's career, as he's thrown for 666 yards and seven touchdowns (with no interceptions).
Austin Ekeler, RB, L.A. – The Chargers' second-string running back, an undrafted rookie out of Western State – a Division II school in Colorado – piled up 119 yards and two touchdowns on 15 touches in a 20-17 loss at Jacksonville.
ZEROES
Dak Prescott, QB, Dallas – With RB Ezekiel Elliott suspended, the pressure was on Prescott's shoulder to lead the Cowboys, and he threw for 176 yards and lost a couple of fumbles at Atlanta. Not a great sign for what the 'boys might be able to do without Zeke.
Leonard Fournette, RB, Jacksonville – Back from his team-imposed suspension, the Jaguars rookie managed just 46 yards on 19 touches against the Chargers, his least productive showing in seven games.
Antonio Brown, WR, Pittsburgh – The most productive receiver in the game was held to just three catches for 47 yards on seven targets at Indianapolis, the third straight week in which he's been held to 70 yards or less.
10 POINTS
1. It was a bizarre week for quarterbacks, as some of the most productive passers were players that likely weren't started, or even owned, in many leagues.
Vikings QB Case Keenum completed 21 of 29 passes for 329 yards, with four touchdowns and two interceptions.
49ers QB C.J. Beathard threw for 288 yards and two touchdowns, with one pick, but added another rushing touchdown in a 31-21 win over the Giants.
Browns QB DeShone Kizer threw for 232 yards and a touchdown and added 57 rushing yards and a touchdown at Detroit.
2. The unusual quarterback production, naturally led to some surprises at wide receiver too.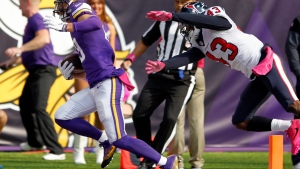 Vikings WR Adam Thielen isn't necessarily a surprise, because he has more of a track record, but he hauled in eight passes, on 12 targets, for 166 yards and a touchdown at Washington. It was the fifth time this season that he had at least 96 yards.
Rams WR Robert Woods caught eight passes for 171 yards and two touchdowns on 10 targets against Houston. He could have been had on the waiver wire last week. Not so likely now.
Taking advantage of opportunities presented due to injuries, Gi3. ants WR Sterling Shepard caught 11 of 13 passes for 142 yards at San Francisco.
Steelers WR Ju-Ju Smith-Schuster had five catches for 97 yards and a touchdown on seven targets at Indy.
Colts WR Chester Rogers, a second-year player out of Grambling, caught all six balls thrown his way for 104 yards and a touchdown against Pittsburgh.
Jets WR Robby Anderson put up four catches for 85 yards and a touchdown on seven targets at Tampa Bay. It's the fourth straight game in which he's scored a touchdown.
3. Here are the top wide receivers over the past four weeks. There are some familiar names, but also guys who would have gone undrafted in many leagues. You never know where you might find value.
TOP FANTASY VALUE, WR, PAST FOUR WEEKS
| PLAYER | TEAM | GP | REC | YDS | TD |
| --- | --- | --- | --- | --- | --- |
| DeAndre Hopkins | Houston | 3 | 21 | 421 | 2 |
| Robert Woods | Los Angeles | 3 | 17 | 300 | 4 |
| Doug Baldwin | Seattle | 4 | 27 | 349 | 2 |
| Robby Anderson | N.Y. Jets | 4 | 17 | 272 | 4 |
| Ju-Ju Smith-Schuster | Pittsburgh | 3 | 14 | 329 | 3 |
| Amari Cooper | Oakland | 3 | 20 | 316 | 2 |
| Julio Jones | Atlanta | 4 | 24 | 348 | 1 |
| Michael Thomas | New Orleans | 4 | 31 | 341 | 0 |
| Jarvis Landry | Miami | 4 | 23 | 200 | 3 |
| Adam Thielen | Minnesota | 3 | 18 | 305 | 2 |
4. Falcons WR Julio Jones, who is still among the leaders, had a modest six catches for 57 yards on eight targets against Dallas. Other proven receivers had better days. Cardinals WR Larry Fitzgerald caught 10 passes, on 14 targets, for 113 yards against Seattle. Bengals WR A.J. Green had five receptions for 115 yards and a touchdown on seven targets at Tennessee.
5. In the tried-and-true running back department, Steelers RB Le'Veon Bell gained 112 yards on 31 touches at Indianapolis, Rams RB Todd Gurley put up 136 yards on 17 touches against Houston and 49ers RB Carlos Hyde had 104 yards on 18 touches against the Giants. None found the end zone.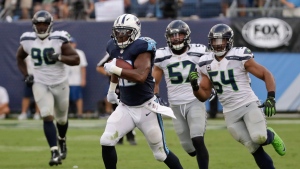 6. On the other hand, Titans RB DeMarco Murray put up a modest 72 yards, but scored three touchdowns, on 18 touches against Cincinnati. Just when you think Murray is going to get overtaken by Derrick Henry, the pendulum swings back to the veteran.
7. Some guys getting new opportunities:
Bills WR Kelvin Benjamin had three catches for 42 yards on six targets against New Orleans.
Cowboys RB Alfred Morris had 11 carries for 53 yards at Atlanta, but with Dallas trailing it wasn't an ideal opportunity to churn out yards on the ground.
8. Cardinals RB Adrian Peterson goes from gangbusters to busted from one week to the next. He carried the ball 21 times against Seattle for just 29 yards.
9. Bears rookie QB Mitchell Trubisky threw a career-high 35 times against Green Bay, and he completed 21 for 297 yards, which was easily the most he's had in a single game. Wide receivers Dontrelle Inman (6 REC, 88 YDS) and Kendall Wright (5 REC, 46 YDS) were both targeted eight times to lead Chicago.
10. Falcons RB Devonta Freeman suffered a concussion against Dallas. Tevin Coleman stepped up and had 88 yards and a touchdown on 21 touches in Freeman's absence.
Packers RB Aaron Jones will miss three-to-six weeks with a knee injury, suffered against Chicago. Ty Montgomery and Jamaal Williams are next in line for carries for Green Bay.
Colts QB Jacoby Brissett is in concussion protocol following the game against Pittsburgh. Scott Tolzien would start if Brissett can't play.
Cardinals QB Drew Stanton injured his knee against Seattle. Blaine Gabbert would start if Stanton is going to miss any games.
Texans WR Will Fuller injured his ribs against the Rams, forcing him from the game.
Washington RB Rob Kelley injured his leg against Minnesota. That leaves more touches for Samaje Perine and Chris Thompson.
Seahawks CB Richard Sherman suffered a torn Achilles, ending his season. That should make the Seattle secondary more vulnerable than it has been in some time.
Scott Cullen can be reached at scott.cullen@bellmedia.ca