Statistically Speaking: Thunder power up with deal for Anthony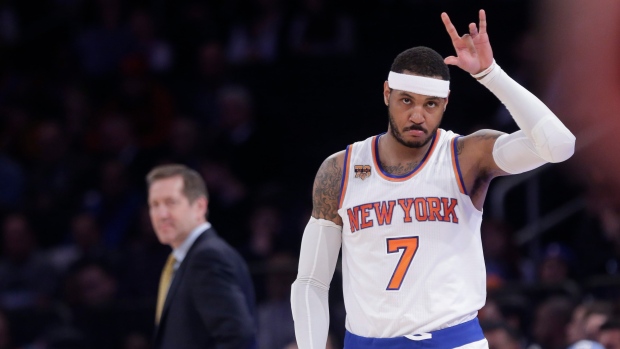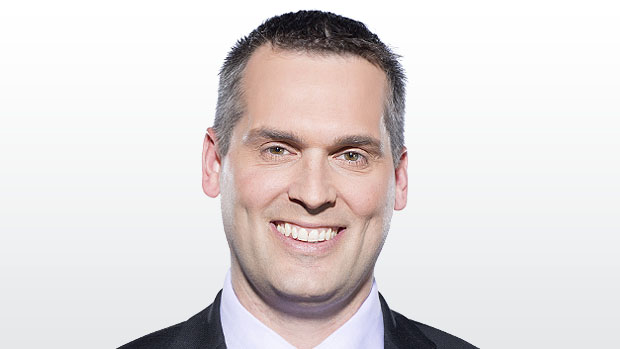 The New York Knicks have moved on from their franchise centrepiece for the past seven seasons, dealing him to Oklahoma City.
Statistically Speaking breaks down the deal sending Carmelo Anthony to the Thunder.
2016-2017 STATS
| PLAYER | TEAM | POS | GP | PPG | RPG | APG | BPG | SPG | FG% | FT% | 3PT% |
| --- | --- | --- | --- | --- | --- | --- | --- | --- | --- | --- | --- |
| Carmelo Anthony | NYK | SF | 74 | 22.4 | 5.9 | 2.9 | 0.5 | 0.8 | .433 | .833 | .359 |
| Enes Kanter | OKC | C | 72 | 14.3 | 6.7 | 0.9 | 0.5 | 0.4 | .545 | .746 | .132 |
| Doug McDermott | OKC | SF | 66 | 9.0 | 2.7 | 0.9 | 0.1 | 0.2 | .447 | .845 | .370 |
The Thunder Get: SF Carmelo Anthony
Anthony, 33, has been wasting away on a Knicks team that has missed the playoffs for four straight seasons, averaging 29.3 wins per season over that time.
Nevertheless, Anthony always has been able to get his, scoring more than 20 points per game in each of his 14 NBA seasons. At the same time, his usage rate last season was his lowest since his rookie season of 2003-2004, and that might make more sense when transitioning to his role in Oklahoma City, where he's going to be a complement to two younger stars, Russell Westbrook and Paul George.
This shouldn't come as a surprise, because Anthony has logged more than 35,000 minutes in the NBA, but there have been signs of decline. His rebound rate last season (both per game, and percentage) was his lowest in more than a decade, and he's never been a great defender, but that side of the game is getting worse too. Offensively, Anthony doesn't get to the rim nearly as frequently as he used to, instead taking more threes, but that trade-off works for him, as his effective field goal percentage last year (.488) was on par with his standard (.489) in seven seasons with the Knicks.
Anthony is going into the last year of his contract, making more than $26.2-million, and has a player option for 2018-2019, but it would seem more likely that he'd be interested in getting another multi-year deal following a productive year in Oklahoma City.
The Knicks Get: C Enes Kanter, SF Doug McDermott and a second-round pick
Kanter is a 25-year-old who has been something of an underachiever in the league because he's such a defensive liability, but he's also a very efficient scorer and has thrived as a bench scorer in Oklahoma City for the past couple of seasons.
In New York, Kanter should get plenty of floor time, since 32-year-old Joakim Noah is barely a shell of what he once used to be, and with more playing time, Kanter could put up some big scoring numbers.
Kanter is going into the final year of his current contract, making nearly $17.9-million, and has a player option for the 2018-2019 season.
McDermott, 25, has played three years in the league, and has spent most of his time as a three-point shooter off the bench. He's a serviceable rotation option, but doesn't appear to be anything more than that.
Heading into the final year of his current deal, McDermott is reasonably priced at under $3.3-million this season, and will be a restricted free agent next summer.
A second-round pick doesn't have a lot of value – over the decade from 2005 through 2014, approximately 25 players that were selected in the second round developed into starters – but for a rebuilding Knicks team, it's worth playing that lottery and it's a sweetener for New York to make the deal.
Verdict: The Thunder clearly win the trade because they are getting a star player who can still fill a significant role as a scorer on a contending team; with Anthony and Paul George joining Russell Westbrook, they should be one of the top Western Conference challengers to the Golden State Warriors. The upshot of the deal for the Knicks is not so much the players they received, unless Kanter turns out to be a long-term fixture but, with Anthony departing, the team hands over the reigns to 7-foot-3, 22-year-old Kristaps Porzingis. If the Knicks are going to rebuild, it makes more sense to do it as soon as possible around Porzingis.
Scott Cullen can be reached at scott.cullen@bellmedia.ca