Statistically Speaking: Toronto's surprising scorers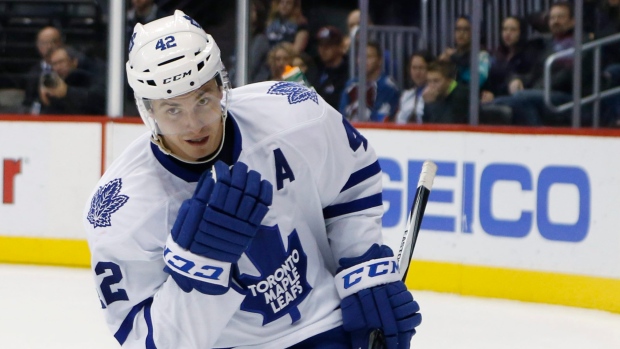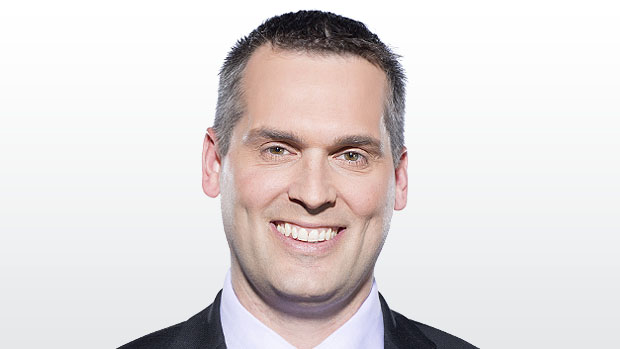 Toronto's unlikely scoring stars, Philadelphia's rising star rookie, Nashville's stellar defence pair, fantasy and more in Scott Cullen's Statistically Speaking.
HEROES
Tyler Bozak – At Colorado, the former Denver Pioneer collegiate star tallied a hat trick for the Maple Leafs, giving him eight points (4 G, 4 A) in the past six games. His 22 points in 28 games (0.79 points per game) is the second best rate of his career.
Leo Komarov – It's been a remarkable season for the Maple Leafs mucker, who leads the team with 15 goals and 24 points in 32 games. In a 7-4 win at Colorado, Komarov put up two goals and an assist, giving him 14 points (9 G, 5 A) in the past 11 games.
Shayne Gostisbehere – With a couple of assists in Philadelphia's 4-3 win against St. Louis, the rookie defenceman has put up 12 points (5 G, 7 A) in the past 14 games and is now within one point of Colton Parayko for the rookie defenceman scoring lead, despite playing 15 fewer games.
ROOKIE DEFENCE SCORING LEADERS
| PLAYER | TEAM | GP | G | A | PTS |
| --- | --- | --- | --- | --- | --- |
| Colton Parayko | STL | 33 | 6 | 9 | 15 |
| Shayne Gostisbehere | PHI | 18 | 6 | 8 | 14 |
| Colin Miller | BOS | 26 | 2 | 10 | 12 |
| Brett Pesce | CAR | 27 | 2 | 7 | 9 |
| Ben Hutton | VAN | 28 | 0 | 9 | 9 |
| Darnell Nurse | EDM | 26 | 2 | 5 | 7 |
| Noah Hanifin | CAR | 31 | 1 | 6 | 7 |
| Jake McCabe | BUF | 31 | 3 | 3 | 6 |
Roman Josi and Shea Weber – Nashville's top defence pair takes its lumps from the analytics community for relatively poor shot differentials, but there is no other defence tandem that has combined for 19 goals and 51 points, and that has to count for something too. Josi had a goal and an assist in a 5-1 win over Montreal, and has 12 points (5 G, 7 A) in the past 11 games, while Weber contributed a goal and two assists, giving him 15 points (4 G, 11 A) in the past 11 games.
ZEROES
Brandon Dubinsky – Columbus' gritty centre had a rough game against Pittsburgh with poor possession stats (7 for, 17 against, 29.2 SAT%) and on for two goals against. He also registered just one shot attempt, which was blocked, in 17:30 of ice time.
Cam Fowler – Anaheim's blueliner had subpar possession (15 for, 18 against, 45.5 SAT%) and was on for three goals against at even strength in a 5-2 loss at Brooklyn.
Goaltenders:
Semyon Varlamov – The hottest goaltender in the league going into Monday's game against Toronto, Varlamov allowed six goals on 21 shots in a 7-4 loss.
Frederik Andersen – Anaheim's goalie gave up three goals on 11 shots before getting pulled in Brooklyn, dropping his save percentage to .911 in 19 games.
Dustin Tokarski – Montreal's netminder was pulled after allowing three goals on 14 shots at Nashville; he has an .878 save percentage in six games with the Canadiens this season.
Kari Lehtonen – The Stars pulled Lehtonen after he surrendered two goals on four shots at Minnesota.
VITAL SIGNS
Ryan Murray – Injuries have forced the Blue Jackets to play Murray more, and he's logged at least 27 minutes in each of the past three games; he had never played more than 25 minutes in a game previously.
Jarred Tinordi – With Jeff Petry injured, Tinordi played his first game of the season for the Montreal Canadiens and, along with partner Tom Gilbert, took a minus-3 in 15:31 of ice time.
Scott Wilson – Called up and inserted into the Penguins lineup with Sidney Crosby out, Wilson played a team-low 8:41 against Columbus, but registered an assist. He had 24 points (15 G, 9 A) in 25 AHL games before getting called up.
Joel Armia – Made his Jets debut on Friday and played a minor role (7:05 TOI) in Monday's loss at Edmonton. The 22-year-old winger, who was acquired from Buffalo in the Evander Kane trade had eight points in 18 AHL games when he was promoted.
FIRSTS
David Warsofsky – Pittsburgh's puck-moving blueliner scored the first goal of his NHL career, in his 20th career game, a 5-2 win over Columbus.
SHORT SHIFTS
Oilers C Leon Draisaitl recorded a pair of assists in a 3-1 victory against Winnipeg, giving him 12 points (1 G, 11 A) in the past nine games…Oilers LW Taylor Hall assisted on all three goals, and has 14 points (6 G, 8 A) in the past nine games…Oilers RW Teddy Purcell recorded two goals and an assist against the Jets, and has 10 points (4 G, 6 A) in the past eight games…Flyers LW Jakub Voracek had a pair of assists against St. Louis, and has eight points (2 G, 6 A) during a five-game point streak…Stars C Tyler Seguin put up a goal and an assist in a 6-3 win at Minnesota; he has 11 points (5 G, 6 A) in the past seven games…Maple Leafs LW James van Riemsdyk contributed a goal and two assists at Colorado, giving him seven points (4 G, 3 A) in the past five games…Predators LW Colin Wilson recorded a goal and two assists against Montreal, his first goal in 22 games…Islanders C John Tavares had two assists in a 5-2 win over Anaheim; he had two assists in his previous nine games…Penguins RW Phil Kessel had a pair of goals in a 5-2 win vs. Columbus; he had no goals and one assist in his previous eight games…Stars C Vernon Fiddler scored a pair of goals at Minnesota, snapping a 16-game goal drought…Maple Leafs G Jake Gardiner had four assists at Colorado; he had no goals and one assist in the previous 14 games…Avalanche RW Jack Skille scored a couple of goals against Toronto, and has four goals in the past five games; he also has played less than 10 minutes in 20 of the past 21 games. He's Colorado's most efficient scorer at even strength…Avalanche C Mikhail Grigorenko had a great possession game (12 for, 1 against, 92.3 SAT%) in a limited role against Toronto.
FANTASY FOCUS
A few holiday gifts for your fantasy team, all owned in fewer than 10% of TSN leagues:
P.A. Parenteau – The Maple Leafs winger has six points (2 G, 4 A) in the past six games. Owned: 5.6%
Alexander Wennberg – The second-year Blue Jackets centre has 10 points (2 G, 8 A) in the past nine games. That's good enough to warrant consideration in more than the bare minimum of TSN leagues, isn't it? Owned: 3.9%
Alex Killorn – The Lightning winger appears to be coming on after a slow start, with five points (2 G, 3 A) in the past four games, and he played more than 20 minutes in Sunday's win over Ottawa. Owned: 6.5%
Much of the data included comes from www.war-on-ice.com, stats.hockeyanalysis.com www.hockey-reference and www.naturalstattrick.com
Scott Cullen can be reached at scott.cullen@bellmedia.ca