Statistically Speaking: Trout, Arenado leading MVP candidates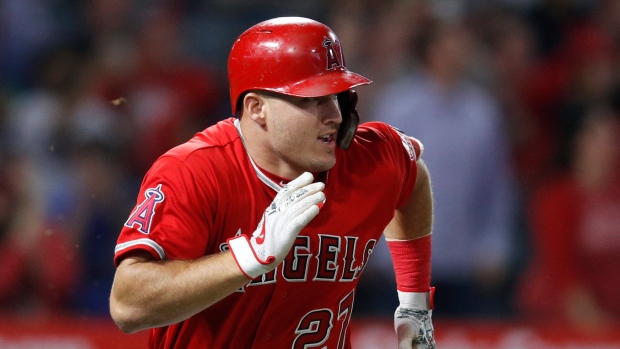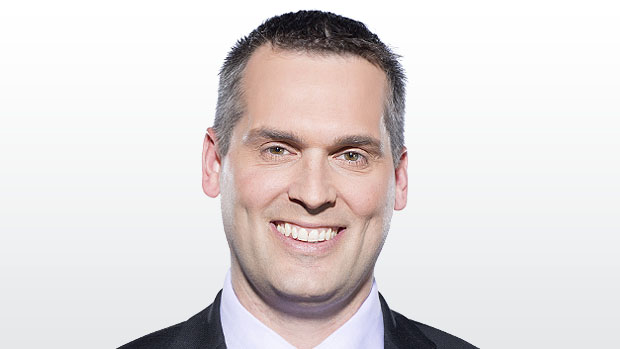 A familiar name sits atop the American League MVP race, but his challengers are stars in their own right. The National League MVP race is wide open, but a power hitter who is a perennial Gold Glover at third base holds the lead at the halfway point.
There are a bunch of strong pitchers in the American League, though none have been as dominant as a Red Sox starter who has finished in the top five of Cy Young voting in each of the past five seasons. In the NL, the Cy Young leader may struggle to reach double digits for wins, but he's been ridiculous.
The rookie races include some interesting names, but it would have been more compelling in the American League if Shohei Ohtani could have stayed healthy. Nevertheless, Gleyber Torres and Juan Soto are premier prospects who have hit the majors in full flight.
A look at my midseason award winners in Major League Baseball:
AL MVP: Mike Trout, CF, L.A. Angels of Anaheim (25 HR, 15 SB, .314 AVG, 1.075 OPS)
Runners-Up: Jose Ramirez, 3B, Cleveland (28 HR, 19 SB, .296 AVG, 1.013 OPS); Mookie Betts, RF, Boston (23 HR, 16 SB, .352 AVG, 1.123 OPS)
Comment: It's pretty tough for anyone to keep pace with Trout, the best player in baseball who just happens to be having the best season of his career. Ramirez and Betts are both stars having MVP-calibre seasons, if not for Trout's brilliance. Others in the hunt include the Yankees' Aaron Judge, Cleveland's Francisco Lindor and a pair of Astros – Alex Bregman and Jose Altuve.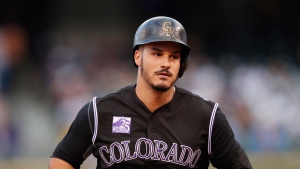 NL MVP: Nolan Arenado, 3B, Colorado (23 HR, .311 AVG, .987 OPS)
Runners-Up: Freddie Freeman, 1B, Atlanta (16 HR, .313 AVG, .940 OPS); Paul Goldschmidt, 1B, Arizona (21 HR, .284 AVG, .935 OPS)
Comment: This is an interesting race because no one has been particularly dominant, so there is lots of room for new contenders to make noise in the second half. At the same time, Arenado has been a consistently great player, both offensively and defensively, for years, and his numbers deserve the nod this year. Despite a miserable month of May, Goldschmidt is once again a viable contender and the Braves duo of Freeman and Ozzie Albies are challengers, too. Milwaukee's Lorenzo Cain should be in the discussion, too.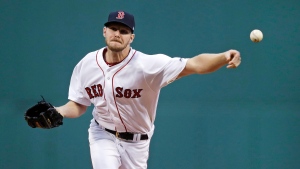 AL Cy Young: Chris Sale, Boston (10-4, 2.23 ERA, 0.90 WHIP, 188 K, 129 IP)
Runners-Up: Justin Verlander, Houston (9-4, 2.05 ERA, 0.83 WHIP, 160, 131 2/3 IP); Trevor Bauer, Cleveland (8-6, 2.30 ERA, 1.08 WHIP, 168 K, 129 1/3 IP)
Comment: Sale was the pick at the midpoint last year, too, and he's been notably better this year. Verlander has enjoyed a career renaissance in Houston and Bauer is having a breakout year. Other worthy contenders include Canadian Mariners starter James Paxton, the Yankees' Luis Severino and last year's winner, Cleveland's Corey Kluber.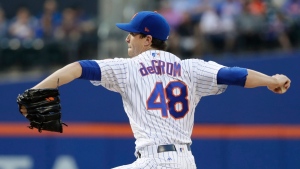 NL Cy Young: Jacob deGrom, N.Y. Mets (5-4, 1.68 ERA, 0.97 WHIP, 149 K, 123 1/3 IP)
Runners-Up: Aaron Nola, Philadelphia (12-2, 2.27 ERA, 0.98 WHIP, 126 K, 123 IP); Max Scherzer, Washington (12-5, 2.41 ERA, 0.90 WHIP, 182 K, 134 2/3 IP)
Comment: This will be a real test for old-school baseball voters, because deGrom has been utterly ridiculous, but his team doesn't win and there is still a percentage of voters that would have a hard time giving the Cy Young to a pitcher who is credited with 10 wins or something similar. No mind, deGrom's dominance gets recognized here. Nola is having a breakout year for the Phillies and Scherzer, who has won the past two National League Cy Young Awards, is in the hunt again. One more to include in the discussion is Arizona's Patrick Corbin, who has emerged as an ace.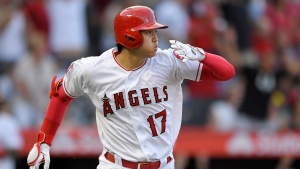 AL Rookie of the Year: Shohei Ohtani, P/DH, L.A. Angels of Anaheim (7 HR, .279 AVG, .874 OPS, 4-1, 3.10 ERA, 1.14 WHIP, 61 K, 49 1/3 IP)
Runners-Up: Gleyber Torres, 2B, N.Y. Yankees (15 HR, .294 AVG, .905 OPS); Miguel Andujar, 3B, N.Y. Yankees (12 HR, .282 AVG, .818 OPS)
Comment: Given that he's now injured, and hasn't been able to pitch since early June, Ohtani is going to have an almost impossible time trying to maintain his spot atop the AL rookie class, but he's been the best through the first half of the season. Torres, who was in the minors to start the season, and Andujar have both been valuable contributors for the Yankees. Astros catcher Max Stassi has been solid, but will probably have a hard time gaining ground on the slugging Yankees infielders.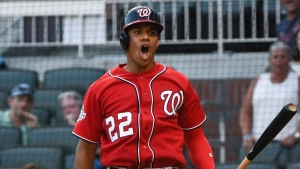 NL Rookie of the Year: Brian Anderson, 3B/RF, Miami (7 HR, .288 AVG, .787 OPS)
Runners-Up: Juan Soto, LF, Washington (9 HR, .307 AVG, .952 OPS); Jesse Winker, OF, Cincinnati (7 HR, .286 AVG, .822 OPS)
Comment: Soto, 19, is clearly the star of the National League rookie class, but he's only played 48 games, so Anderson gets the midseason nod, with the understanding that he'll be clinging to that lead to try to hold off Soto, who has a 1.218 OPS in the minors before getting called up to The Show. Dodgers pitcher Walker Buehler has a chance to make this a competitive race if he has a strong second half, because he's been impressive in nine starts thus far.
Moving to the Fantasy All-Stars, players who were available late (at least 200 ADP) or on the waiver wire and are making a difference:
C – Wilson Ramos, Tampa Bay (14 HR, 51 RBI, .295 AVG)
1B – Jesus Aguilar, Milwaukee (24 HR, 68 RBI, .307 AVG)
2B – Scooter Gennett, Cincinnati (15 HR, 59 RBI, .326 AVG)
3B – Asdrubal Cabrera, N.Y. Mets (17 HR, 52 RBI, .282 AVG)
SS – Tim Anderson, Chicago White Sox (13 HR, 37 RBI, 21 SB, .247 AVG)
OF – Nick Markakis, Atlanta (10 HR, 60 RBI, .322 AVG)
OF – Michael Brantley, Cleveland (11 HR, 52 RBI, 6 SB, .306 AVG)
OF – Mitch Haniger, Seattle (18 HR, 65 RBI, .272 AVG)
P – Blake Snell, Tampa Bay (12-5, 2.27 ERA, 1.07 WHIP, 134 K, 119 IP)
P – Miles Mikolas, St. Louis (10-3, 2.65 ERA, 1.01 WHIP, 81 K, 115 1/3 IP)
P – Ross Stripling, Los Angeles (8-2, 2.08 ERA, 1.08 WHIP, 108 K, 95 1/3 IP)
P – Patrick Corbin, Arizona (6-3, 3.09 ERA, 1.05 WHIP, 146 K, 116 1/3 IP)
P – Mike Foltynewicz, Atlanta (7-5, 2.66 ERA, 1.11 WHIP, 120 K, 101 2/3 IP)
CL – Blake Treinen, Oakland (5-2, 23 SV, 0.98 ERA, 0.96 WHIP, 56 K, 46 IP)
Scott Cullen can be reached at scott.cullen@bellmedia.ca