Stone believes month-long slump is behind him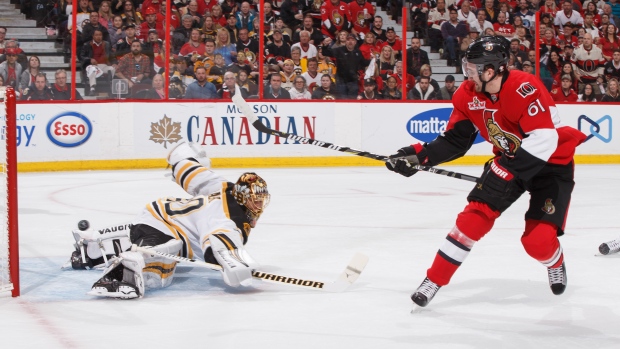 Every summer, when he's back at his parents' Winnipeg-area home, Ottawa Senators winger Mark Stone takes a look at his collection of hockey memorabilia.
One of Stone's most treasured items is the puck that produced his first NHL point. It's from a game-winning goal scored by Jason Spezza in Game 5 of a 2012 playoff series against the New York Rangers at Madison Square Garden.
The 19-year-old Stone had never played an NHL game before, but head coach Paul MacLean felt the teenager would be his best option in the crucial fifth game of a series tied at two. Captain Daniel Alfredsson was missing from the lineup with a concussion and the club needed a potential offensive spark on right wing.
Midway through Stone's first period of action in the NHL, he rewarded MacLean's faith in him by perfectly threading the needle on a saucer pass to Spezza, who buried it for the eventual game-winning goal. The pass somehow found a tiny seam between Rangers defenceman Ryan McDonagh and forward John Mitchell, giving Ottawa fans a preview of the vision and patience that have become the hallmark of Stone's game today.
"It was pretty cool. A ton has changed since then, but it's one of those days I'll never forget," Stone told TSN.ca on Wednesday. "I was pretty surprised to see I would be getting an opportunity to play in the Stanley Cup playoffs."
Stone and the Senators returned home with a 3-2 series lead and a chance to close out the Rangers on home ice. But instead of sticking with the same lineup for Game 6, MacLean opted to sit Stone and replace him with Jakob Silfverberg – another rookie making his NHL debut.
The Senators went on to lose the next two games. In the five years since, there has been a fierce debate amongst Ottawa fans: Did MacLean make a mistake by taking Stone out of the lineup after Game 5 of that series?
On the eve of another playoff series with the Rangers, Stone said MacLean made the right choice because he wasn't quite ready for the spotlight as a teenager. Silfverberg was two years older and perhaps a little more polished as a professional player at the time.
"I think I was in over my head going into that game," admitted Stone. "They gave me a chance and I made one play that people talk about, but I don't think people watched the other eight and a half minutes that I played. I was pretty nervous. I wasn't up to the speed and the coaching staff saw it may have been just a bit too much for me as a 19-year-old kid."
Now a couple of weeks shy of his 25th birthday, Stone has rounded into one of Ottawa's most consistent offensive weapons. But he struggled down the stretch of the 2016-17 campaign, uncharacteristically going without a goal in the final 15 games of the regular season after suffering through a series of injuries in February and March.
That goal drought was extended to 19 games after he failed to score in the first four games of the playoff series against Boston.
But then Stone found the back of the net to open the scoring in Game 5 on a breakaway, showing his trademark patience by outwaiting Tuukka Rask for a backhand goal. He had another breakaway against Rask in Game 6, but he was denied on that opportunity.
So as he heads into the Rangers series, Stone believes his offensive game is rounding into form after a month-long slump.
"I'm getting some looks for sure," he said. "Obviously a couple of breakaways help with that, but I don't think those are the chances you can count on getting every night. I have to find a way to get to the net and get those loose pucks."
If Stone does get some Grade-A scoring chances in this series in New York, the challenge will be trying to beat Henrik Lundqvist. The Rangers veteran netminder was brilliant in an opening-round series win over Montreal, posting a .947 save percentage and 1.70 goals-against average in six games.
Stone seems to have a firm grasp on the scouting report when it comes to facing the 35-year-old Lundqvist.
"I don't know many goalies that like having many bodies in front of them," he said. "I think you're going to have to make little plays to help, obviously. He takes away a ton of the lower half of the net, so when you're in tight, you're going to have to elevate the puck."