Stone signing answers few questions about Sens direction
The franchise's failure to ink the forward to a long-term deal only adds to the uncertainty in Ottawa, Ian Mendes writes.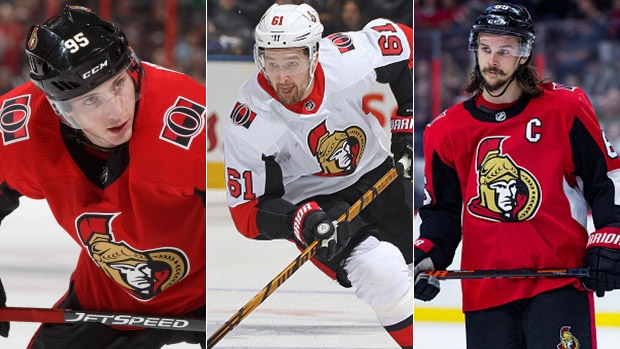 Five months ago, Eugene Melnyk penned a letter to Senators season ticket holders vowing a change in direction for his club that finished 30th overall in the league standings.
"The kind of change required to reclaim our standing needs a change in approach, requires difficult decisions and commitment to a plan," Melnyk wrote on March 1st.
The plan was never explicitly spelled out, but conventional wisdom suggested it would reveal itself as the NHL Draft and free agency period approached. Surely, the Senators summertime actions would give the fan base a clear signal of which direction the club was headed.
And yet as we sit here in early August, even the most ardent and patient Senators fan is having a hard time reading the tea leaves when it comes to this team.
The latest cloudy situation surrounds Mark Stone – a franchise-type forward who has all the attributes to become Daniel Alfredsson 2.0 in this market.
Regardless of what direction the team is headed – full-scale rebuild or aim to be competitive next season – virtually everyone in Ottawa agrees on thing: Stone should play a vital role for this team going forward.
And yet, the Senators were unable to come to terms on a long-term agreement with Stone this summer, further plunging their future into the unknown. The two sides hastily agreed to a one-year deal worth $7.35 million for the coming reason on Friday, minutes before they would have walked through the doors to an arbitration hearing.
While the Senators were able to avoid the bitter and toxic process of arbitration with Stone, they were unable to avoid its nastiest byproduct – a one-year contract.
Under the terms of the collective bargaining agreement, no player on a one-year contract can negotiate an extension until after January 1– whether that comes as a result of arbitration or thru good-faith negotiations.
That means the Senators will be in a holding pattern with Stone until the calendar flips to 2019. With each passing day the leverage shifts into Stone's camp – and away from general manager Pierre Dorion and the Senators – since he will become an unrestricted free agent next July.
If the Senators wanted to recoup some goodwill from their fan base, the signing of Stone this summer to a long-term extension would have been the easiest route to take. It would have provided a glimmer of hope for fans looking to break a seemingly never-ending negative news cycle swirling around their team.
Instead, Ottawa fans are left to wonder if Stone's last-minute, one-year contract is a sign that the player doesn't want to be here long-term.
Stone and the Senators might be caught in an ultimate game of "chicken-or-the-egg" as it pertains to the future of the franchise.
Perhaps Stone wants to see more stability from the organization before he commits to signing a long-term deal with the club.
On the flip side, the Senators need to sign Stone in order to prove they have a clear direction and some degree of stability.
If it was just Stone's murky future that Dorion had to fret about, it might be a tenable situation. Instead, the organization is headed into unchartered waters with three franchise players – Stone, Erik Karlsson and Matt Duchene – all staring at unrestricted free agency next summer.
The three superstar players are all looking for security and stability from an organization that appears unable to offer those two items right now.
The Senators could be poised for the mother of all rebuilds if they choose to move all three of those players in the coming months.
The team only has three players – Bobby Ryan, Marian Gaborik and Zack Smith – currently under contract beyond the 2019-20 season. From that perspective, they are well positioned for a complete dismantling of the roster. The haul of assets they could acquire for three superstar players would surely be something to salivate over and would likely make the Senators a playoff contender in three or four years.
Perhaps that route would make the most sense if the Senators actually owned their own first-round pick next June. Instead, they surrendered that selection to the Colorado Avalanche in the Duchene trade – a move that helped propel them into this awkward situation they currently find themselves.
And so there remains an uncertainty that hangs over this franchise like a big grey cloud. Fans were hoping for a little bit of sunshine with the potential re-signing of Stone to a long-term deal. But instead the forecast in Ottawa looks about the same as it did a few months ago.