Stroman, Blue Jays clear air after arbitration anger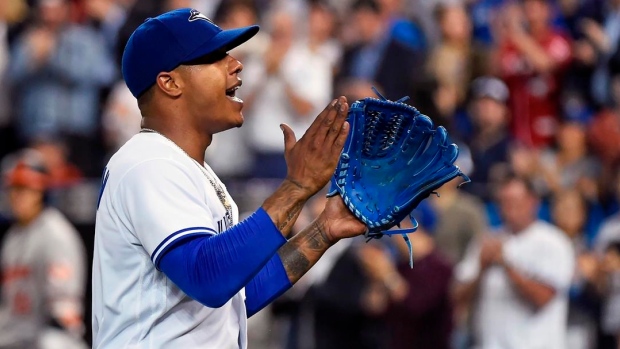 DUNEDIN, Fla. - Marcus Stroman doesn't have a problem with the Blue Jays, he has a problem with the arbitration process.
He also has no problem speaking his mind.
Full team workouts won't even begin until Monday, but Stro has been the show in the first week of spring training thanks to his lost arbitration case and subsequent tweets.
Stroman and general manager Ross Atkins met Friday morning in Dunedin to clear the air, and both came away feeling confident there's no fractured relationship to try to repair.
"Me and Ross, we talked about it early this morning," Stroman relayed. "There's no bad relationship there. It's something that I was frustrated with. I was upset."
He made it clear he wasn't upset at the loss of $400,000 - the difference between his filing number of $6.9 million and the team's arbitrator-accepted offer of $6.5 million — but instead the process.
He's not the first, won't be the last.
Heading to a hearing room to argue why your player isn't as good as he thinks he is clearly a tricky process.
According to Stroman, the Jays showed up to the date in Phoenix this past Monday with a booklet of negative info on their 26-year-old star, one who's coming off a 3.09 ERA that wasn't fully supported by advanced metrics with a 3.90 FIP.
"It's tough sitting in a room for five hours, completely silent, and being handed a booklet of things that are working against you and why you're bad," Stroman said. "I know I'm a pretty decent pitcher.
"It's a lot, man. You can go ask for the booklet if you want. I'm not going to get into details, but just every possible statistic that they can bring up about your career that works against you."
The Jays won their two arbitration cases this winter, with the other being against Roberto Osuna. Stroman and Osuna are both represented by The Legacy Agency.
While Stroman admitted it probably wasn't right to take the beef to Twitter, he also says he won't change, either on the mound or on social media.
"I think they love how I am out on the mound and how I perform and I think everything goes together," Stroman said when asked whether they've asked him to tone things down. "You can't ask me to be one way out on the mound and completely different when I'm off the field. And they're aware of that."
The whole situation didn't seem to bother Atkins much, and manager John Gibbons doesn't care much about a tweet or two, whether it's now or in the future.
It's just Marcus being Marcus.
"That's just his personality," Gibbons said. "I'm sure there'll be other times he'll lash out again. Hey, I don't want to get caught up in that. That's not that important an issue to me. They had their arbitration case, it's over, and he'll move on.
"It comes along with different individuals. Now, if something's really disruptive, that's different. I look at that as a minor blip."
One year after winning his arbitration case, Stroman thought he had done enough to avoid another hearing after a career year.
He could have to go through it two more times over the next two winters, before he's scheduled to hit the free-agent market following the 2020 season.
Stroman said he might be open to an extension, which could be shaped in many different ways, and is ready to at least listen if the Jays feel the same way.
"I wanna be here, and I wanna be here long term," Stroman said. "I just want to feel like I'm wanted here.
"I think there's a possibility for extension talks at any point. Last year, this year, yeah. I'm always open."
Stroman is a unique player and a unique individual, but also one who requires a unique amount of patience from his employers.
The Jays are learning this more and more with each passing month and that booklet might end up being thicker than the one used to pick apart his pitching.​