Stroman solid, Lind has four RBI as Blue Jays hammer Yankees
Adam Lind hit a three-run homer and rookie starter Marcus Stroman allowed three hits over a career-high eight innings as the Toronto Blue Jays kicked off a key three-game series with an 8-3 victory over the New York Yankees on Monday at Rogers Centre. With the win, Toronto moved 2 1/2 games ahead of New York in the American League East standings.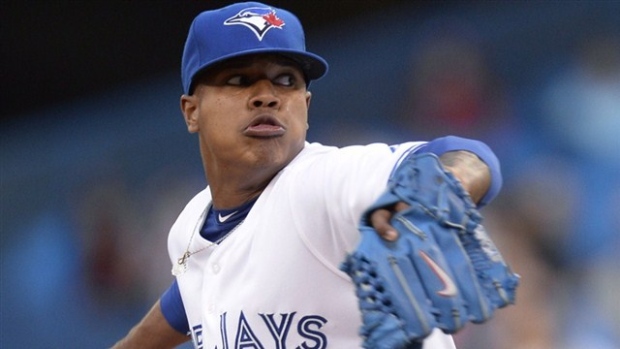 TORONTO -- With their lead atop the American League East on shaky ground after a disappointing road trip, the Toronto Blue Jays wanted to set the tone early for a nine-game homestand with a strong effort against New York on Monday night.
Adam Lind provided the power and rookie starter Marcus Stroman had the best start of his young career as the Blue Jays dumped the Yankees 8-3 at Rogers Centre. Stroman, making his fifth start for Toronto, allowed one earned run and three hits over a career-high eight innings.
"Shoot, it was a fantastic job," said Blue Jays manager John Gibbons. "We needed that. We needed shutdown innings early on to give us a chance to get on the board. Pretty impressive."
Toronto (43-35) opened the scoring with a single run in the first inning and Lind belted a three-run shot off New York starter Chase Whitley in the Blue Jays' six-run second.
That was more than enough offence for Stroman (4-2), who tied a career high with seven strikeouts.
"I felt my change-up was a big pitch today," he said. "Even though I didn't use it much, when I did use it, it was pretty crucial. I was just down in the zone today. Me and (catcher Dioner Navarro) got on a pretty good roll."
Stroman's lone blemish was a solo shot by Mark Teixeira, who hit his 13th homer of the season in the fourth inning to put New York (39-36) on the board.
The Yankees fell into third place with the loss, 2 1/2 games behind Toronto. The Baltimore Orioles remained in second place, 1 1/2 games back, after a 6-4 win over the Chicago White Sox.
Toronto's offensive outburst was most welcome for a team that was coming off a disappointing 3-7 road trip and had been held to three runs or less in 11 of its last 16 games. The Blue Jays also had to make lineup adjustments with Jose Bautista out for at least a few days with a left hamstring strain and Brett Lawrie on the disabled list with a broken finger.
Lind, who has been nursing a sore foot of late, helped fill the void by driving in four runs and scoring twice in the opener of the three-game set.
"Lind is a big part of this offence," Gibbons said. "He kills right-handers."
Edwin Encarnacion had three hits and Melky Cabrera had two hits and scored twice as Toronto outhit New York 13-6. Anthony Gose chipped in with a pair of hits and made an excellent running catch against the wall in right field in the sixth inning.
"The defence behind me was unbelievable," Stroman said. "Eddie made two great plays, Gose with an unbelievable play. Stuff like that kind of picks you up and gives you much more confidence going into the next couple innings."
Whitley (3-1), meanwhile, allowed eight earned runs, 11 hits and three walks while striking out a pair.
"It seemed like when he made a mistake, they hit it hard and when he made a good pitch, they seemed to find a hole with it," said Yankees manager Joe Girardi. "It was the combination of that. It was a tough start for him."
Toronto reliever Chad Jenkins relieved Stroman and gave up two runs over two-thirds of an inning. With two runners in scoring position,Aaron Loup got Brian Roberts to fly out to end the game.
Notes: Announced attendance was 31,554 and the game took two hours 45 minutes to play. ... Whitley's earned-run average rose to 4.07 from 2.56 while Stroman's fell to 4.25 from 5.14. ... Steve Tolleson replaced Francisco at third base in the seventh inning. ... Both Bautista and Lawrie were hurt Sunday in Cincinnati. Bautista said there's a chance he could play at some point in this series but Lawrie, from Langley, B.C., will likely be out for three to six weeks. ... Bautista has been named captain of the American League Home Run Derby team for the July 14 event during all-star week at Minnesota's Target Field. Colorado's Troy Tulowitzki will captain the National League side. ... Toronto recalled Gose and fellow outfielder Kevin Pillar from triple-A Buffalo on Monday and optioned catcher Erik Kratz to the Bisons. ... Left-hander Mark Buehrle (10-4, 2.32) is scheduled to start Tuesday against New York right-hander David Phelps(3-4, 4.13). ... Following the series against the Yankees, the Blue Jays will continue their nine-game homestand with a four-game series against the White Sox. Toronto will get an off-day Monday before a two-game mini-series against the Milwaukee Brewers. ... Cabrera has had at least one hit in his last 20 games against the Yankees. He has reached base safely in all 22 career games against his former club. ... Yangervis Solarte ended an 0-for-28 skid with an RBI single in the ninth.