Struggling Tiger-Cats searching for answers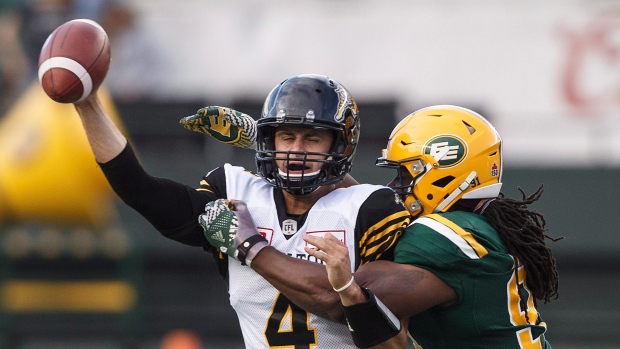 It might not be accurate to say the ship is sinking in Hamilton because it may have already sunk. Sitting at 0-7, the Tiger-Cats have gotten off to one of the worst starts ever. But just how bad has it been?
For starters, no team in CFL history has ever made the playoffs after starting 0-7. It's been a particularly rough ride over the last three games, being outscored by a combined 132-41 by the Calgary Stampeders, Edmonton Eskimos and Winnipeg Blue Bombers. Their 60-1 thumping at the hands of the Stampeders was the third largest in league history. But 0-7 isn't necessarily out of the ordinary in Hamilton. This is the fourth time they've had such a start which is more than any other club.
Having held a lead for a combined 87:39 so far this season, the Tiger-Cats have been fighting themselves – literally. The club got into a brawl with upwards of 20 players involved at practice on Aug. 1 during an offence vs. defence drill where punches were thrown. Things calmed down afterwards, but the melee lasted for more than a minute before coaches and other players stepped in.
A big part of the problem has been the play of quarterback Zach Collaros. His seven interceptions are tied for the most in the CFL with Kevin Glenn and Darian Durant. Collaros has the fewest passing yards among constant starting QBs in the league and owns the least amount of touchdown passes. While the Ticats have said they're committed to Collaros, he isn't putting up the numbers that head coach Kent Austin is looking for.
"We need better play out of that position," Austin said after the Ticats' latest loss. "I think [new assistant coach June Jones] can bring that. I really do."
Jones is known as a quarterback guru, famous for his wide open offensive style. But here's where things get interesting: Jones is close to former Tiger-Cats defensive coordinator Jeff Reinebold, who was removed just five days after Jones was brought in. Jones was the head coach of Southern Methodist University and the University of Hawaii where he had Reinebold as an assistant.
While the Tiger-Cats have stuck with Austin thus far, Jones has been "very involved" with the offensive game-planning, according to 3DownNation's Drew Edwards. Edwards also adds that Jones will likely take on an active role within the organization given his stature. Jones coached the Atlanta Falcons from 1994 to 1996 and was also interim head coach with the San Diego Chargers. He also played for the Toronto Argonauts in 1982 and coached with the Ottawa Roughriders in 1986.
Another huge problem for the Ticats has been the play of their defence. They're allowing a league-worst 475.7 yards per game while averaging 39 points scored against, tops in the CFL by more than seven.
After Reinebold's removal, new defensive coordinator Phillip Lolley said they were going to simplify Reinebold's old system. While the system may have been simpler, the results were just as puzzling. Lolley's debut saw the Blue Bombers hang 39 points on the Ticats.
As bad as it's been this year for Hamilton, this isn't their worst start in franchise history. Yet.
In 2005, they opened the season at 0-8 but regrouped down the stretch to finish at 5-13.
"One of the things I remember from my time in Toronto and my time in Ottawa is that you can be in the position this team is and still win the Grey Cup," Jones told reporters prior to their latest loss.
While the Grey Cup might seem out of reach at this point, the Tiger-Cats are looking to bounce back. They have played just one game against a far-inferior East. The Montreal Alouettes lead the division at 3-4 and the Argos (second place at 3-5) and the Ottawa Redblacks (third, 1-6) have each lost three in a row. They will get a chance to climb out of last place on Friday as they take on the Redblacks at Tim Hortons field in Hamilton.