Subban donating $10M to Montreal Hospital
With six impressive NHL seasons in Montreal under his belt, PK Subban is making an even bigger impact for the city off the ice. The Canadiens star defenceman took part in a media conference at Montreal Children's Hospital on Wednesday, where it was announced he's donating $10 million over the next seven years and making a fundraising commitment to the Montreal Children's Hospital Foundation.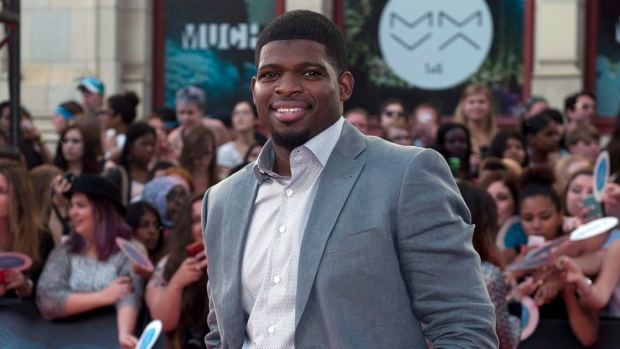 Montreal Canadiens defenceman P.K. Subban and his foundation have pledged at least $10 million to the Montreal Children's Hospital. The hospital is calling the money the largest philanthropic commitment ever made by a professional athlete in Canada.
The agreement will see Subban, 26, become a spokesperson for certain fundraising campaigns and flagship events organized by the Montreal Children's Hospital Foundation.
In recognition of the donation, the Children's officially inaugurated Wednesday the "P.K. Subban Atrium," a 486-square-metre, three-storey public space located at the heart of the hospital's new facilities.
"It is really an amazing feeling to be here," Subban said. "I am proud to walk in the footsteps of my idol Jean Beliveau by giving back to the community and feel privileged to be able to help transform the lives of sick children and their families."
The partnership will also see the creation of P.K.'s Helping Hand, a fund dedicated to assisting vulnerable families financially hurt by a child's illness.
"A lot of people don't realize that having a sick child often means one parent has to stop working, and it becomes tough to make ends meet," he said.
"P.K.'s Helping Hand is dedicated to making sure that these parents don't have to worry about paying for necessities like food and medicine and can instead focus on what's most important: helping their child get well."
Beliveau's widow, Elise, attended the news conference as did Subban's family.
Subban was drafted by the Canadiens in 2007 and won the James Norris Trophy as the NHL's best defenceman in 2013.
He is entering his sixth full season with the team.
Subban signed an eight-year deal worth $72 million prior to the beginning of last season