Subban says Habs power play must improve
P.K. Subban says the Montreal Canadiens need a better power play in order to improve next season. The Canadiens managed to finish second overall in the NHL with 110 points this season despite having the league's 23rd ranked power play, with a 16.5 per cent success rate.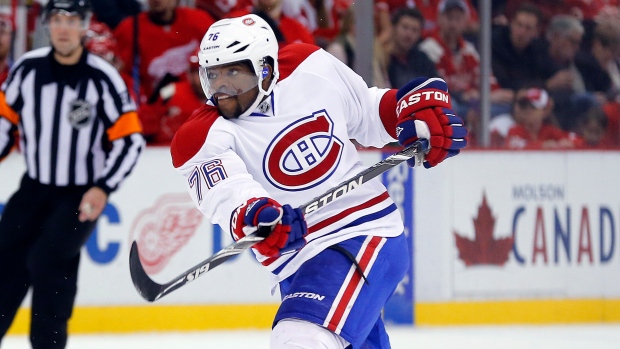 BROSSARD, Que. - P.K. Subban says the Montreal Canadiens' anemic power play has to change.
The team's star defenceman said Thursday it cannot remain as static and predictable as the one that produced a meagre two goals on 36 opportunities (5.6 per cent) during the playoffs.
"It's frustrating that our power play wasn't better," Subban said Thursday as the players met with the media for the last time before their off-season break. "You look at our offensive numbers and you wonder what they would have looked like if our power play was just a little bit better.
"It's shocking what the numbers could look like on our team. But listen, it's something we know we have to improve on for next year. I guess that's a bright spot when you finish first in your division and your power play was a non-factor pretty much the whole season. It's a positive thing going into the off-season."
The Canadiens managed to finish second overall in the NHL with 110 points this season despite having the league's 23rd ranked power play, with a 16.5 per cent success rate.
But offence was a big part of their undoing in the playoffs as they scored only 11 goals (1.83 per game) while bowing out in six games in the second round to the Tampa Bay Lightning.
Montreal was expected to do well with the man advantage with skilled rearguards on the point like Subban and Andrei Markov, but it never got going. Opponents guarded the points and the forwards were unable to generate much around the net.
Subban said the power play was too predictable and needed more movement among the point men and the forwards.
"You need sometimes just to be mobile," he said. "Sometimes it's just being in positions teams don't expect you to be in.
"One thing I give Tampa credit for is that there's no lack of creativity on their power play. Their players obviously get off that leash to move around. I don't think there's any cemented structure on that power play. They've got skilled players and they move around the ice. They make plays, they change position, they read off each other."
Assistant coach Dan Lacroix, who joined Michel Therrien's staff this season from the New York Rangers and was put in change of the power play, has taken some heat for not finding answers to season-long woes.
There was no word on whether he'll be back next season. Therrien did not meet with the media, while general manager Marc Bergevin is scheduled to speak on Friday.
The Canadiens had lower than average scoring all season. Part of that stems from a defence-first system, but they also lack depth in offensive talent after scoring leader Max Pacioretty, centre Tomas Plekanec and winger Brandan Gallagher.
Forward Alex Galchenyuk, the third overall pick in 2012, took a step forward this season with 20 goals and 26 assists. There is hope that if the 20-year-old moves to his natural position at centre he can have a breakthrough season.
Otherwise, the Canadiens will likely look for help on attack.
After their 4-1 Game 6 defeat in Tampa on Tuesday night, star goalie Carey Price blamed himself for not making enough saves even though it was clear that a lack of goal production from the skaters was the problem.
Two days later, he said: "It's always difficult when you lose in the playoffs. There's that sense of emptiness. As the summer goes on, you have a chance to reflect on the more positive things from the season.
"Whenever a team wins 50 games you're doing something right. We don't want to change that."
It will be a busy off-season for Bergevin, who needs to sign Galchenyuk and defenceman Nathan Beaulieu and make decisions on several other players.