Sunday Night Football: Rejuvenated Lynch leads Raiders into Washington
Domenic Padula (@dpadula12)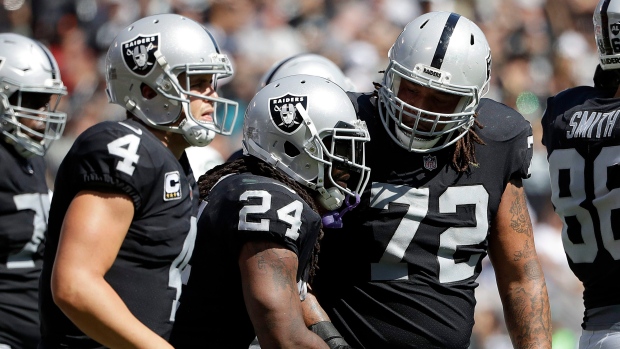 The Oakland Raiders are 2-0 for the first time in 15 years.
Since the playoffs expanded to 12 teams in 1990, 63 per cent of teams that started 2-0 went on to make the postseason.
While the Raiders aren't looking that far ahead, there is an elevated level of optimism surrounding the sliver and black following their best start since 2002. Last week, they kicked off the home portion of their 2017 schedule with a party in Oakland.
This week they will get the opportunity to put on a show in prime time when they travel to the east coast to take on the Washington Redskins on Sunday Night Football.
The Oakland offence will once again be in the spotlight after scoring a league-high 71 points through the first two weeks of the season. The Raiders have stressed balance on the offensive side of the football. Their ability to effectively attack opposing defences both on the ground and through the air is a big reason for their strong start.
The return of Beast Mode has added another element to the Oakland offence. Running back Marshawn Lynch has averaged 4.0 yards per carry while rushing for 121 yards and a touchdown through two games.
A rejuvenated Lynch has been tackled on first contact on only 50 per cent of his 30 rushing attempts, which is the best rate among NFL running backs through two games over the last five seasons.
Lynch should receive a significant workload again this week against a Washington defence that has given up the 11th-most rushing yards in the NFL since the start of last season.
Meanwhile, there will be a unique opportunity for Oakland quarterback Derek Carr on Sunday night. Carr will have a chance to improve his career record to .500 for the first time since making his NFL debut in 2014. Carr, who started his career with 10 straight losses, is now 24-25 following back-to-back wins to open the year.
Carr has thrown for 492 yards and five touchdowns in wins over the Tennessee Titans and New York Jets. Wide receivers Michael Crabtree and Amari Cooper have accounted for the bulk of that production, with a combined 258 receiving yards and four scores.
Crabtree and Cooper will match up against Washington cornerbacks Josh Norman and Bashaud Breeland this week. Norman has allowed the second-lowest catch rate among cornerbacks that have been targeted at least 10 times this season so it will be interesting to see how often Carr throws in his direction on Sunday night.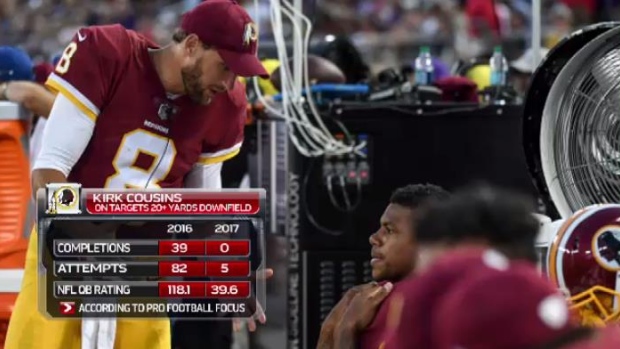 On the other side, Washington quarterback Kirk Cousins will be expected to produce more big plays in the passing game.
The Redskins relied heavily on the run in last week's 27-20 win over the Los Angeles Rams as running backs Rob Kelley, Chris Thompson and Samaje Perine combined for 222 of the team's 229 rushing yards.
Cousins threw for just 179 yards and a touchdown against Los Angeles. One major issue that has plagued Cousins early on has been his inability to stretch the field with the deep ball. A year ago, Cousins tied for the league lead with 39 completions on targets 20 yards or more downfield. Through the first two games of the 2017 season, Cousins is 0 for 5 on deep-ball attempts.
The loss of wide receivers Pierre Garcon and DeSean Jackson is a big part of the problem. There have also been some chemistry issues with wide receiver Terrelle Pryor Sr., who was added in the off-season. Pryor had just two receptions for 31 yards against the Rams in Week 2. He has zero catches on three targets 20 yards or more downfield through the first two games with his new team.
If Washington is going to beat the Raiders, they will need to stretch the field with more big plays from Cousins and the passing game. That means getting more out of their most skilled wide receiver versus Oakland on Sunday.