Svensson lights it up at Sony Open
Canadian posts career-low round as a professional to take a one-shot lead at the year's first full-field tournament, Bob Weeks writes.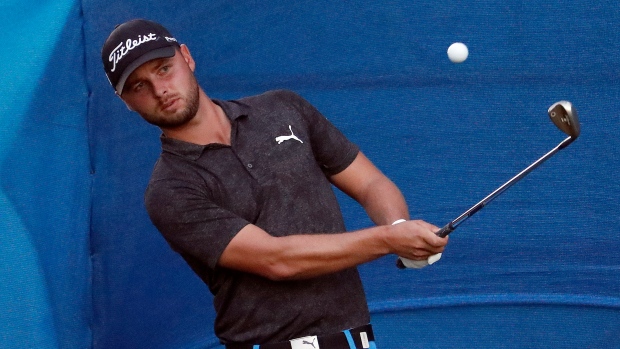 The media at the Sony Open may have been scrambling to figure out just who Adam Svensson is after his sizzling opening-round 61 on Thursday.
They could have gone to the media guide of course. Or they could have asked those in Canada who've marvelled at the Surrey, B.C., product's raw talent that is starting to mature.
But folks up here could have revealed Svensson's interesting start in golf, where, as a four-year-old, he drove the golf cart his father was using into a water hazard, sending dad's clubs to the bottom of the pond.
Or they could have talked about the big purchase he made after he won a Web.com Tour event in Bahamas last year – a vacuum.
Yup. A vacuum.
The reason for all the attention on Svensson was that he posted his career-low round as a professional to take a one-shot lead at the year's first full-field tournament.
He made seven birdies and an eagle on his day, capping things with a slick up-and-down birdie on the final hole.
While obviously pleased with the round, Svensson was also somewhat overwhelmed by what happened over the Waialae Country Club.
"Today just kind of was all a blur," Svensson told reporters. "I don't really remember what holes I birdied and stuff."
Thankfully, the PGA Tour keeps a record of that. After a birdie on the fifth, Svensson drained a 40-footer on the sixth hole. On the par-5 ninth, he thinned a six-iron that rolled up to five feet and he drained that for an eagle.
He then made four birdies consecutively from 11 to 14, and scrambled to a birdie on the par-5 18th.
"I missed a couple on the front and I was like, just be patient," Svensson recapped. "I started rolling in 40-, 45-footers, something like that, and I just kind of took it from there. Had a lot of the confidence. Was just feeling it today with the putter."
Indeed he was. His Strokes Gained: Putting was a lofty 4.118, second best in the field.
There's never been any doubt that Svensson could play with the best in the world. He's been lighting up golf courses since his junior days. He was part of Canada's team at the World Team Amateur in 2014 that finished second. And he was a member of Golf Canada's national team program for the past five years.
But there have been questions about his approach as a professional – things like proper practice discipline, good eating habits, learning to travel internationally and the overall approach to his career.
Gradually, however, the 25-year-old has gained some focus to mesh with his talent and the results are showing with rounds such as the one he posted on Thursday.
Safe to say that it's likely Svensson will be making a name for himself as the season unfolds.