Sweden advances to WJC semifinals against Russia after beating Finland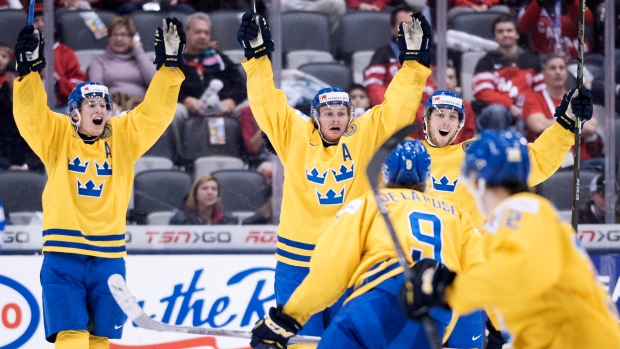 TORONTO — Adrian Kempe's power-play goal at 1:24 of the third period held up as the winner as Sweden eliminated defending champion Finland 6-3 in quarter-final action at the world junior hockey championship on Friday.
Sweden will play Russia in the semifinal. The Russians edged the United States 3-2 at Montreal's Bell Centre earlier in the day.
Lucas Wallmark struck twice for Sweden — including an empty-net goal with four seconds left in the third period — and Toronto Maple Leafs draft pick William Nylander had two assists. Gustav Forsling, Oskar Lindblom and Adam Brodecki also scored for the Swedes, who found the back of the net three times on power-play opportunities throughout the game.
"Our power play is working really well," said Nylander, who has nine points so far in the tournament. "We have a lot of confidence now. We beat Russia last time, so we just have to refresh the bodies and get ready for the game against Russia."
Jusso Ikonen had a goal and an assist for Finland, while Mikko Rantanen and Kasperi Kapanen rounded out the offence.
The teams were tied 3-3 before Sweden erupted for three goals in the final period.
"Guys were raising their voices in the dressing room (after the second period)," said Finnish defenceman Mika Ilvonen. "We realized we could win and we were close, but then penalties in the third destroyed us."
Sweden's Linus Soderstrom stopped 30 shots to pick up the victory. Ville Husso made 29 saves in shouldering the loss for Finland.