Sweeney: 'Disappointing' to lose G Subban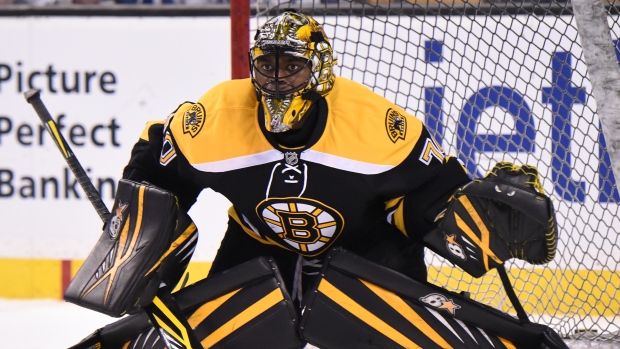 The Boston Bruins waived Malcolm Subban on Monday in hopes he could clear and start the season with the AHL's Providence Bruins.
Instead, Subban was claimed by the Vegas Golden Knights and the Bruins were forced to say goodbye to their 2012 first-round pick.
"I had my fingers crossed that it wasn't gonna happen," Bruins general manager Don Sweeney said Tuesday. "But that's part of the business, and we wish Malcolm obviously success in the opportunity that he's going to get. But it's a loss for us."
Subban lost out on the Bruins' backup job behind Tuukka Rask to Anton Khudobin in the preseason. Subban went 2-0 in four games with a 2.71 goals against average and a .889 save percentage. Khudobin posted a 1-1 record with a 1.51 goals against average a .948 save percentage.
The 23-year-old appeared in one game with the Bruins last season, allowing three goals on 13 shots before being pulled. He posted an 11-14-1 record at the AHL level, recording a 2.41 goals against average and a .917 save percentage.
"In a perfect world, he's playing for us still," Sweeney said. "That's really what you're hoping for. You are investing a lot of time and energy, as is the player, and he's invested into the hockey club. So it's a loss for us, it's disappointing."