Swiss contingent puts friendship on hold for Cup final
It's the height of Swiss power in the NHL as Penguins defenceman Mark Streit faces countrymen Roman Josi, Yannick Weber and Kevin Fiala of the Predators with a championship on the line.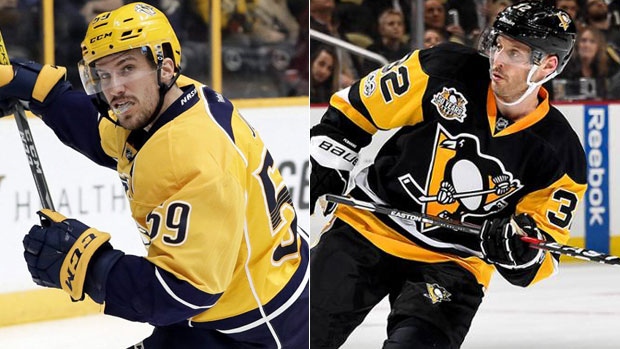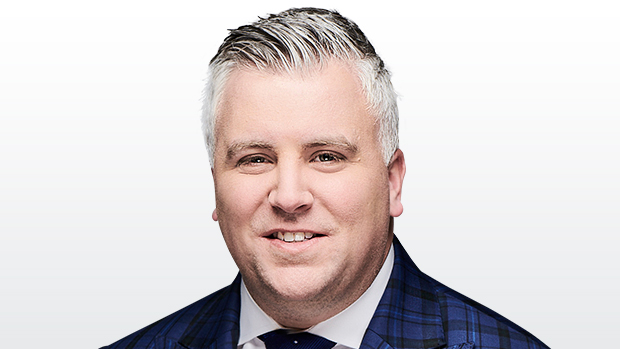 PITTSBURGH - One way or the other, Lord Stanley's silver mug is heading to Bern, Switzerland this summer, but the two sides battling for hockey's ultimate prize are definitely not neutral on the result.
Pittsburgh Penguins defenceman Mark Streit lives a two-minute bike ride from Nashville Predators star Roman Josi in Switzerland's capital city.
A typical day during a Swiss summer might start with Streit and Josi playing tennis at Bern's Lawn Tennis Club, where they are members, include a workout at some point, and then golf in the afternoon with Preds defenceman Yannick Weber.
"It's a crazy story," Streit said. "We all have a really close relationship. That's put on hold now in the final. Since the playoffs started, everyone was on their own. There hasn't been a lot of communication. We'll talk after."
This, right now, is the height of Swiss power in the NHL.
A country that has produced just 29 total players in league history now has four on rosters in the Stanley Cup final. The fourth is Predators winger Kevin Fiala, who went down in the first round with an injury and is sidelined until next season.
On top of that, Nico Hischier could become the first ever Swiss-born player to be selected No. 1 overall in the NHL draft next month.
"It's almost a little bit surreal," said Weber, a former Montreal Canadien and Vancouver Canuck.
Call it a Swiss awakening in the NHL. Amazingly, Weber said few have noticed in a country where soccer and Olympic sports are king. He said he was surprised that not a single reporter from Switzerland came to the final to document it all. That's fine with them.
"I think it's a great time to be Swiss," Josi said. "There are more guys coming, too."
Hischier, 18, hails from Naters, but he played for Bern in the Swiss National A league last season – against Auston Matthews in Zurich ­­– before joining the QMJHL's Halifax Mooseheads for his draft-eligible season.
Not surprisingly, Hischier skated with Josi, Streit and Weber last summer. The Swiss hockey contingent isn't a large one. Word travels fast.
"You could see he was extremely skilled," Josi said. "I haven't seen him play a game yet, but he seems like a really great kid, too. It'd be great for Switzerland if he could go first overall."
With Hischier unlikely to fall past the Philadelphia Flyers, who have the No. 2 overall pick, he is virtually guaranteed to become the highest drafted Swiss-born player ever. Nino Niederreiter will cling to that distinction for a few more weeks anyway – he went No. 5 overall to the Islanders in 2010.
"The last few years, his name came up more and more," Weber said of Hischier. "I would've never expected him to be the first-overall pick. You're able to tell he's a very talented kid, but you never know how he's going to react to the small ice in his first year. It's such a different game. He had an unbelievable year."
The only Swiss players with their name on the Stanley Cup are David Aebischer and Martin Gerber. Both were backup goaltenders who won with Colorado (2001) and Carolina (2006).
But it is Streit, now 39, who is the godfather of Swiss hockey in the NHL. He was the first skater to really make it in the NHL when he finally broke through in 2005 at the age of 28. Streit toiled for nine years in the Swiss league, with one failed attempt in the AHL in the middle. He blossomed into one of the highest-paid NHL defencemen over the past decade.
"He opened the door for guys to dream bigger," Weber said. "He took me and Roman under his wing in the summer. We've been training together for a lot of years now. When he got traded to Pitt, I was excited for him to play on a team with a chance to really make it far. He never really had a chance, playing so many years for the Islanders."
Streit, who was a healthy scratch for the Penguins in Game 1, is three wins from a Stanley Cup in likely his final year in the NHL. His contract expires on June 30.
He didn't even expect to be with the Penguins, hoping to remain with the Flyers before a bizarre trade deadline saw him moved to the Tampa Bay Lightning, then the Penguins in a matter of an hour with the Flyers not wanting to deal with their cross-state rival.
Streit now has a chance to do what former teammate Kimmo Timonen did with the Blackhawks in 2015 and go out on top.
"I ran into him in Columbus and he told me to hang in and be patient," Streit said. "I'm ready and I'm here to help the team. He went through a little bit of the same thing in Chicago. It worked out pretty well for him."
Weber said Streit is easily the most popular player in Switzerland – not Josi. It hasn't necessarily been easy for Streit, who said there were always so many unrealistic expectations for him on the international stage, expected to shoulder the load in years when he didn't have much help.
When Josi and Weber and others, like Timo Meier, Raphael Diaz, Sven Andrighetto, Fiala, Mirco Mueller and Sven Baertschi came along, the load was lightened.
The result was a surprise silver medal in the 2013 IIHF World Championship in Stockholm. That was the biggest moment in Swiss hockey history.
Until now.
"I'm really happy for those guys that they're doing so well," Streit said. "I think we need to keep working, because all of the other nations, they're pushing, too. Everyone is getting better. If you want to call it Swiss power, sure. It's a great story. It's history."
Contact Frank Seravalli on Twitter: @frank_seravalli