Takeaway: A case for overhauling the Canucks defence
In each of the five days leading up to the 2018 National Hockey League Draft Lottery, Jeff Paterson will present a different takeaway from the Vancouver Canucks season. He will examine areas of concern that led the Canucks to a 27th place finish in the overall standings giving them a 7.5% chance of landing the first overall pick at this year's draft in Dallas.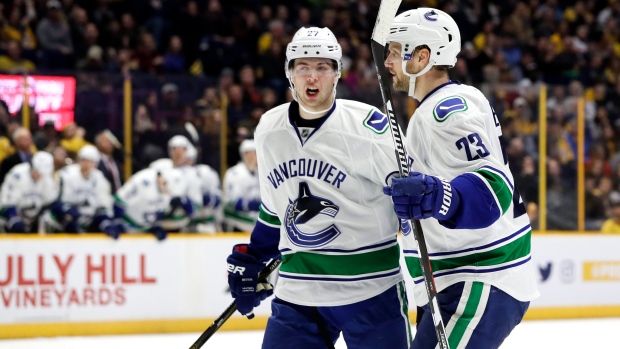 Already in the 2018 Stanley Cup Playoffs, 28 defencemen have scored at least one goal. It's a fair question to wonder if the Vancouver Canucks were part of the post-season picture would that total be any different? Logic would suggest that if the Canucks were in the playoffs, they'd be a much better team and likely would have addressed one of their most-glaring weaknesses: offensive contributions from their defence.
Head coach Travis Green made it abundantly clear at his year end media availability two weeks ago that increased offence from the blue-line is one of his priorities for the Canucks next season. However, saying it is one thing. Making it happen is something altogether different. Last season, the Canucks defence scored 21 goals and added 101 assists. The goal total was down by one from the previous season, but the overall point production was up by 11.
Alex Edler led all Canucks defencemen with 34 points while he and Michael Del Zotto shared the goal-scoring lead with a modest six goals apiece. As a group, the Canucks blue-line managed just eight road goals all season, or one every 10 games. It's not enough and it hasn't been for some time now.
When you examine the defencemen on the roster and try to figure out who has more to give offensively, one name stands out above the others: Ben Hutton. Coming off a highly disappointing no goal, six assist campaign, Hutton's point totals have dropped from 25 as a rookie to 19 a year ago to six this past season. But in order to produce, Hutton has to be in the line-up and his struggles in that regard and his battle to earn the trust of the head coach are well documented.
Based on a healthy line-up, Hutton likely projects as the seventh defenceman to start next season with Edler, Del Zotto and Derrick Pouliot ahead of him on the left side and Chris Tanev, Erik Gudbranson and Troy Stecher on the right side.
But coming back with the same players and simply hoping for a notable uptick in offensive production seems like a bad gamble. The right side of the defence as constructed offers next to no offence and very little hope of any kind of spike in production.
Obviously, the Canucks would address many of their needs if they win the Rasmus Dahlin sweepstakes on Saturday. But based on past lotteries, they should probably have a solid Plan B in place. And unless they are picking second or third overall, it seems almost certain that the Canucks will come out of this year's draft with one of the many available top tier defensive prospects. However, it's unlikely any of that next group of defencemen taken after Dahlin will step into an NHL line-up in the fall.
That's where the idea of chasing Washington's John Carlson as an unrestricted free agent makes perfect sense for the Canucks. A 28-year-old right-hander who led all NHL defencemen in scoring with 15 goals and 68 points this season, including four power play goals and 32 power-play points, would seemingly fit the bill on many levels. However, there is no guarantee Carlson makes it to the open market, nor is there any indication that he would have interest in the Canucks. Carlson is going to get paid regardless where he goes so it's not as simple as throwing a ridiculous sum of money at him. The Canucks will have to pitch him on the city, the role he'd play here and the opportunity he'd have to run a power play with the likes of Brock Boeser and Elias Petterson. And there's still a strong chance none of that would get the deal done.
So that's where the Canucks need to get creative this off-season and look at transforming their defence via the trade route. While the organization may have missed the window for maximizing the return on a Chris Tanev deal, they still have to explore that idea. There is still significant value in the oft-injured blue-liner and these playoffs have shown there are teams that could certainly use his services. But it can't stop at just moving Tanev.
Taking one piece, that only played half the games last season, out of the equation won't solve the Canucks issues on defence. While they'd be selling low on Hutton, they should explore that avenue, too, if the coach won't play him. And perhaps the team should even look to move on from Erik Gudbranson although that seems unlikely after Jim Benning traded for the big blue-liner two summers ago and then reaffirmed that commitment to him with a new three-year/$12 million dollar extension in February.
What the Canucks have assembled as a defensive group isn't working for them. As a team, the Canucks finished 26th in the league defensively averaging 3.16 goals against per game while yielding 32.2 shots against per game. And as a group the offensive issues are clear for all to see.
Returning the same collection of defencemen next season simply cannot be an option for a team claiming it wants to see a marked improvement in that area. More of the same will simply lead to more of the same, and it's hard to imagine anyone has an appetite for that.