10 off-season questions for the Blue Jays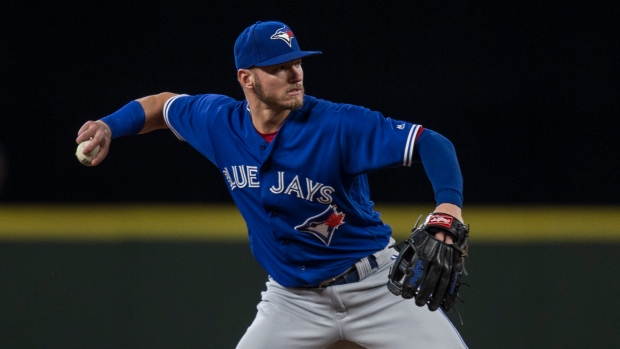 The 162-game slate is in the books, and the Toronto Blue Jays are on the couch in October for the first time since 2014.
A dismal 76-86 season has earned them the 12th-overall pick in next June's draft, but that's the least of general manager Ross Atkins' worries at this point.
Closing in on his second full calendar year at the helm of an aging and broken roster, it's a critical winter for Atkins & Co.
There are a number of holes that need to be creatively filled, a few contingency plans that have to be put in place, and a monumental decision to be made when it comes to their best player – one that will affect the franchise for years to come no matter which route they take.
Here are 10 questions facing the Blue Jays heading into the off-season:
How will the Josh Donaldson contract situation play out?

On Sunday, Donaldson talked to the media at length in New York and relayed the news that he had met with the Blue Jays' front office to indicate his desire to stay in Toronto for the long term. What he didn't say was how much money it will take. News flash: It's going to be a lot.
Like $25 million per season a lot.
When you consider the fact it will take at least five years of term and maybe more to get the deal done, Atkins and team president Mark Shapiro have some number crunching to do, a process that likely started long ago.
Donaldson said they seemed receptive to his desire to stay, but the Blue Jays haven't tipped their hand, other than Shapiro stating time and time again that trading their star third baseman won't make them a better team, which doesn't line up with their 'Intend to Contend' plan for 2018.
But you have to ask the question: What will Donaldson's age 32 through 37 seasons look like?
Expect to hear trade rumours this winter. The Blue Jays will have to at least listen, especially if the two sides' dollar figures aren't in the same range.
Either way, Donaldson seems primed for a huge season in 2018, his final year of team control, but pay attention as the arbitration process unfolds.
Where will Jose Bautista land?

There's no way the Blue Jays are picking up their side of a $17-million mutual option, a paperwork move that will become official within the next month.
When you look at the situation realistically, the Jays attempted to move on from their longtime star last winter, until the market conspired to bring Bautista back to Toronto for a prove-it season.
The only thing his .203 batting average proved this season is that Father Time is winning the battle, and it's not reasonable to expect Bautista to bounce back significantly in his age-37 season.
Bautista would love to be back in Toronto, but his -0.5 fWAR and 80 wRC+ made him the worst right fielder in baseball and it wasn't even really close.
Most people around baseball expect Bautista will land with a team crossing its fingers in the way the Blue Jays did this season, but how willing will he be to accept a diminished role?
Will Aaron Sanchez's finger recover with a winter of rest?

There are 178 days until opening day, but it's already clear that Sanchez's ongoing blister issues might be the key to Toronto's 2018 hopes.
If Sanchez is right — as he was when he led the American League with a 3.00 ERA in 2016 — the Jays might have co-aces atop the rotation in the 25-year-old California native and Marcus Stroman, who's coming off a career year at the age of 26.
The scary part of the Sanchez situation is the fact they still haven't found a solution for his troublesome middle finger, and that's after six-plus months of desperately searching for one.
Another problem is that even if they do think they find a solution this winter, they won't truly know until Sanchez really starts ramping things up in the spring and gets some innings on that digit.
It could be a really good rotation if Sanchez is healthy.
If not, well, we saw what the rotation becomes when the big righty is only available for 36 innings.
Is the bullpen good enough?

On paper, the bullpen seems like the strongest area of the Blue Jays' roster heading into next season.
Roberto Osuna's velocity bumped back up late in the season, and Ryan Tepera, Danny Barnes and Dominic Leone all enjoyed breakout seasons in front of the 22-year-old closer.
But … bullpens, man. You just never know.
Even manager John Gibbons talked frequently about the fact that sometimes huge workloads don't show up until the following season, and this bullpen was working double shifts all summer in 2017, setting a new franchise record with 596.2 innings.
That number put them first in the American League and third overall in baseball.
There looks to be some depth, but the Jays would be wise to scour the free-agent market for a reliable veteran or two.
Will they need a middle infield contingency plan?

If Sanchez is the key to the pitching staff, Devon Travis' health might be the key to rebooting the offence.
Right beside him is Troy Tulowitzki, whose season ended in August with a nasty ankle injury that didn't require surgery, but will definitely require a lengthy rehab for torn ligaments.
Both players are expected to be ready to go for spring training, but it's hard to envision anyone expecting them to play a full season.
Tulowitzki has been banged up in just about every season of his terrific career — even when he was healthy this season, his slash sat at .249/.300/.378 — and that isn't likely to change in his age-33 season.
Same for Travis, who now has dual knee surgeries on his resume to go along with dual shoulder surgeries.
Traditional stats loved Ryan Goins' 62 RBI this season, but the advanced stats painted a different picture, while 21-year-old Richard Urena was overwhelmed — 37.3 per cent strikeout rate — after a solid start in a September cameo.
There has to be a better contingency plan in place.
How will they fix the corner outfield spots?

We've touched on how dreadful Bautista was offensively in right field, but things weren't a whole lot better over in left.
Ezequiel Carrera's 107 wRC+ suggests he was acceptable with the bat, but he was an adventure in the field and on the basepaths, leaving Gibbons pulling his hair out way too frequently.
Steve Pearce, who was signed for $12.5 million over two years last winter, did what he's done his whole career — get hurt.
The 34-year-old was also tough to watch with the leather.
With Justin Smoak — we'll get to him in a minute — and slow moving Kendrys Morales and his $23 million owing over the next two seasons locked into first base and DH, there's nowhere for Pearce to play but the outfield.
Would they eat money to move Pearce or Morales? Or both?
There's a desperate need to get younger, more athletic, and more versatile, and those two aren't helping that cause one bit.
Are any of the prospects ready to play big roles?

The answer here is probably no.
But that could also change in June or July if things break right.
Anthony Alford is likely the closest to making any sort of impact, but despite making his major- league debut in May out of necessity, he still has just 13 plate appearances at Triple-A.
Coming off a breakout season, catcher Danny Jansen is in a similar boat, while infielder Lourdes Gurriel Jr. and first baseman Rowdy Tellez struggled.
On the pitching side, lefty Ryan Borucki is exciting and already on the 40-man roster, but, again, he's made just one start above Double-A.
Arms like Sean Reid-Foley, Conner Greene, T.J. Zeuch and Thomas Pannone, acquired at the trade deadline from the Cleveland Indians in exchange for Joe Smith, can't be expected to serve as anything but depth.
Is John Gibbons' job safe?

Despite the fact Gibbons' contract was extended last spring through 2019 with a club option for 2020, another slow start would probably not be a good thing for the 55-year-old.
Gibbons deserves none of the blame for what transpired in 2017.
Injury and poor performance from highly-paid veterans do.
Managing, however, is a what-have-you-done-for-us-lately business, and the front office may not have much patience if things don't go according to plan in 2018.
It would be a surprise if Gibbons isn't filling out the lineup card next April, but the leash probably just got a little shorter thanks to a 76-86 record.
What will they do to fix the offence?

In 2015, the Jays finished first in baseball with 891 runs scored.
In 2016, they scored 759 times to finish ninth overall.
This season, they fell all the way to 26th in baseball with 693 runs.
Clearly, that's a disturbing trend.
The Jays will have to bank on players like Tulowitzki, Travis and Russell Martin returning to health, but the outfield was one of the worst in baseball offensively, which is never a recipe for success considering that's where many of the most potent bats reside.
Can Justin Smoak do it again?

The overall season line looks fantastic.
A slash line of .270/.355/.529 with 38 homers and his first all-star nod made Smoak one of the few bright spots.
But a .183 batting average in the final month of the season is concerning, and the 30-year-old slashed just .202/.302/.383 with seven home runs in 215 plate appearances from Aug. 4 on.
Maybe it was just the grind of a long season getting to him. Or maybe it was something different.
The microscope will be focused on Smoak in the early going next season.