A closer look at zone starts and coaching behaviour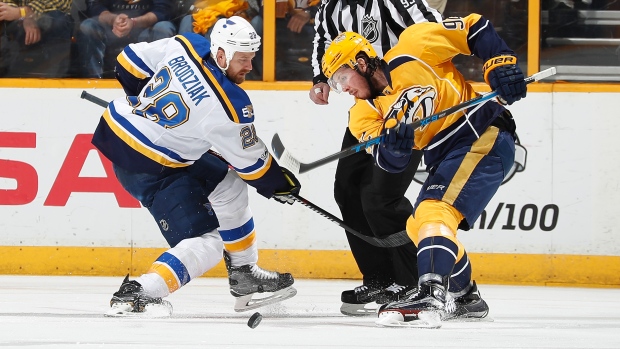 What we refer to as "checking lines" – trios of forwards designated to play the toughest minutes both in terms of shift starts and the type of competition they face – are something of an endangered species. For the most part, the league has made a collective shift towards rolling four lines and expecting each to shoulder some degree of the defensive burden.
But that's not true across the board. Some coaches behave differently because their talent pool – for better or worse – calls for minutes of inequality. And, to some degree, it makes sense. If you are a coach with a group of defensive-minded forwards who can slow attacking units down, it may make sense to play them together and create 'easier' minutes for your offensively gifted forwards.
Defensive zone shift starts are one way to measure this. It's the best statistic we have to show how coaches feel about their roster and how they deploy such a roster in varying situations. It's also a pretty simple number to track – if you know where your players start shifts, you can easily measure coaching behaviour.
So, let's take a look at how all 30 NHL teams distributed their ice time by zone starts last year. For many, there will be a pretty normal distribution – those are the boxes shaded gray below. In these instances, coaches might have identified "more defensive" and "less defensive" lines, but for the most part they were pretty comfortable with rolling their lineup.
The boxes shaded yellow (abnormally loose distribution) and black (abnormally tight distribution) are the ones we'll focus on.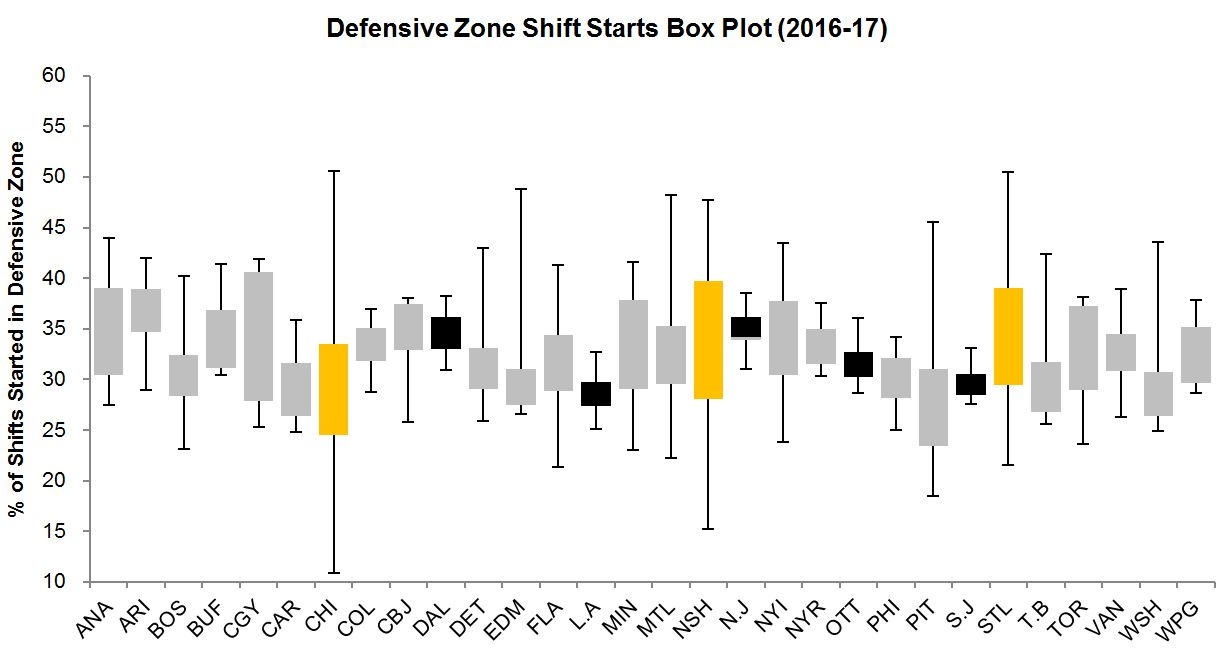 The yellow boxes are the teams we can reasonably point to as having certifiable checking lines. That would include the Chicago Blackhawks, Nashville Predators, and St. Louis Blues.
Chicago and head coach Joel Quenneville are probably the biggest notable since the spread on their team is so disparate. They had two forwards in Marcus Kruger and Dennis Rasmussen start about one of every two shifts in the defensive zone, which is three standard deviations from league average. And to offset that, they created some pretty lofty offensive zone minutes for Artemi Panarin (11 per cent), Artem Anisimov (21 per cent), and Patrick Kane (23 per cent).
Nashville and Peter Laviolette are another interesting callout here. Paul Gaustad was in the "take a defensive zone faceoff and immediately leave the ice" role for a long time. Last year, he was replaced by Vernon Fiddler, who more or less did the exact same thing. The Predators would also bury tough minutes on Colton Sissons and Auston Watson, using their offensive zone minutes for guys like Mike Ribeiro and Craig Smith. Mike Yeo's Blues look an awful lot like the Predators. Here, Kyle Brodziak and Scottie Upshall did the heavy lifting for Vladimir Tarasenko, et al.
In those instances, you have three well-defined checking lines and three benefiting offensive lines. In two of those instances – Chicago and St. Louis – you have two of the most gifted 5-on-5 scorers in the league in Kane and Tarasenko, respectively. It's hard to say whether Quenneville and Yeo felt strongly about their defensive trios or felt strongly about their offensive trios, but whatever the case is, there was clearly deployment imbalance.
On the other side of the equation you have five teams who really had little or no difference in distribution of shift start difficulty – Dallas, Los Angeles, New Jersey, Ottawa, and San Jose. A few of these names are completely unsurprising. Darryl Sutter and Peter DeBoer are notoriously blind to zone starts and will shift start any one of four centres without a second thought.
Guy Boucher in Ottawa is an interesting name, though. Ottawa has a pretty balanced forward group that lends itself well to smooth deployment, so I wondered if Boucher was letting his talent dictate his deployment. But, if you look back at Boucher in his previous stop in Tampa Bay, it's the same story – his most "buried" forward from 2010-13 was Nate Thompson (34 per cent defensive zone starts), and his least buried forward was Ryan Shannon (27 per cent zone starts). That's a pretty tight band.
Funny enough, there is a similar story with Lindy Ruff in his prior stop with Buffalo. Even when he had potential (or downright obvious) checking groups, he was reluctant to bury them. Gaustad started 31 per cent of his shifts with the Sabres from 2005-12 in the defensive zone, which is right around league average. Ditto Rob Niedermayer. To me, this is a strong indicator of philosophy over talent – both the Stars and the Sabres before had pretty imbalanced rosters, but in both cases Ruff preferred to roll four lines.
I still think talent is a pretty big driver of how coaches think about this sort of stuff, but there's also some evidence that coaching beliefs play a substantial role in how minutes are allocated. With so much shakeup in the off-season, it'll be fascinating to track how specific players and teams change in new roles. We'll have to check back in this winter.