A look at the NHL's shift in power-play structure
Travis Yost takes a closer look at the numbers behind teams moving to a four forwards/one defenceman setup on the power play.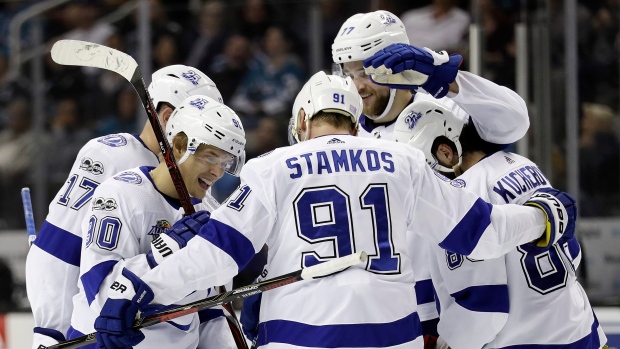 The National Hockey League is a competitive environment. When a team finds an edge, they try to keep it private. When other teams find out what that edge is, they steal it. And, in some cases, they improve upon it.
One of the trends in the modern era is a shift in power-play structure. For many years, head coaches opted for a three forwards/two defencemen combination. The two defenders would act as puck movers and occasional shooters, but most of the grunt work and scoring came from the trio of forwards.
Once in a blue moon, a team would experiment with a four forwards/one defenceman setup. The logic behind it was reasonably straightforward – the team's fourth-most talented forward was a better playmaker and/or goal scorer than the team's second-best defenceman. But, there was always a question as to whether marginal offensive gains would offset the defensive risk the team incurred with at least one forward playing out of position.
This experimentation allowed for researchers in both the public and private domain to investigate the feasibility of a 4F/1D combination. Was it actually an improvement on goal-scoring, or was it an ill-fated decision by coaches that put their team at needless risk? (That question has long been answered – the 4F/1D combination produced about 1.2 additional goals per-60 minutes.)
Teams, for the most part, have responded favourably. We've seen a pretty drastic change in deployment in just a handful of years. Look, for a moment, at league medians for forward power-play minutes as a percentage of total power-play minutes. Nine years ago, teams gave about 67 per cent of their available ice time to forwards. In 2017-18? That number is close to 74 per cent.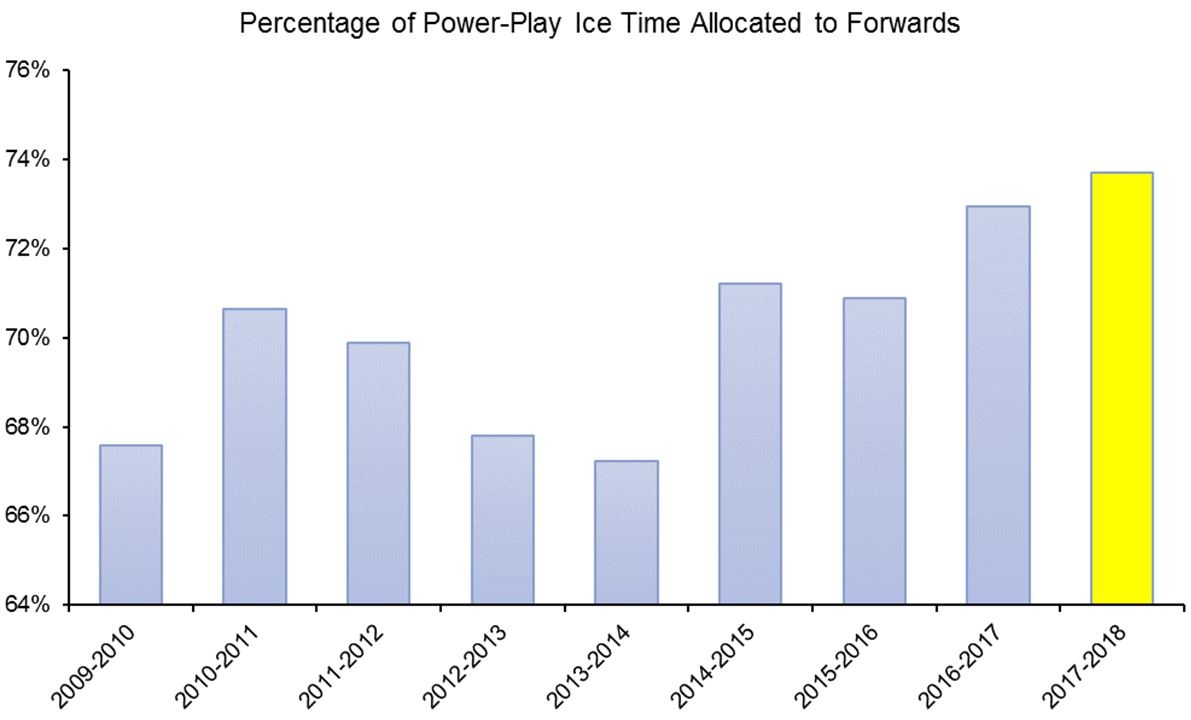 That's a pretty big climb. And the upward trend, which really started in 2014-15, appears indicative of a few new teams each year abandoning old-school methodology.
This year is particularly noteworthy, though. As noted earlier, the median team is giving out about 74 per cent of their ice time to forwards. If you figure 80 per cent is indicative of a league that's unilaterally adapted a change in philosophy – well, we aren't too far off.
That raises the question: Which teams have driven the change upwards, and which teams are the laggards?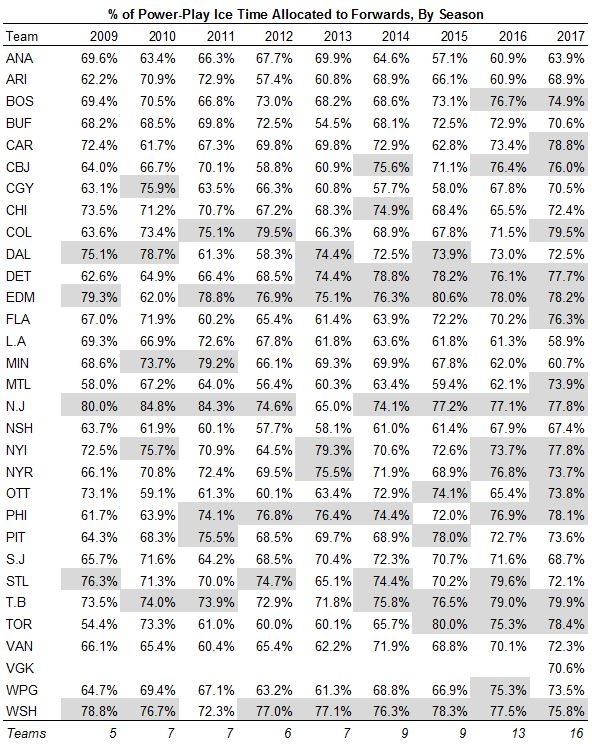 The gray cells indicate teams that were above the 2017-18 high-water mark in a given season. It's another way to visualize the shift at a league level, but it also helps isolate which teams started the trend, and which teams are the biggest buyers in 2017-18.
As for the trendsetters, I think it's fair to point at Edmonton and Washington. Edmonton's had mixed power-play results over the years, but no team has been better than scoring goals in power-play situations than the Capitals. Some of that is the beauty of having Alex Ovechkin on your first unit, but some of it is also about putting players in a position to succeed.
There are a number of teams that I'd consider truly aggressive and committed to 4F/1D – most prominently that list would include Tampa Bay, Colorado, Carolina, Toronto, and Edmonton, though there are more than a dozen teams who are using this grouping on a regular basis.
The opposite end of the spectrum includes two teams I would genuinely consider holdouts in Anaheim and Minnesota. For what it is worth, the Ducks' most common power-play unit this season was backed by Brandon Montour and Sami Vatanen. In Minnesota, it's Ryan Suter and Jared Spurgeon.
One note that's important to conclude with: A team may have a very real qualitative reason for why they have stuck with a 3F/2D combination. The biggest argument would be that their team talent is heavily skewed towards the defensive side, and that the coach does believe the team's second-best defender is a better overall weapon than the team's fourth forward. Minnesota could be a great example of this – despite using a more traditional combination, they possess one of the league's most productive power-play units, converting on 24.3 per cent of chances.
Nevertheless, these teams are clearly in the minority. It'll be interesting to continue monitoring this trend as the league continues to adjust. Based on what we know today, it's hard to see the 4F/1D combination dying out anytime soon.