Ames finally gets his Champions Tour win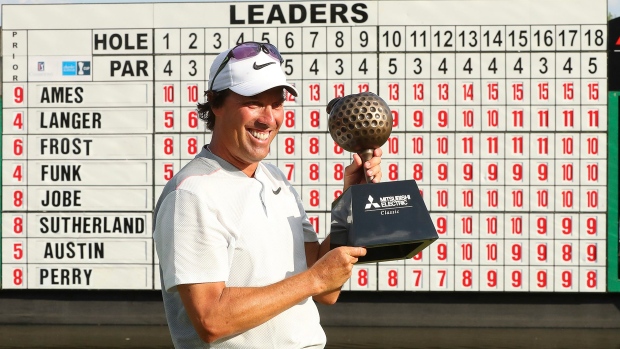 It took him 49 starts to do it, but Stephen Ames is a winner on the Champions Tour.
Fact is, Ames is too good a player, with too sweet of a swing not to have won on the 50-and-over circuit. The four-time winner on the regular tour finally added a Champions Tour victory, taking the Mitsubishi Electric Classic by four shots on Sunday.
"It's the same feeling as any tour that you win on," Ames said after his final-round 66. "At this stage right now, the way the year started off for me… my fourth or fifth start and winning now, which is nice. It's a thrill, it's a real thrill right now."
Ames joined the senior circuit in 2014 and many thought he'd win early. But life got in the way and drew his focus away from golf. He went through a divorce, moved to Vancouver and had a few minor visa issues.
But now, with things more or less settled and able to concentrate on golf, the results have been showing.
"It's been long coming when you consider the fact of what I've been going through with my life the last three years," said Ames. "I'm quite happy to be in this situation right now. Things are getting a lot easier to manage and enjoy a little bit more. More than anything else, it's the fact that my outside life other than golf has become quieter and more manageable where I can focus a little bit on golf and enjoy it a little bit more."
Ames swing, always regarded as one of the purest on tour, got into a groove over the three days at the TPC Sugarloaf outside Atlanta, Ga. Some changes to his putting also paid off as he enjoyed one his best putting weeks in a long time.
The only thing left to manage was the internal stuff, which has always been a bit of a battle for the 52-year-old, especially not having won since 2009.
"My biggest goal this week was to control my anxiety and my emotions and my breathing, which is one of the things that I worked on really hard this week," admitted the Canadian Golf Hall of Famer. "That calmed me down a lot."
Ames took a one-shot lead into Sunday's final round and birdied three of his first six holes. Even with that start, he led by just one. When he missed the green on the seventh, it appeared things were starting to slip away.
But a silky chip shot from behind the green rolled calmly down the green and into the cup for another birdie. That didn't clinch things, but it did give him some breathing room.
"It was very much cruise control," said Ames. "Ball in fairway, ball on the green, had a 20-footer, made a couple, and then I had a couple six- and eight-footers and a couple tap-ins for birdies. Life was a little easier, put it this way. I didn't put a lot of added pressure on myself at all today."
There was, mind you, one last hurdle to get over. That was the appearance of 30-time Champions Tour winner Bernhard Langer on the leaderboard.
"Oh, I was watching, don't worry," laughed Ames later of the charging German. "I'm a leaderboard watcher, definitely. I saw it. I looked to see how many holes he had still to go, so I had to calculate if he birdied all three coming in that he was going to catch me. So I had to keep an eye on him. And then when I saw he finished 11, I realized, oh, okay, I can actually put this in cruise control, which I did coming in."
Ames becomes just the third Canadian to win on the Champions Tour, joining Dave Barr and Rod Spittle.