An Oilers and Sens swap that improves both teams
Both teams look like obvious sellers at the trade deadline, but Travis Yost argues that dealing Ryan Nugent-Hopkins for Mike Hoffman makes sense for both franchises.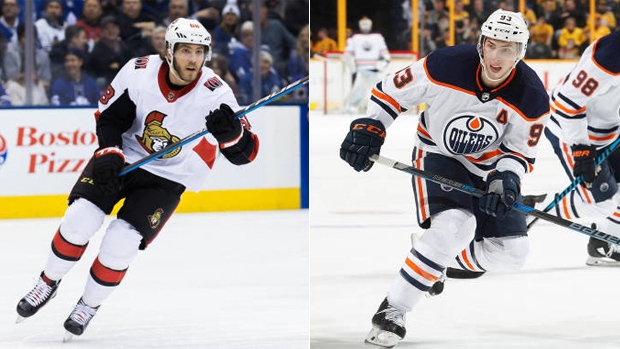 The Edmonton Oilers, already well out of the playoff race, will be sellers at the trade deadline.
But an interesting question remains: How does the team improve from here? The organization burned the last year of superstar Connor McDavid's entry-level contract through what can only be considered colossal asset mismanagement. Starting next year, McDavid will cost $12 million against the cap. Add Leon Draisaitl, Milan Lucic, and Ryan Nugent-Hopkins to the mix, and you have roughly 44 per cent of next year's cap tied up by four players.
That just won't work.
There will be plenty of postmortems about where Edmonton went wrong in the coming months, but one noticeable piece in all of this is that the team has struggled to find the right type of player to put on McDavid's wing. Patrick Maroon isn't agile enough to keep up, and it's almost certain he'll be moved by the trade deadline. Draisaitl is up to the task, but moving him to the wing creates a very top-heavy lineup that's easily defeated in the depth rankings. Milan Lucic simply cannot skate at the level the team needs on the McDavid line. Nugent-Hopkins, a fantastic centre, could be an awkward transitional fit on McDavid's wing.
Nugent-Hopkins is a fascinating piece. The team's dipped their toe in the water of trading him from time to time, but decided to move wingers Taylor Hall and Jordan Eberle to upgrade elsewhere. He also makes $6 million a year, which is a bit awkward for the Oilers. The team genuinely wants Draisaitl to play centre and almost certainly in the role right behind McDavid. Paying a third-line centre (even a great one) $6 million a year just won't work in a cap league.
Enter TSN's Bait board and the fourth-ranked Mike Hoffman of the Ottawa Senators.
Hoffman is very close to becoming the most notable casualty of yet another Senators' rebuild. Despite impressive production each year, the team appears ready to move on from the winger. But the same can be said about a number of other players on the trade block, too – centres Derrick Brassard and Zack Smith have been the subject of frequent trade dialogue, and the organization still needs to figure out a retention plan for Matt Duchene.
See where I'm going with this? Edmonton and Ottawa, despite being obvious sellers on Feb 26, could very well engineer a player swap that improves both teams.
The big sell here would be convincing the Oilers that Hoffman is a fit on McDavid's wing. The book on Hoffman is that he's an electric skater with an unbelievable release. Not only could he reasonably skate with McDavid, but he could finish off plenty of the scoring chances McDavid creates.
One thing that isn't properly valued about Hoffman's game is that he truly is an elite scorer. Look at his individual and on-ice production over the last three-and-a-half seasons. Below is a plot of Hoffman's goal rate, assist rates, and shot generation rates versus other Oilers skaters (of past and present).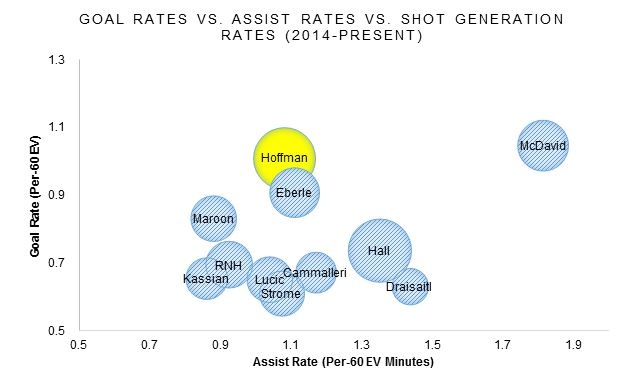 Hoffman has been a decent distributor – he gets about one assist for every 60 minutes of 5-on-5 play, which puts him right around the 75th percentile league-wide. But his goal-scoring and shot-generation rates are electric. He grades in the 90th and above percentile in both categories – a goal scorer equivalent to McDavid himself and a shooter equivalent to the previously-traded Hall.
Hoffman is a first-line winger and has been for some time. His skill set as a sniper would greatly benefit McDavid, who wants to play the role of distributor. And McDavid, who can't do all of the heavy lifting in every zone, could greatly use a player who not only knows his job, but excels at it. You're essentially getting back something between Hall and Eberle – the kind of player the Oilers could have sorely utilized this season.
On the more subtle side, Edmonton – a team headed for a real cap bind in future years – pockets roughly $1 million a year in cap savings for the next two years. They also fix the wing production issues that have killed them all season long.
Ottawa would take on marginally more in cap, but for a team that's never near the cap ceiling, it's hardly a concern. And it also allows them to execute on one or more of the above-referenced trades concerning Brassard, Smith, and/or Duchene. They could realize real cap savings through those trades while protecting themselves down the middle of the lineup long-term.
And they would be protecting themselves. Take a quick look at the production levels of Nugent-Hopkins versus other Ottawa centres (past and present). You'll see that Nugent-Hopkins has seen production eerily similar to that of Kyle Turris and the aforementioned Brassard: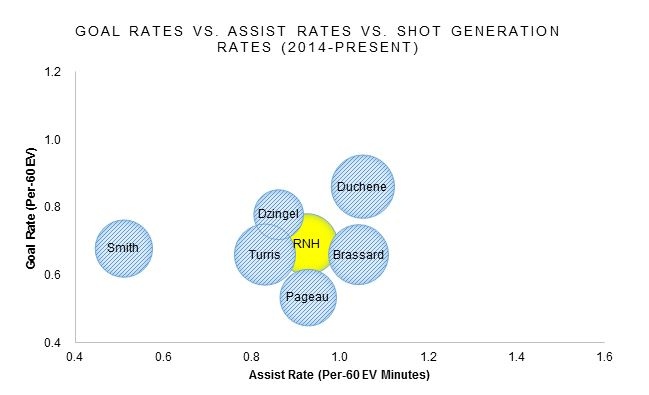 So while Edmonton and Ottawa will likely be purging pieces of their roster in the next couple of weeks, there may be an intriguing bridge here for both teams to investigate for the purposes of returning to competitive play as early as next year.