Andersen helps Leafs earn desperately needed two points
Maple Leafs goalie Frederik Andersen is proving his importance more than ever in this postseason push, and was the main reason the Toronto earned a desperately needed two points Saturday. Kristen Shilton writes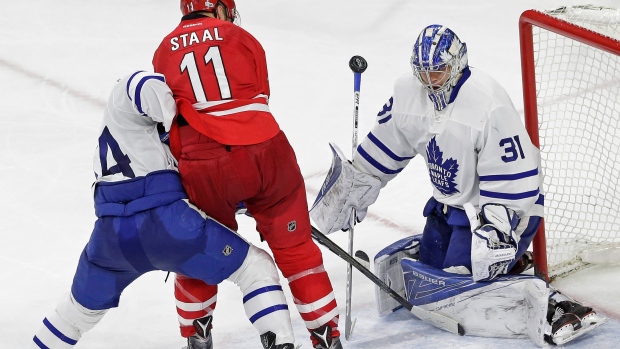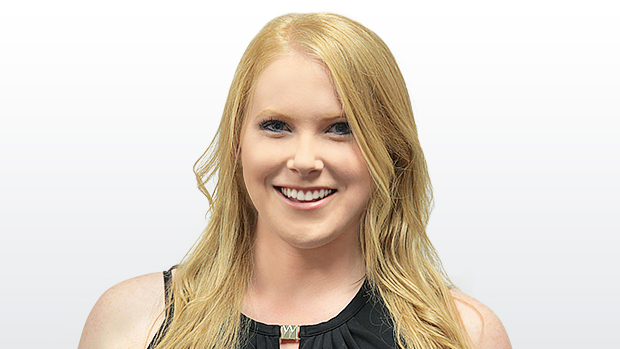 In the thick of a heated playoff race, the Toronto Maple Leafs won their third game in a row Saturday night, beating the Carolina Hurricanes 3-2 in overtime. Morgan Rielly potted the game-winner halfway through the extra frame, capping off a back-and-forth affair out of which Toronto desperately needed two points. They now move ahead of the New York Islanders into the Eastern Conference's second wild card spot.
Takeaways
Too close for comfort: Toronto didn't skate before Saturday's game so they had no excuse to be tired, but still the Maple Leafs looked hesitant early on for the second consecutive night. It took 6:22 of the first period for them to register a shot on goal, while the Hurricanes put seven on Frederik Andersen. Toronto blanked the Hurricanes 4-0 three weeks ago and are 10 points ahead of them in the playoff race, so this matchup didn't suggest Toronto would be out-matched for long. But playing sloppy for long stretches and relying on Andersen, again, for timely saves allowed Carolina to run wild. The Maple Leafs were outshot 38-26 and lost too many important faceoffs, winning just 25 percent of draws in their own zone in regulation. There's no question Andersen is Toronto's most important player and he's proving it more than ever in this postseason push; he was the main reason the Maple Leafs even made it to overtime in Carolina.
Men on fire: Tyler Bozak may be suffering from a lower-body ailment that held him out of skates this week, but he's been keeping up fine with linemates James van Riemsdyk and Mitch Marner. That trio was the Maple Leafs' most productive in Carolina, accounting for two goals and three assists. Marner tied the game 53 seconds after Viktor Rask opened scoring in the first, sending a quick wrister over top of Hurricanes' goalie Cam Ward. On Toronto's second goal, Bozak won the neutral zone draw, allowing van Riemsdyk to go top shelf in short order for his 21st of the season. Marner and van Riemsdyk also had several close calls between them, with each missing the net on potential scoring chances. The trio finished with nine shots on goal. That line now has 53 goals on the season, compared to 53 for Nazem Kadri's line and 68 for Auston Matthews', showing how balanced the Maple Leafs' scoring has become. Marner is also two assists away from Gus Bodnar's franchise record for rookie record helpers. He also has points in five straights games - Toronto's rookie record is points in nine straight.
Bad blueliners: With his team boasting the best power play in the league and the second-best road penalty kill, Mike Babcock said before Saturday's game he didn't imagine there would be many penalties that night. A couple of his defencemen didn't stick to that plan. Nikita Zaitsev took a cross-checking penalty to end the first and Teuvo Teravainen capitalized early in the second to give Carolina the lead back. Toronto has now allowed power play goals in consecutive games for the first time since mid-February. With the game tied, Martin Marincin took a holding penalty 42 seconds into the third period, taking away momentum for Toronto and keeping them on their heels even after the infraction was killed off. The Maple Leafs failed to score on either of their two power play opportunities, after going three straight games with a score on the man advantage.
(Non) Possession players: The Maple Leafs posted one of their lowest possession totals of the season as a team Saturday at 39.62 percent. While none of the Hurricanes' forwards who played more than seven minutes were at less than 50 percent, Toronto only had three players total above that mark. Kadri's line with Connor Brown and Leo Komarov tangled with Jordan Staal's line throughout the night and were chasing the game for much of it, with each player clocking in below 28 percent. In addition to the Bozak line, it was Brian Boyle's line, with Matt Martin and Nikita Soshnikov, that had the most sustained success in the offensive zone. Babcock has continued to show more confidence in his fourth line, utilizing them more consistently since adding Boyle last month.
Next game: Toronto continues its three-game southern swing against the Florida Panthers on Tuesday.