Andersen not sweating recent struggles
Maple Leafs' goalie remains confident despite an .878 save percentage in nine starts since the All-Star break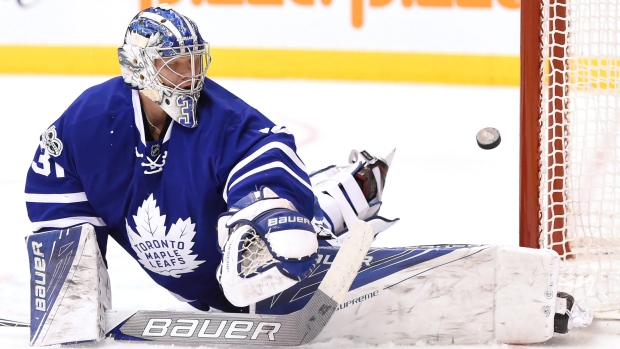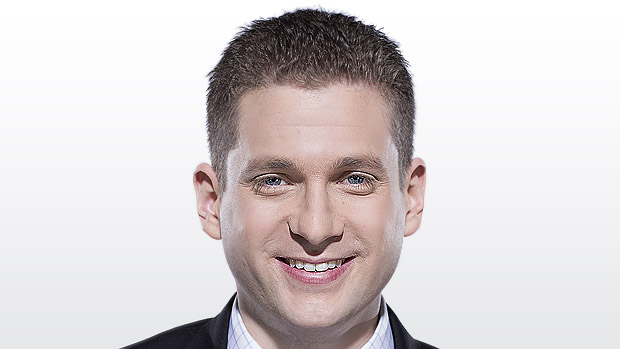 TSN Toronto reporter Mark Masters checks in with news and notes from Maple Leafs practices and game-day skates. The Leafs and Rangers skated at the Air Canada Centre ahead of tonight's game.
- The numbers aren't pretty. Toronto goalie Frederik Andersen has posted an .878 save percentage in nine starts since the All-Star break. "The more good you do in practice and off the ice, the more success you'll have on the ice eventually so I'm sure it will change soon," Andersen vowed after Thursday's morning skate. On Tuesday, Andersen allowed four goals on just 20 shots, but did enough to help Toronto earn a come-from-behind win against the Jets. "Well, I thought he did a good job last game," head coach Mike Babcock insisted. "Things weren't very good for him early, but he was able to shut the door and get you a win. We need him to be good. We make mistakes and so we need him to be good and we need him to be a top goalie in the league like he's capable of being. He's got the skillset for that and the mental make-up to do it so that's what we need and that's what we expect."
"Every goalie around the league has tough periods of play where you don't really feel like the puck is hitting you as much as you want it to," Andersen said. "It's something every goalie needs to deal with and it's just a matter of being mentally strong and working through it." Andersen may have a point. After all, it was just last month that the Rangers arrived in Toronto with questions swirling around Henrik Lundqvist, who had hit one of the lowest points in his illustrious career (16 goals allowed on 76 shots in his previous three games). But Lundqvist played well that night sparking a 9-2-1 run (.936 save percentage). "His longevity's been amazing," Andersen said. "He's been here for a long time, a high level of play throughout 10 years now, a lot of wins and had a really high level at all times."
How did Lundqvist adjust to a heavy workload early in his career? "Well, just consistency in the way you practise, the way you prepare," the Swede explained. "I don't snap my fingers and go out and play. Some guys might be able to do it, but for me it's about being consistent with everything I do: preparation, practise and coming to the rink ready to play." Lundqvist also pointed out that his longstanding relationship with goalie coach Benoit Allaire has allowed him to better cope with rough patches. "Personally, the last few weeks I've just tried to adjust a couple things and be a little bit more determined out there and work hard in practice and it has been helping my game," he said. Lundqvist also noted the Rangers are doing a better job in front of him, especially boxing out opponents and allowing him to see the puck. That will be important against the Leafs, a group Lundqvist describes as "one of the most skilled teams in the league."
- What stands out about the Leafs? "Their ability to kind of create something out of nothing," said Rangers captain Ryan McDonagh. "They got a lot of skill. …Even when you have numbers back and you feel like you're in a good spot they can make a pass through you and they find someone's tape who has just got a little bit of ice to make something happen. It's a challenge defensively, for sure, to make sure that you don't give them those looks too many times. Even when you think you're in a good spot make sure you finish the job, close out and make sure you get the puck out of your zone."
The Rangers lean heavily on McDonagh, who averages 24:22 of ice time per game to lead the team. He has established himself as a top-pairing defenceman in the NHL. Morgan Reilly is looking to make a transition to a similar role in Toronto. What was the biggest adjustment for McDonagh when he started getting more minutes and tougher assignments? "Just being patient. You know, obviously, you want to contribute and get up the ice and make offensive plays, but you can't try to force it. You got to play to your strengths. Obviously, [Rielly is] a very good skater. Try to cut down on working that extra five or six seconds in your own zone so you can get out of your end and go make things happen in the other end."
Rielly and partner Nikita Zaitsev were on the ice for all four goals against on Tuesday. Overall, Rielly has been on the ice for eight of the last 10 even-strength goals allowed by Toronto. How does he assess his development this season? "Ah, I feel good, but, today we're just worried about the game tonight, we're worried about winning, worried about getting the two points," the Leafs alternate captain said. Where has he improved the most this season? "I'm not sure. That's a conversation to be had at the end of the year, I think. Right now, I'm just trying to get better."
Evaluating Rielly isn't easy. He's still just 22 and still adjusting to playing big minutes against top competition while partnering with an NHL rookie. "I mean, if you just look at stats, Jake Gardiner is plus-20, Z and Rielly are minus players," Babcock said. "They're playing against the best guys every single night. Gards gets lots of nights where he starts on the offensive blueline with different types of players, so one's an apple and one's an orange. So, I think those guys are doing a real good job. Do I think they should be better? Absolutely." Rielly said the way he defines success has changed since he took on the matchup role last season. "You definitely have to take a step back and look at the bigger picture and assess what you really want your role to be at the end of the day. I think it's important that you're doing whatever it is you have to do in order to help the team win and I think that's the most important thing you can look at."
- Thursday's game features the NHL leaders in even-strength goals. Michael Grabner has 25 while Auston Matthews is one behind. Grabner had just nine goals in 80 games with the Leafs last season. "He had 100 breakaways last year, went 0/100," Babcock said to laughs. "Last time he played us he went 2-for-4. I think we should keep his breakaway count under four tonight." Grabner had two goals and five shots in New York's win at the ACC on Jan. 19.
* Lines at Leafs morning skate:
Hyman-Matthews-Nylander
Komarov-Kadri-Leivo
van Riemsdyk-Bozak-Brown
Martin-Gauthier-Soshnikov
Smith
Rielly-Zaitsev
Gardiner-Marchenko
Hunwick-Polak
Marincin
Andersen
McElhinney