Are Stamkos and Cooper on the same page?
Tampa Bay Lightning star Steven Stamkos has moved out of his preferred centre spot amid questions about his relationship with head coach Jon Cooper and his contract status, writes TSN Senior Hockey Reporter Frank Seravalli.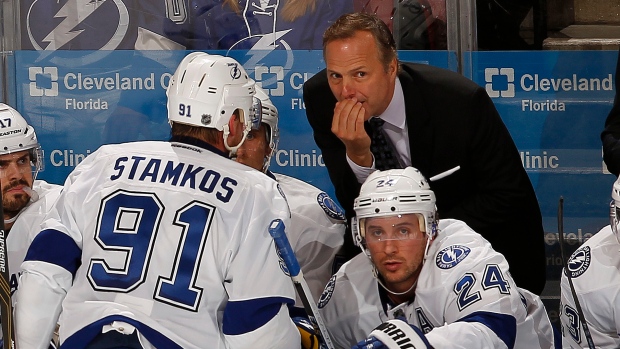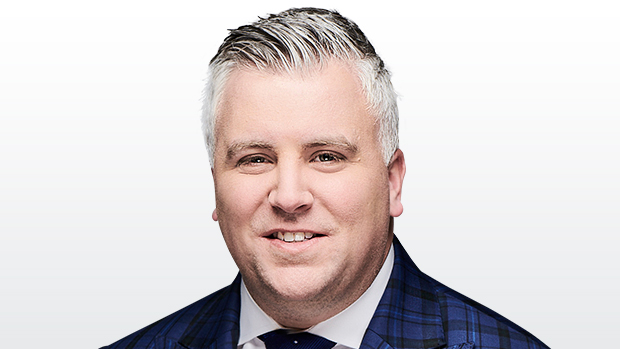 SAN JOSE, Calif. - Three games into his move back to right wing, Steven Stamkos refuses to rock the boat, but he is no less vocal about his desire to play centre.
The only time Stamkos lined up to take a draw on Saturday night against the Sharks was when there was no designated centre on the ice for Tampa Bay ­- when the Lightning were shorthanded.
"If you ask any player, I think they prefer to play their natural position," Stamkos said Saturday. "For me, it's just easier to create speed from my game when I'm in the middle. Again tonight, I didn't do much offensively, but we found a way to win and make some plays defensively."
He added: "I'm going to go out there and do what I'm asked to do. I've played there before, so it's at a point now where you see the lineup on the board, you do anything you can to go out there and win."
Head coach Jon Cooper clearly prefers Stamkos on the right side, even though Cooper admitted the Lightning are "lacking centres, period" in the absence of Tyler Johnson and Cedric Paquette due to injury. He said there were a host of reasons for the switch, adding "when guys aren't scoring, you try to open up ice for them."
"It's team-first, always," Cooper said. "I don't know, you ask any player, 'Would you rather get the minutes or the position?' and…I think if you ask anyone, they don't care about where they play, it's as long as we're winning."
That may not necessarily be the case with a star like Stamkos. His position and philosophical difference with Cooper is believed to be a major sticking point in his ongoing contract negotiations. Stamkos, 25, can become an unrestricted free agent after this season.
Stamkos and Cooper have both denied any reported rift between them. But their public statements - and Stamkos' on-ice play and body language - have done little to quell the rumours.
Saturday night seemed to mark another indication Stamkos and Cooper are on different pages. Both were asked separately about the communication that goes into deciding a positional change.
"Not much," Stamkos said of his conversation with Cooper. "Like I said, you come in and see what's on the board and you go out and do your job. That's pretty much as simple as that."
When asked the same question, Cooper said he talks to "all of our players."
"Whether it's Stammer or Fil (Valtteri Filppula), Fil's played a bunch of wing this year," Cooper said. "Before any of that happens, everybody is on the same page. Nobody walks into a room and says 'Oh, look where I'm playing tonight.' It doesn't happen."
Eyebrows were raised last week when the Lightning announced Cooper's multi-year contract extension. Some wondered whether Cooper's new deal, coincidentally signed during the week Stamkos shifted back to wing, signaled a strong statement from GM Steve Yzerman considering Stamkos remains unsigned.
Was Yzerman picking coach over player?
"One has nothing to do with the other," Yzerman told the Tampa Bay Times on Saturday.
Like Stamkos, Cooper was in the last year of his deal. It's rare for coaches to linger as lame ducks in professional sports — a fact that can severely limit a coach's effectiveness if players pick up on it.
"I bet you a lot of guys didn't [know]," Stamkos said. "We don't get to know that stuff. The guys knew about the extension and you congratulate him and it's over with. As a team, for continuity, to know your coach is going to be around…he's had a lot of success and we've had a lot of success as a team under him. He's brought this group of guys up together."
Meanwhile, Tampa Bay (13-11-3) continues to struggle despite the roster continuity from last season. Stamkos is scoring at his lowest rate (0.41 goals per game) since his rookie season (0.29). He hasn't been nearly the force who twice upended Alex Ovechkin to lead the league in goals, coinciding with the Lightning's drop to 22nd in scoring after pacing the league last year. Stamkos leads Tampa Bay with 11 goals and nine assists for 20 points in 27 games this season.
Last spring's Stanley Cup finalist surprisingly sits two points out of a playoff spot, a fact not lost on the Lightning as they head to Los Angeles to face the Kings, who missed the playoffs last year after winning the Stanley Cup.
"We've put ourselves in this position. We're going to have to grind this season out," Cooper said. "We don't have any margin for error."
Frank Seravalli can be reached at frank.seravalli@bellmedia.ca.