Armstrong: Hitchcock 'mess' is on me
Emotional Blues general manager says group of 'independent contractors' needs to become a team again after firing head coach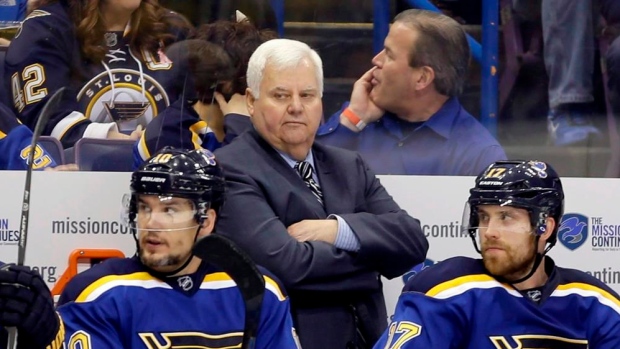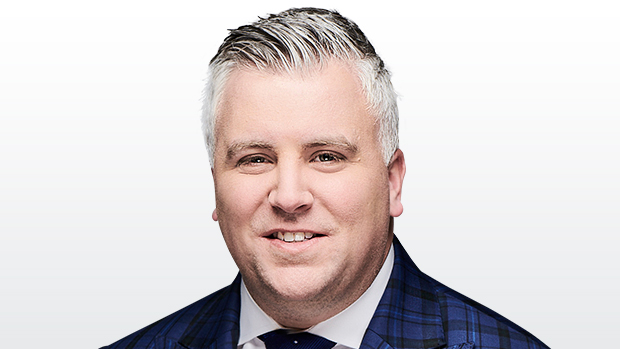 This season was always going to be Ken Hitchcock's last season behind the St. Louis Blues' bench, the last extension in a series of one-year deals.
It just wasn't supposed to play out like this – not with Hitchcock two wins shy of passing Al Arbour for third-most in NHL history, not without one more shot at a Stanley Cup that has eluded the NHL's best regular-season team over the last handful of years.
The Blues fired Hitchcock on Wednesday morning following their fifth loss in six games.
Perhaps, it should not have come as a surprise, considering Mike Yeo was hired last summer with the announced and unusual coach-in-waiting title, officially putting a timer on Hitchcock's tenure in St. Louis.
A coaching change was one of the few cards left for general manager Doug Armstrong to play in an attempt to jolt a Blues team that is hanging in the playoff race by the skin of their teeth.
Armstrong, who choked back tears at a Wednesday press conference, will enter the final year of his contract next June.
"Ken is paying the price for all of our failures, starting with mine," Armstrong told reporters. "It starts with me as a manager, filters down. I think we've let our group become independent contractors. We have to become a team again.
"Whatever mess is here, it's on me."
Yeo, 43, will take over beginning on Thursday night when the Blues host the Maple Leafs. He compiled a 173-132-44 (.559 points percentage) record over parts of five seasons as coach of the Minnesota Wild before being fired on Feb. 13, 2016.
"I feel extremely sad sitting up here," Yeo told reporters. "The first thing I have to do is thank Hitch. He was nothing but amazing to me."
One of the game's true gregarious and engaging personalities, Hitchcock, 65, became the third coaching casualty of the season, joining Jack Capuano and Gerard Gallant in the unemployment line.
No team racked up more points (537) than the Blues since Hitchcock took over 13 games into the 2011-12 season. But it is the lack of playoff success - three first-round exits and one second-round loss before bowing out in the Western Conference final last spring - that Hitchcock will be remembered for in St. Louis.
This season was bound to be one of change for the Blues. Not only did Hitchcock announce this would be his last run with the team - saying he wanted time to contemplate whether he would coach again elsewhere - but the core of the Blues changed.
Captain David Backes left for Boston. Troy Brouwer signed in Calgary. Goaltender Brian Elliott joined Brouwer with the Flames, dismantling the goaltending duo with Jake Allen that led the NHL in save percentage (.924) last season.
In addition, accomplished assistant coaches Brad Shaw and Kirk Muller bolted for Columbus and Montreal once they knew they would not be candidates to play Hitchcock's heir apparent. Kevin Shattenkirk, one of the team's most dependable producers, entered the final year of his contract this season knowing he would not be returning.
There were question marks up and down the organization, with Armstrong saying it was going to be a "rebuilding year, a retrenching year." But Armstrong said the Blues didn't "lose with pride."
Yet, it was Armstrong's decision to ride with Allen in net that may have been Hitchcock's undoing. Allen, 26, has not proven capable of carrying the load. Hitchcock clearly lost confidence in Allen in recent weeks, saying he needed to "man up," since his .895 save percentage gave the Blues the worst goaltending in the NHL.
Backup Carter Hutton has barely been better at .896. Hitchcock called on Pheonix Copley from the AHL for a start before the All-Star Game, likely only further rattling Allen's confidence – if it wasn't already shaken enough from allowing three or more goals in six of his last seven outings.
Goaltending coach Jim Corsi was also fired in Wednesday's purge in St. Louis. Blues assistant GM Martin Brodeur and Ty Conklin will share goaltending coaching duties for the remainder of the season.
Yeo reiterated Wednesday that Allen is the club's goaltender now and for the future, despite the fact that his save percentage floundered while the Blues allowed the fourth-fewest shots (27.1) per game in the NHL.
Usually, a team with an NHL-worst .889 save percentage would be challenging for the No. 1 draft lottery slot. Hitchcock had the Blues in the final Western Conference wild-card position on the day of his demise. The Colorado Avalanche, barely on pace for 50 points this season, have a better team save percentage (.896) than St. Louis.
All of which leaves the question as to whether Hitchcock, who has not gone more than one season away from an NHL bench since 1995, will resurface again. The way Armstrong said Hitchcock went home angry after Tuesday's loss, it'd be tough to bet against it.
"I'm going to coach like crazy and I want to see how I feel," Hitchcock told TSN in September, not closing the door just yet. "I want to pour it all in now and then take stock at a different time."
Contact Frank Seravalli on Twitter: @frank_seravalli