Back issues mean DeLaet's return still unknown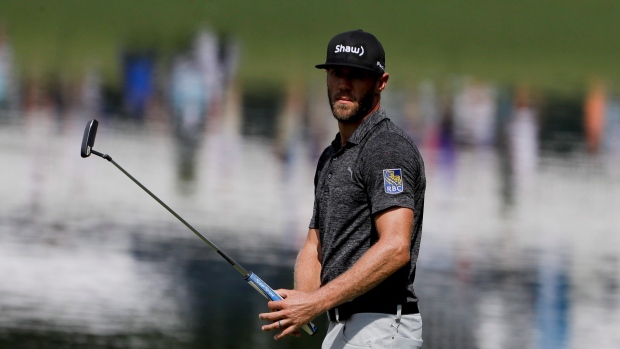 The long road back to the PGA Tour has gotten a little longer for Graham DeLaet.
The 36-year-old admitted he doesn't know exactly when he'll be able to rejoin the swing circuit after a procedure he underwent in December has failed to improve his wonky back.
"It's a little bit up in the air still," DeLaet admitted when asked about a possible return date. "It's been a frustrating year for sure from a health standpoint."
The Weyburn, Sask., product has always battled back issues and underwent a microdiscectomy operation in 2011. Late last year he tried a new procedure and had stem cells injected into his back in hopes it would regenerate some of the damaged discs. But after some initial signs that appeared bright, it has gone backwards.
"I just had recent imaging and it's gotten slightly worse even though I've been resting and getting rehab," he admitted. "Now it's kind of back to the drawing board and trying to find what the issue is. That's been the frustrating part is we can't pinpoint everything."
DeLaet last teed it up in October and has swung a club on only a few occasions since then. He was hoping he might rejoin the tour for the start of the 2018-19 season this fall. Then he was thinking it might have to wait until January. Now he has no real plan for getting back onto the fairways. He'll meet with doctors in the next few weeks to try and determine the next steps. Surgery, he said, is a last resort.
"I've already been through that once. I know the recovery is not fun and it's not easy. I miss playing so much and I want to get back out there, but I just want to be healthy."
While he isn't playing, DeLaet is still staying involved in the game in other ways. He was in Saskatoon this week for his fifth annual Graham Slam event that raises money for charity. He and his wife Ruby have a foundation that's raised more than $1.5 million for charities in his home province. This year's event was expected to add another $250,000 to that total with the main beneficiary being the Ronald McDonald House in Saskatoon.
"It's something that Ruby and I really cherish," he said. "That we're able to do this and give back to the community that's supported me so much over the years, it's a lot of fun and kind of a no-brainer for us."
While DeLaet is one of the country's most popular golfers and athletes, his notoriety in his home province is that of a rock star. At a gala reception on Wednesday evening and golf tournament a day later, he was swarmed by fans looking selfies and autographs. But a clinic he was to conduct with juniors was limited to him showing off some tricks with his clubs; he didn't hit one shot although those in attendance didn't seem to mind.
Being away from the game has also allowed him to spend a lot of time with his family that includes two-and-a-half year old twins Roscoe and Lyla, who were the hit of the event thanks to their on-stage performance of 'Twinkle, Twinkle, Little Star."
As much as DeLaet cherishes the family time, he's also anxious to play golf again. He's certainly frustrated by the latest events but knows that patience is a key to his return.
"It's tough to compete on the PGA Tour day-in and day-out just as it is but especially when you're not healthy," he acknowledged. "I've played hurt for a lot of my career and it's not fun. I'd like to see what I can do if I'm back to 100 per cent or close to it."
So would just about everyone in Saskatchewan and across Canada.