Bennett deal buys Flames a bit more time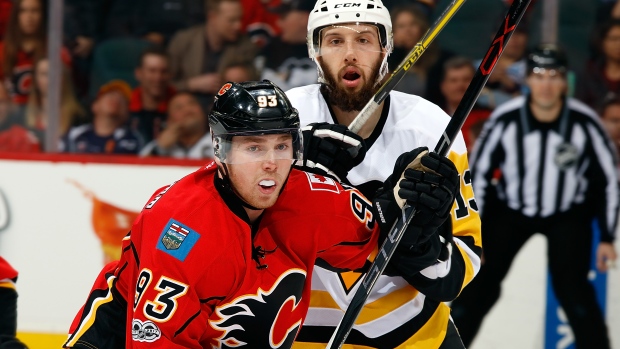 The Calgary Flames and restricted free-agent forward Sam Bennett agreed to a two-year deal with an annual average value of $1.95 million on Wednesday afternoon, ending one of the longer contract negotiations of the off-season.
Contractually speaking, Bennett has an interesting profile. On the positive side of the ledger, he's a former fourth-overall pick with obvious draft pedigree, is still just 21, and has already had reasonable success at the NHL level. However, I think what might have held him back in his first negotiation go-around – and why he ultimately signed a bridge deal – are his scoring rates.
There are obvious point production expectations put on forwards taken that high in the draft. In Bennett's case, the scoring hasn't materialized the way Calgary likely envisioned. His rookie campaign saw a solid 18 goals and 18 assists (in 77 games played), but his sophomore year ended with a bit of a whimper (13 goals and 13 assists in 81 games played).
Bennett's role, it should be noted, did change a bit in year two. He was dropped into more of a defensive depth role without a ton of help. His most common wingers last season were Alex Chiasson, Kris Versteeg, and Troy Brouwer, and most of his defensive support came from Deryk Engelland and T.J. Brodie. It goes without saying that this isn't exactly a Murderers' Row of offensive weaponry, so perhaps it's understandable that his scoring hasn't picked up as quickly as some would have anticipated.
But scoring is just one piece of a player's overall game. Although it's the biggest driver of where contracts tend to end up, it doesn't really give us the full story of where a player's game is (or isn't).
The key question facing the Flames: What kind of player is Sam Bennett right now and what reasonable forecast can we draw up based on the 159 games of NHL experience he has accumulated? The bridge deal buys the team more time to figure out what they have, but the clock is now effectively ticking.
One of the ways I like to highlight a player's strengths and weaknesses is to compare his player profile to every other player at his situation. Below, I've pulled out 12 key performance indicators to measure Bennett's career. The percentages simply show how many players Bennett grades out better than over the two-year interval. I like to think of the percentage marks as quarter markers – a player better than 25 per cent of forwards might be a solid depth option, a player better than 50 per cent of forwards might be a middle-six option, and a player better than 75 per cent of forwards could be knocking on first/second-line duties.
Here's what Bennett looks like: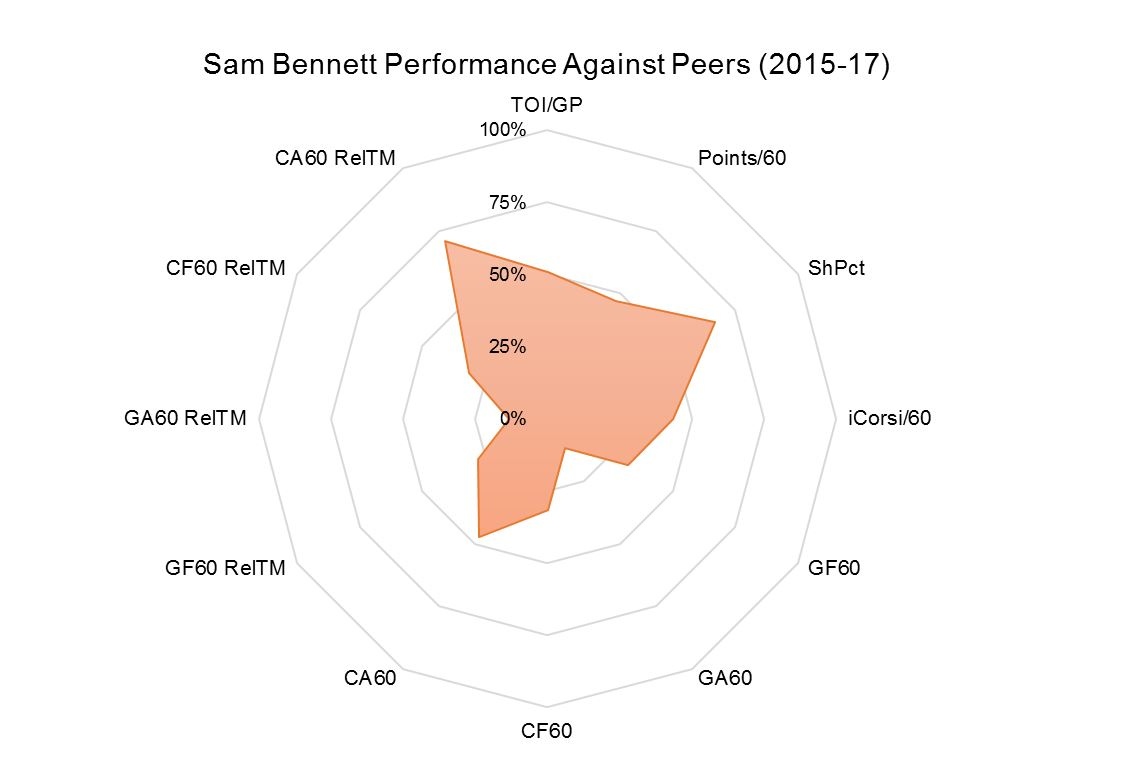 The encouraging piece here is that Bennett – who has played some pretty tough, defence-oriented minutes – has been able to slow down opposing attackers. The rate at which he suppresses shot attempts versus other forwards (CA60) or even his own teammates (CA60 RelTm) is where he grades out pretty well. (It's worth noting his goal against numbers pale in comparison – at least some of this can be attributed to the fact that Flames goaltenders have been hit-or-miss at best in stopping shots.)
Outside of those numbers, Bennett comes off a bit underwhelming. His scoring rates are that of a middle-six forward. He doesn't generate a lot of shots. He also doesn't appear to be much of a play-driver or playmaker for his teammates – Calgary's on-ice goal rates with Bennett on the ice are appallingly low for a player who once scored 91 points in 57 games with the OHL's Kingston Frontenacs. It's worth repeating Bennett hasn't played many minutes with high-end, dynamic snipers – they, to some degree anyway, are probably responsible for the lack of offence.
Calgary needs to figure out how big a role Bennett's linemates have played. Bennett has probably been the best player on his line on many occasions, which is never an ideal situation for a young forward. But Bennett's also been shielded from playing a ton of minutes and playing consistently against the other team's best forwards. In a role where Bennett has been given the keys to drive his teammates around, he's been unspectacular.
It will be interesting to see over the next two seasons if Calgary tries to move Bennett up the lineup to see what they truly have in the kid, or if they are content with him working consistent third-line duty in a role filled with checking wingers. To me, bridge deals make sense when there is a great unknown. In Calgary's case, you have the ultimate unknown, reconciling unimpressive numbers against a tough environment without a lot of teammate help.
If Calgary chooses the latter option, though, you do have to wonder if Bennett remains a viable trade piece. This is a Flames organization that believes it can compete now, and Bennett – a young player with tremendous draft pedigree – could be a desirable piece for another team, especially on a cap-friendly contract.
At some point in the not-so-distant future, Calgary will have to make a final decision on what they have in Bennett. Keep an eye on this situation, especially as we approach next year's trade deadline.