Bichette, Guerrero taking prospect praise in stride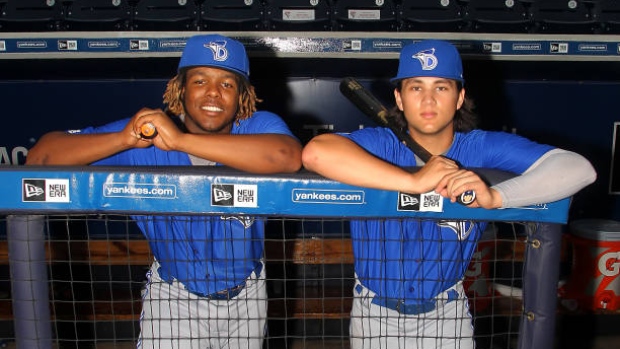 Prospect rankings and expectations go hand in hand.
There's no getting around it.
A top 10 prospect is supposed to be a star, a top 100 prospect is supposed to be a major leaguer, and, well, anything lower than that is a hope and a wish, they say.
But the developmental grind of becoming a big leaguer has beaten down every single prospect pedigree you can find at one point or another, and just as many out-of-nowhere success stories have beaten the odds.
Long story short, prospect popularity guarantees nothing, a sentiment Bo Bichette is staring straight in the eye these days, as his evolution from a player to dream on into a soon-to-be 20-year-old who is seen as a future cornerstone of the Toronto Blue Jays organization continues.
Does he pay attention to the praise?
"Just kind of because I have to — it's all over Twitter," Bichette said during his tour of Toronto over the weekend while in town for the team's annual prospect development camp. "I try not to. Really, in the grand scheme of things it doesn't mean a whole lot. There's been plenty of guys drafted in the 40th round that make the big leagues, guys who aren't highly touted that become stars.
"All those things are great and I guess help you know what you've accomplished so far and that your work is working out, but for me it's just about getting better every day and none of that matters unless I go out there and perform."
On Monday morning, it continued when Baseball America labelled Bichette the eighth-best prospect in all of baseball, five slots behind teammate Vladimir Guerrero Jr.
Outfielder Anthony Alford (No. 60) and right-hander Nate Pearson (No. 91) joined them, giving the Jays four of the top 100 in total.
As ranking season is just getting started, there's more kudos coming.
Guerrero Jr. will be in the top five on just about every publication's list, while Bichette is firmly seen as a top 20 prospect.
"Those rankings aren't pressure on me because I have my own goals and they're a lot bigger than those," Bichette said.
You have to go back more than two decades to find the last time the Blue Jays had a pair of top 10 prospects in Baseball America's eyes.
In 1995, outfielder Shawn Green checked in at No. 6 and shortstop Alex Gonzalez sat at No. 8.
In 1994, it was Gonzalez (No. 4) and Carlos Delgado (No. 5) in the top 10.
This is the third time it's happened.
In fact, since then the Jays have had just three top 10 prospects: Vernon Wells (No. 4 in 2000), Alex Rios (No. 6 in 2004) and Travis Snider (No. 6 in 2009).
Some prospects build their prospect profile based on tools and scouting reports, and others do it with actual on-field production.
Bichette and Guerrero were able to marry the two in 2017.
Bichette slashed .362/.423/.565 with 14 homers across two levels, while Guerrero almost matched him with a .323/.425/.485 slash line and 13 homers at the same stops as an 18-year-old.
Perhaps even more impressive, though, was their ability to deal with the grind of their first full professional seasons, a mental ability that has to come from all the time spent in major league clubhouses alongside their fathers.
"I kind of knew about the grind and the toll it takes on your mind and on your body," Bichette said. "Even though I was prepared for it mentally, I guess it did catch me by surprise how much of a grind it is. It's tough. It's a lot of baseball, a lot of days at the field and it takes a lot of focus to play well."
Guerrero's head isn't in the clouds over rankings, either.
Although he admitted his days spent in clubhouses with his soon-to-be hall-of-fame father were more about finding the ice cream machine than anything else, the stocky 18-year-old already looked the part of big-league vet in the Jays' clubhouse.
Guerrero isn't sure when he'll be back there for good, but it could be as soon as mid-summer if things break the right way.
"I can control what I can control," Guerrero said through a translator. "The team will make that decision so [I] will just go out and do my best.
"Every day the mindset isn't about when I'm going to be in the big leagues. Do my best and help my team win that night."
Both are still answering questions about their long-term positions defensively, but there are fewer questions now than there were a year ago.
The Blue Jays firmly believe Guerrero Jr. can be an option at third base, at least early in his career, and Bichette is starting to convince baseball people that he can stay at shortstop.
"The way that I'm going to stay there is by working hard," Bichette said.
The Jays fan base is already completely infatuated by the pair and what their futures could look like, but saying the feeling is mutual wouldn't be a stretch.
The buzz surrounding the franchise's return to the postseason in 2015 may have worn off a bit during a 76-win season last summer, but two playoff appearances sure have helped the way people view Toronto as a baseball city.
"Just talking to some people that have been playing here, it's kind of like none other," Bichette said. "I know there are good fan bases in New York and Boston and stuff like that, but just even watching on TV and seeing Twitter, it doesn't really seem like there's anything like it. For me, that's all I can ask as an athlete, is to play in front of fans like this and to have an entire country behind you."​