Blueline driving Blue Jackets' early success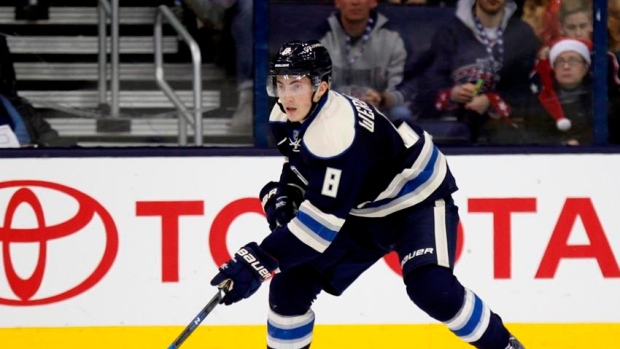 In the hierarchy of early season surprises, the Columbus Blue Jackets may top the list.
Columbus is fresh off of a 108-point season where they finished just behind two superpowers in Washington and Pittsburgh. Despite their first-round playoff exit, there were encouraging signs that the Blue Jackets would be a team that could repeat their success in this year.
So far, so good. The Blue Jackets are 8-4-0 through their first 12 games, and their win percentage seems legitimate. They've owned about 55 per cent of the goals (plus seven on the year) and, perhaps most notably, are proving to be lethal at even strength. Here, the Jackets are getting about 57 per cent of the goals on 55 per cent of the shots. The Jackets are spending most of the game where good teams generally do – shift after shift in the offensive third, creating routine pressure on opposing goaltenders and overwhelming opposing skaters on a consistent basis.
It's worth noting that many of their key metrics are up year over year – as one example, they have improved their shot share by almost 5 per cent, which is an incredible jump. It's also worth noting that the same roster, more or less, has returned from a season ago. The one lone notable move was a player-for-player swap – receiving Artemi Panarin and shipping out Brandon Saad to Chicago.
So, how do we explain the improvement? I think their defence has a lot to do with it.
Three truths on the Columbus blueline: (1) The pairings are identical from a season ago, which could help establish consistency and chemistry through repetition; (2) The defence has a couple of highly drafted, highly touted names as anchors (see: Zach Werenski, Seth Jones); (3) The group is incredibly young.
The third point is an important one. When a team with little roster turnover improves in a short window, you have to wonder if players taking positive steps up the developmental curve is playing a role. That's a hard argument to make when the average age of your team is inching towards 30. It's an easier argument to make if you're on the other end of the spectrum.
If you look at the average age of regular NHL defencemen this season, you'll note that Columbus has the second youngest blueline in the league. They were inched out by the Carolina Hurricanes – another team that receives unanimous praise about the efficacy of their defencemen.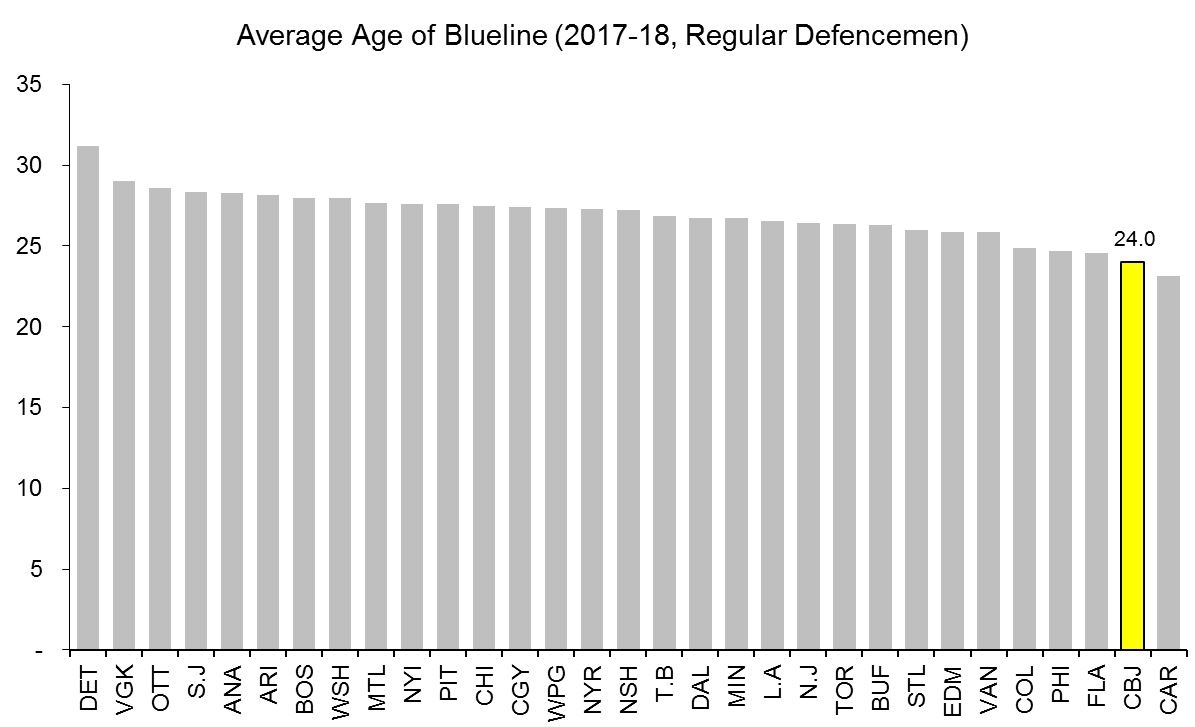 The Blue Jackets are well below the curve – the average NHL blueline is around 27 years of age, and their blueline is nearly three years younger. This doesn't mean that having a young defence is always a good thing (or that having an old defence is always a bad thing). But when your youthful group of players are also highly skilled – strong indicators not only being how high they went in the draft, but how quickly they transitioned into the NHL full-time – there's much more reason to buy possible player development and improvement.
I mentioned that head coach John Tortorella has basically kept his pairings together from last season. It's a point worth reemphasizing. He has his super pairing in the aforementioned Jones and Werenski, both of whom were high first-round draft picks. He has a second pairing that handles some of the tougher, defensive-oriented minutes in David Savard and Jack Johnson. His third pairing generally features Ryan Murray with one of Markus Nutivaara or Gabriel Carlsson. It's worth noting that, at the just 24, Murray is far and away the "seasoned veteran" of this pairing regardless of who he plays with.
Whether or not you subscribe to the younger defenders getting better with time argument from above, one point isn't in dispute – Columbus' regular pairings have all taken big steps forward this year. Look at the below data table, which shows how each pairing has performed from one of three key performance indicators – Corsi% shows the pairing's shot share, Goal% shows the pairing's goal share, and Expected Goal% combines both shot volume and shot quality to measure effectiveness as a unit. Again, the jumps are massive:

Huge, huge steps in the right direction. Columbus effectively has one elite pairing – and in one man's opinion, perhaps one of the best pairings in the entire NHL. Just as importantly, they have depth behind them. Tortorella doesn't have to wince every time his top pairing leaves the ice, because he knows the rest of his group can get the job done. And get the job done effectively.
This is the type of benefit you can realize when you bet on a youth movement to change the direction of your franchise. It doesn't always work out as planned, but in Columbus' case, the transition of their defence appears to be paying substantial dividends. Not only have they brought in top-tier talent, they've supplemented it with nearly equitable competency down the entire lineup.
And right now, it has made the Blue Jackets a very real force in the Eastern Conference.
--
Data via Hockey Reference and Corsica