Blues are confident Binnington is the anti-Hamburglar
Rookie goalie's aura of invincibility was pierced in Game 1, but he has a track record of steadying St. Louis in tense situations with his unwavering confidence, Frank Seravalli writes.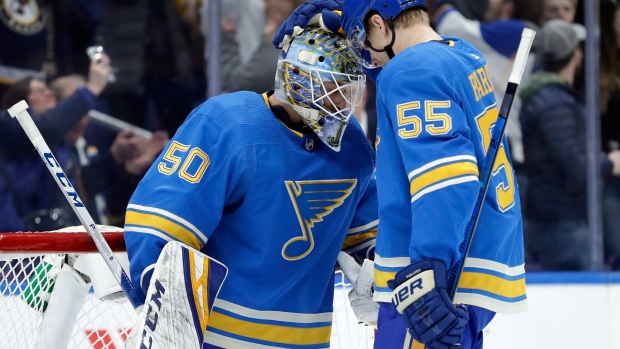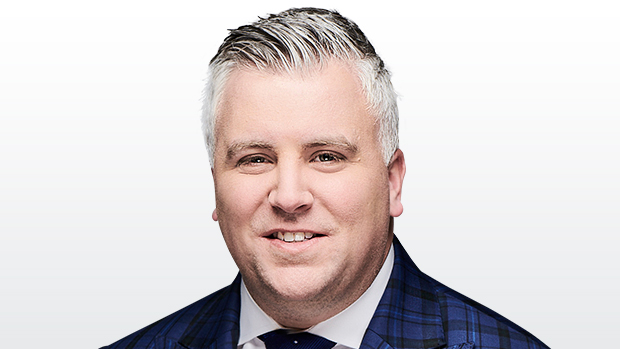 SAN JOSE, Calif. — Flash in the pan. Lightning in a bottle. Fifteen minutes of fame.
Some in the hockey world have whispered: Is Blues goalie Jordan Binnington the 2019 version of the Hamburglar?
They have held their breath, waiting for the moment to declare his Cinderella run dead after watching Andrew Hammond's spectacular 2015 run with the Ottawa Senators fizzle out, that same form never to be regained again in the NHL.
Well, Binnington's aura of invincibility was pierced again on Saturday night in the Shark Tank after allowing five goals to open the Western Conference final.
But those holding their breath might soon turn blue in the face. Binnington has been the Bounce Back Kid, responding to his first 10 losses in the NHL with an 8-2-0 record and .934 save percentage.
He'll have to do it again in Game 2 on Monday night for the Blues to avoid falling into a 2-0 series hole, as St. Louis chases its first Stanley Cup final appearance since 1970.
"He's been doing that all year," coach Craig Berube said Sunday. "I think he's got a calm head. He forgets about it and moves on. It wasn't a great game for anybody. But you've got to move on, learn from it and make some corrections. He'll do the same thing."
Berube made a definitive statement in Game 1, saying he gave zero thought – "No, none" – to yanking Binnington after the fifth goal went in. Binnington is his guy.
It makes sense.
It's "Winnington" who has gotten the Blues to this point. The Blues were in 31st place on the morning of Jan. 3, four days before Binnington made his first career NHL start in Philadelphia.
What's followed has been nothing short of incredible: a 32-11-1 record for Binnington and wins over the Winnipeg Jets and Dallas Stars in the first two rounds, all fuelling an ultra-confident backstop who has steadied St. Louis in tense situations.
"He's been unbelievable," Patrick Maroon said. "He's got that swagger, he's got that confidence, and he carries that into how he plays and how we play. Nothing really seems to bother him, so we're not really worried about him."
The way Binnington carries himself – remember the "Do I look nervous?" clip – it's sometimes easy to forget that he's a 25-year-old rookie. Game 1 of the West final was Binnington's first-ever appearance against the Sharks, period.
This is all new to him.
"That was a good experience for me, my first game in the Shark Tank," Binnington said of Game 1. "I wanted to feel it out. But it was Game 1 and it's a series. We'll see where it goes from here."
In order to see where Binnington is heading, you need to know where he's been. The thing about Binnington is that he's always been good. His numbers in the minors were consistently impressive.
But two summers ago, Binnington was at a career crossroads. The Blues were out of options for their 2011 third-round pick. There was no net for him in the AHL, so St. Louis loaned him to the Boston Bruins' AHL team in Providence.
"He got to the fork in the road. He could have went left or he could have went right," said Andy Chiodo, Binnington's goaltending coach in the summer. "He didn't know where he was going to play. Some decisions had already been made on other prospects.
"He had to fight for ice. He dug in. He went about it in a deliberate way, made a choice to raise the bar, raise his standard, made lifestyle changes and took major steps to get better."
The goalie without a home fashioned a .926 save percentage on his way to being named an AHL All-Star in Providence in 2017-18. Binnington's work continued last summer with Chiodo - who is now the goalie development coach for the Pittsburgh Penguins - and trainer Matt Nichol in downtown Toronto at BioSteel Sports.
Others took notice.
"I remember me and Tyler Seguin were shooting on him last summer and he was ridiculous in practice," Blues defenceman Michael Del Zotto said. "We looked at each other and we said: 'Why isn't this guy in the NHL?'"
Some guys never get the opportunity.
"It happens all the time," said NHL and AHL veteran goalie Mike McKenna, who has played in 35 NHL games and for 15 different AHL teams during his 14-year pro career. "So many guys get lost in the AHL."
Binnington finally got his shot not long after Berube, his coach in AHL Chicago in 2016-17, took over the coaching reins from Mike Yeo in late November.
He dispatched Seguin's Stars in seven games last round.
"He was already good, but he put it all together," Chiodo said. "What you've seen now is the talent that was always there come through. His talent and attributes have come to life."
Some netminders would have punted on their situation with the Blues' organization, asked for a trade or sought to play in Europe. Some netminders, now that they've arrived, would seize under pressure, trying to hang onto the job. That doesn't appear to be part of his DNA.
"He's not a goalie that relies on anything flashy, he does everything well," McKenna said. "I think his mental makeup sets him apart, from how he's had to battle, to fight to even get in the net. He's got a chip on his shoulder, like 'Can it get any worse?' He is playing carefree and that is powerful."
Success isn't guaranteed in the NHL, but Binnington has experience that, coupled with his talent, might make him the anti-Hamburglar.
"We had a quick convo recently and I reminded him, 'You aren't playing good, you are good,'" Chiodo said. "The sample size is quite large at this point. He has the ability to have long-lasting success, in line with a No. 1 in the NHL."
Contact Frank Seravalli on Twitter: @frank_seravalli