'Boring' Sens showing plenty of offence
The Ottawa Senators have burst out of the gates with 29 goals through eight games this season, giving them an offence that is currently ranked sixth in the NHL, Ian Mendes writes.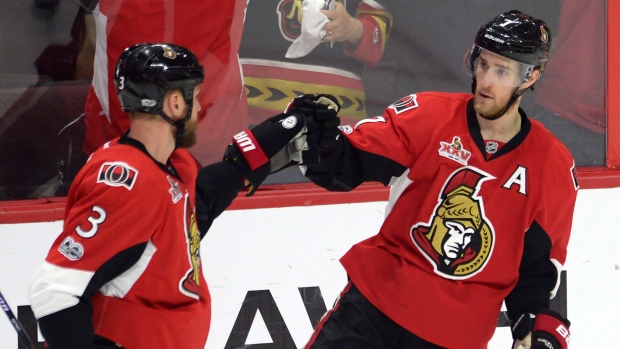 Auston Matthews used his lethal forehand shot to score a goal against the Ottawa Senators on Saturday night. Then the Toronto Maple Leafs star delivered a backhanded compliment to his provincial rivals following the game.
"They kind of play that trap and they bore you to death almost. They're really good at what they do," Matthews told reporters moments after his club lost 6-3 to the Senators.
Matthews is the latest to use the word boring – or some variation of it – to describe the Ottawa Senators style of play under Guy Boucher.
On Monday, the Senators head coach responded to the post-game comment made by Toronto's young superstar.
"I hope they hated playing against us for whatever reason. Then it feels great. The day that I'm paid to make my opponent happy to play against us, I think I should change businesses," Boucher told TSN 1200 during his regular visit with hosts Steve Lloyd and Todd White.
"You want the opponent to hate playing against you for whatever reason. We know teams hate playing against us and that's what we want."
The Senators no longer bristle at the notion they are boring to watch – that narrative was exhausted during their extended playoff run last spring. Instead, they almost revel in their ability to frustrate skilled opponents. The irony now is the Senators have burst out of the gates with 29 goals through eight games this season, giving them an offence that is currently ranked sixth in the NHL with 3.63 goals per game.
"If goals aren't exciting then I don't know what is. We're playing pretty well offensively right now," said Mark Stone. "We're causing a lot of turnovers. So maybe it's boring for them to play, but it's not boring for us to play because that's leading to offensive chances for us."
General manager Pierre Dorion will often tell people that his club's ability to create scoring chances off turnovers is second to none in the National Hockey League. While Ottawa may not have as potent an attack as some of their counterparts, they have created an offence that is scoring at a better clip than the likes of Chicago, Pittsburgh and Washington, talent-laden scoring machines.
The Senators have scored six goals in a game on three different occasions already this season – a feat only matched by the Maple Leafs. However, Toronto is painted as a high-octane team filled with speed and skill, while Ottawa is portrayed as a dull squad that relies on system and structure.
"Everything that is associated with us media-wise is how we play the trap and the 1-3-1 and a boring defensive style of hockey, so I think when teams think of us, they think of a defensive team," said Mike Hoffman. "But as you've seen so far this season, we have some firepower to put up some decent goals."
The Senators have hung six goals on consecutive Saturday nights, while facing the two teams that most experts felt were the best in Canada – in the Oilers and Maple Leafs. The Senators offence has been buoyed by the return of Erik Karlsson, who has collected six assists in his past two games. But it should be noted that Ottawa didn't miss a beat offensively without Karlsson, as they managed to score 20 goals in five games in his absence.
Boucher believes that his players are playing "more free-minded" to start this season, as they are now familiar with his system and structure and can have a little more room to improvise offensively. But at the core, Boucher doesn't want this impressive offensive start to take away from his key message to the team: Defence wins championships.
"If we're top five [in] goals for that's fine, but if we're not top 10 in goals against then it means nothing. We saw a lot of teams last year that had a lot of offence, but are still wondering why they didn't make the playoffs. The priority is still to be top 10 defensively," Boucher said.
Entering Monday's games, the Senators posted the third-best goals against per game in the NHL – a stat that obviously pleases Boucher. Couple that with the sixth-best offence and it appears as though Boucher has his recipe for success.
"I'm not looking to have an offensive team or a defensive team. I'm looking at having the best two-way team. Period. If teams hate playing against us because we defend well – that's awesome," Boucher added. "Then we score goals on top of that, that's even better. And that's what we've got right now."