Burns' offensive burden in San Jose
Sharks are too reliant on their superstar defenceman to generate a huge portion of the team's offence, Travis Yost writes.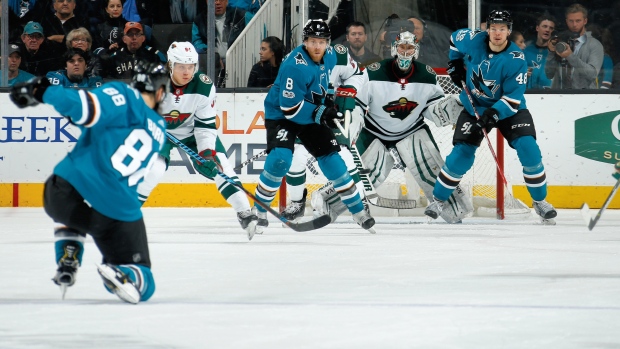 How much is too much?
It's a question the San Jose Sharks have to be wrestling with more and more these days. To be sure, they are a team in transition – Patrick Marleau is already in Toronto, Joe Thornton is in the twilight of his career and Joe Pavelski is approaching his mid-30s on a contract that expires at the end of next season.
A lot of this has led to the franchise handing the keys to Brent Burns. The superstar defenceman has become the feature behind pretty much everything San Jose does. He plays more than 25 minutes a night – the next closest skater in San Jose, Marc-Edouard Vlasic, is three full minutes behind him – and is deployed in every possible game state. The Sharks have little issue running the game through Burns in the extensive minutes he sees. Watch any Sharks shift featuring Burns and you'll likely see the puck on his stick.
Having the puck a lot is a pretty common occurrence for superstar defenders. Erik Karlsson, Drew Doughty, and P.K. Subban – to name just a handful of comparables – also play a ton of minutes and are linchpins in the attack. But the Sharks-Burns relationship is curiously different. And with one of the league's most punchless offences in 2017-18, it's become quite a storyline in San Jose.
One of the theories I have about San Jose's goal-scoring issues is that they are way too reliant on a defender to individually generate offence. We talk an awful lot about the importance of shot generation and getting into high-quality scoring areas, and how a combination of the two generally lends itself well to consistently scoring goals.
Burns has always been a shot-generating monster. But as a defenceman, he plays substantially further from the net than your average forward. Over time, he's started to eat more and more into the volume of shots the Sharks generate on any given shift. What you end up with are a lot of shifts where a defender – predominantly fixated at or around the blueline – is your primary attacking point.
As a frame of reference, consider the below data table. For each regular skater, it shows the percentage of shots that a respective player takes versus his teammates, as well as the percentage of goals that a respective player gets versus his teammates. You would reasonably expect these numbers to look similar – if a player is taking about 30 per cent of his unit's shots, he should be getting about 30 per cent of his unit's goals. That's not the case for Burns:
Burns sticks out like a sore thumb here. Despite taking 32 per cent of the shots when he's on the ice, he ends up scoring under 10 per cent of the goals. Some variance is normal, but that's extreme. Although it's worth noting that Burns is converting on a ridiculously low percentage of his shots, his conversion rates are historically below league average since officially changing positions.
Burns' inability to score on a high percentage of shots isn't a talent issue – defenders score about half as frequently on a per-shot basis as their forward counterparts. It's one of the big reasons why we rarely see great goal-scoring seasons from defenders, and why we spend so much time looking at how defenders impact their team's overall offensive productivity – not just how they score individually.
It's just that Burns has taken it to an extreme. Look at the same measures as above, but for the league's most active defencemen only. These blueliners take about 23 per cent of their team's shots on average – which is 32 per cent less than Burns does.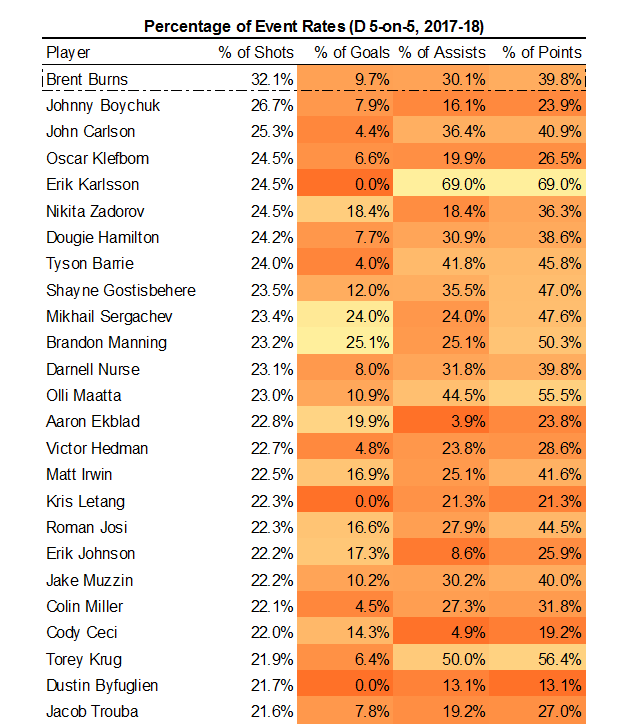 If Burns is taking almost one of every three shots for San Jose, it doesn't leave a whole lot for his most common teammates. Guys like Pavelski, Thornton, Timo Meier, Kevin Leblanc, Tomas Hertl, Logan Couture, and Tomas Hertl have all played more than 100 minutes of ice-time with Burns, and convert on a substantially higher percentage of their shots – as a group, they are shooting just under 8 per cent.
I'm not particularly sure if Burns is to blame for any of this. I think the Sharks have built their system to funnel through Burns, and because the Sharks aren't loaded to the teeth with elite attackers, it's burdened him with generating a huge portion of the team's offence. And while defenders in the modern era are expected to do just about everything (create the defensive turnover, start the breakout, rush the puck through the neutral zone, establish the cycle…), it's worth asking how much they can realistically do when it comes to individually putting the puck in the back of the net.
At some point, the Sharks forwards need to become a bit less deferential on the attack. Burns is a phenomenal player, but the data above shows San Jose has an inefficient offence. Transition Burns from shot-bomber to playmaker, and San Jose might seriously be able to jump-start their lethargic attack.