Jarnkrok scores twice, Samsonov sharp between pipes in debuts with Leafs
The Maple Leafs played two pre-season games against the Ottawa Senators on Saturday at Scotiabank Arena. The team has a day off on Sunday.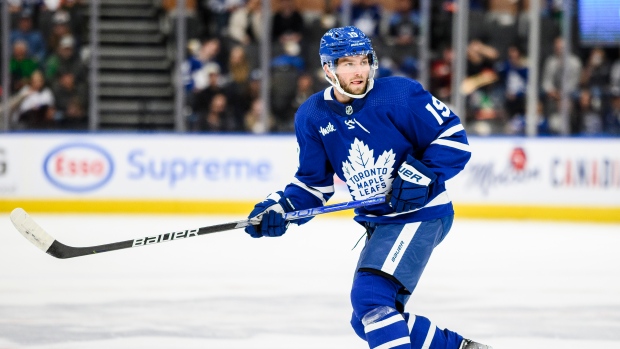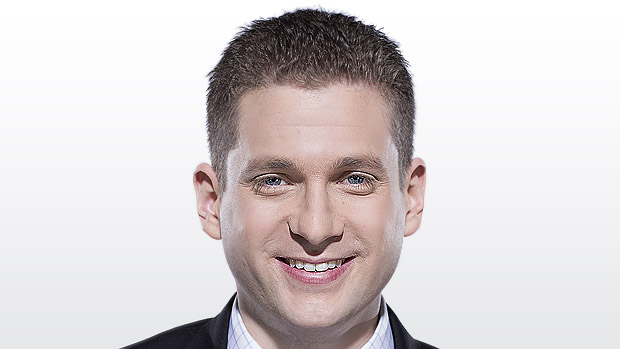 Calle Jarnkrok scored twice on Saturday in his first game action with the Leafs.
"He's a shooter," quipped left winger Michael Bunting with a grin.
Head coach Sheldon Keefe felt starting Jarnkrok on the top line beside Auston Matthews and Bunting would help the newcomer hit the ground running at training camp and that's exactly how things have played out.
"They kept finding me so it was a lot fun," Jarnkrok said. "They're both great players. I'm just trying to keep up with them, to be honest with you."
Matthews picked up the primary assist on the opening goal while Bunting set up the second. Both quick strikes by Jarnkrok came from distance (33 feet and 29 feet out).
"It shows, A, the willingness to shoot and, B, the ability to get it there so that's positive," Keefe noted. "He scored some goals in practice the last couple days that I looked at and said, 'That's an elite shot.'"
Jarnkrok was snakebitten down the stretch last season after getting traded by Seattle to Calgary. He didn't score in 17 regular season games with the Flames while lining up primarily as the third-line centre. He had one goal in 12 post-season games. Jarnkrok's career high is 16 goals, which he accomplished twice while with the Nashville Predators (2015-16 and 2017-18).
The 30-year-old Swede, who signed a four-year deal with the Leafs in the summer, is better known for his responsible two-way game.
"He's a very important player, because he just does so many things well on both sides of the puck," Keefe noted. "He's very versatile. An incredibly well-rounded player."
Keefe believes Jarnkrok possesses the skill to play in the top six. Mitch Marner will soon be reunited with Matthews and Bunting, but there is an opening on the second line beside John Tavares.
It's not always easy to fit in with an elite talent like Matthews, but Jarnkrok seemed to know where he needed to be and didn't hesitate to pull the trigger despite sharing the ice with the reigning Rocket Richard Trophy winner.
"Jarny's a very smart player," observed Bunting. "He gets into those soft spots and he releases the puck really quick. He's a great addition to our team."
Jarnkrok is certainly feeling the love in his new home.
"Pre-season game and it was pretty much a full crowd out there," he said. "I can't say I'm used to that. A lot of fun, for sure."
---
It was also a good debut for Ilya Samsonov, who stopped all 16 shots he faced in two periods of work.
"Samsonov looked really strong," said Keefe. "In particular, a couple scrambles in and around the net, he looked really strong and composed. The bottom of the net was taken care of."
The performance was all the more impressive considering the 25-year-old was feeling some pressure to make a good first impression. And he needed to maintain focus despite only facing three shots in the first period.
"First game, you got some nerves for sure," said Samsonov, who bet on himself with a one-year deal in Toronto. "In the second period, more shots and you're more in the game. I feel good. A little bit tired because it's pre-season, but I feel good."
Like Jarnkrok, Samsonov was struck by the fan support. More than 14,000 fans turned up for both exhibition games on Saturday.
"Really happy to be here," said Samsonov. "I really enjoy the team, with my teammates, and the huge fans here. Thank you. Thank you for support. I feel great. I get better and better every day."
When does Samsonov hope to be feeling completely like himself?
"Who knows," he said with a laugh. "I don't know. We'll see. Maybe next game. Maybe after a couple games. Who knows. We'll see."
Matt Murray will start the next pre-season game on Wednesday night and is scheduled to play 40 minutes. Erik Kallgren is slated to play the third period, per Keefe.
---
After being a healthy scratch in the final five games of last season's playoff series against the Tampa Bay Lightning, Wayne Simmonds finds himself fighting for a job at training camp.
"It is what it is," the veteran winger said. "All I can do is control what I can and go out there and work my butt off every shift whether it be in in practice or a game. That's all I'm trying to do."
Simmonds produced an assist and recorded four hits while playing 10 and a half minutes in Saturday's matinee against the Senators.
"He has a real clear understanding of what we're looking for from him," said Keefe. "Throughout last season that became really clear. He knows where he's at in his career. There's always an adjustment period for a player when they reach a stage in their career when they have to make some changes to be able to stay in the league and be able to stay a productive player. Wayne went through some of that last season and, for that reason, comes back a better player for us this time around."
Simmonds turned 34 in August and has already suited up in 1,019 regular season games.
"You always have to change," the Scarborough, Ont. native said. "The league evolves so you got to evolve. For my training this summer, I worked on a lot of strength and trying to get my first couple strides faster and being stronger in the corners. That's, obviously, going to be my role on this team so that's what I trained for."
---
William Nylander has a simple goal at training camp.
"Just get the body into the game shape," the 26-year-old winger said after logging nearly 20 minutes against the Senators. "For the first game it actually felt pretty good. The first game I usually don't feel this good so [will] build off of that."
Nylander has always seen the ice really well, but he may see it even better this year after switching to a tinted visor.
"I kept getting eye migraines throughout the season last year," he explained. "It's helped so far."
---
Nylander picked up an assist on a goal by Denis Malgin. What stands out about his linemate?
"His speed and the way he holds onto the puck and makes little plays," Nylander said. "Tremendous little player."
The 5-foot-9 Malgin failed to make much of an impression during his first stint with the Leafs during the 2019-20 season. He didn't produce a point in eight games following a trade from the Florida Panthers. Malgin spent the last two seasons playing in the Swiss League.
"I played a lot," he said of his time overseas. "I had the trust from the coach and the organization and it made me a better player. I played a lot in every situation. Here, it's a different game. I'm giving everything and we'll see."
Malgin produced 52 points in 48 games last season with Zurich. He also performed well for Switzerland at the World Championship with 12 points in eight games. Malgin always hoped to get back to North America.
"NHL is the best league in the world so you always have that mind to come back," he said. "That was my goal."
It won't be easy to crack the Leafs lineup, but the 25-year-old is off to a good start.
"It's hard for a guy like him to really pop in the practices," said Keefe. "He's a highly-skilled guy that makes plays and can make a difference offensively. He was good in the first two days. He was excellent today. Every time he touched the puck it seemed like something good was happening with it. Obviously, Willy makes people better, but Malgin partnered with those guys really well. He scored a great goal, but also made a number of really good plays. Plays with so much poise."
---
It was a long day at the rink for Keefe, who arrived at Scotiabank Arena a little after 6 am.
"It's strange for sure," the coach said after the early game. "It feels like 10 pm right now and I haven't seen daylight yet."
Why the double header?
"The more games you play it eats away at the number of days where you can practice and I like the ability to do both," Keefe explained. "We got 40 players game action in one day and it allows everybody to take a day off tomorrow. In a typical pre-season schedule we would come out of the day off and probably one group of guys would be playing on Monday, but instead now we'll get another two practice days before we play again. It's rare in the pre-season because you're usually playing every second night."
---
Post-game interviews were held in the Leafs dressing room on Saturday. It was the first time reporters were allowed in since the pandemic began.
"It's nice to have you guys back in here," Simmonds said to laughs.
Reporters are still required to wear masks when inside the Leafs room, per team policy.
---
Lines in Saturday's games:
Game 1 - Leafs win 4-1
F
Gaudette - Tavares - Marner
Nylander - Holmberg - Malgin
Aston-Reese - Kampf - Anderson
Steeves - Minten - Simmonds
D
Giordano - Holl
Kral - Dahlstrom
Rifai - Hollowell
G
Kallgren (11/12 in the first and second periods)
Ferguson (9/9 in the third period)
Game 2 - Senators win 4-2
F
Bunting - Matthews - Jarnkrok
Robertson - Kerfoot - Aube-Kubel
McMann - Der-Arguchintsev - Abruzzese
Clifford - Slaggert - Ellis
D
Rielly - Brodie
Benn - Mete
Kokkonen - Villeneuve
G
Samsonov (16/16 in the first and second periods)
Petruzzelli (7/10 in the third period)