Canada will need to adjust after losing Myers
TSN's Mark Masters is with Team Canada and has the latest as the squad plays in the world junior championship. Team Canada practised at the Bell Centre on Sunday afternoon.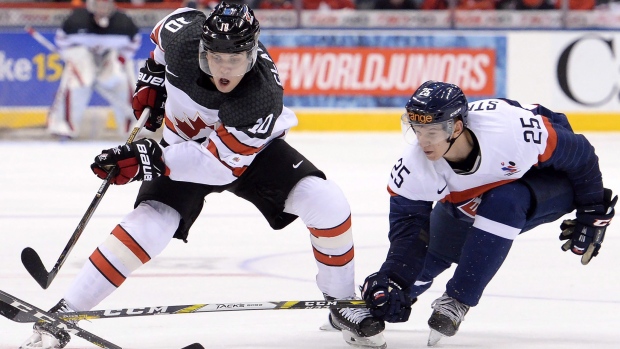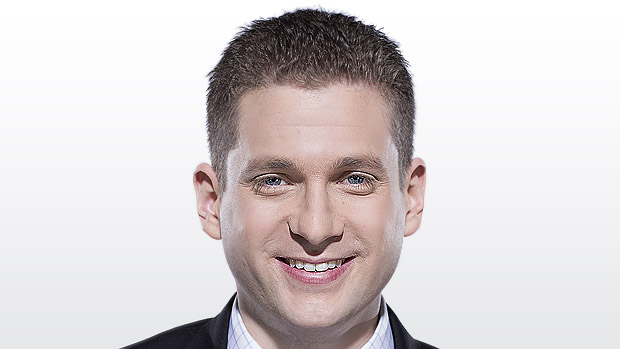 TSN's Mark Masters is with Team Canada and has the latest as the squad plays in the world junior championship. Team Canada practised at the Bell Centre on Sunday afternoon.
- Kale Clague, who replaced Philippe Myers on Canada's top pairing during Saturday's loss to the Americans, remained with Thomas Chabot at practice on Sunday. "It might be a little different," Chabot said when asked about the new partnership. "Phil is kind of bigger, hits a little bit more and stuff, but (Kale and I) are both good with the puck so we're going to focus on moving the puck quick tomorrow night." The injury to Myers leaves Canada with just two righties on the blue line: Noah Juulsen and Dante Fabbro. But Clague plays the right side with Brandon in the WHL, which head coach Dominique Ducharme said made him an obvious candidate to move up and play with Chabot. "I'd say I'm an offensive defenceman," Clague, a Kings prospect, noted. "I like to transition the puck quick and use my skating to my advantage. I like to be in control of the play and push the pace when I can."
- The absence of Myers, who will miss Monday's quarterfinal against the Czech Republic and is doubtful for any games beyond that, will also mean Jeremy Lauzon gets a bigger role. "We got to fight through the adversity," said captain Dylan Strome. "We have seven D on this team for a reason and every D is capable playing those minutes. Lauzon has been the seventh D so far so we're going to need him to step up and I think he's capable of doing it." Lauzon, who actually partners with Myers in Rouyn-Noranda, is taking the new role in stride. "I'm pretty confident in myself," he said. "My game brought me here so I'm focused on my game, playing my role and to my abilities."
- The Canadian defence features just one returning player (Chabot) and doesn't include any top-10 NHL picks, but has been solid nonetheless. "I even notice other guys, forwards on the bench, sometimes commenting, 'Wow, our D is really good at stepping up and keeping pucks out of our zone,' so it's been impressive to see that," Strome said. The group is comfortable with how it has been playing thus far and wants to guard against overcompensating with Myers out. "It's a pretty tough blow," said Fabbro, "but, right now, our focus on the D corps is to keep playing our game. Obviously, we'll need to step it up a bit, but at the same time we need to keep it simple and do our own jobs."
- Myers made the trip to Montreal with Team Canada. "He's been good," said Chabot, who is rooming with Myers. "I talked to him and he said he was feeling fine." Chabot said that Myers is still holding out hope about a possible return in the medal round.
- Midway through Saturday's loss to the United States, Ducharme moved Tyson Jost up to Strome's line while Pierre-Luc Dubois joined Nicolas Roy and Julien Gauthier. That trio of QMJHL players remained together at practice on Sunday. "All three are big guys who can do some damage down low and take pucks to the net," Ducharme said. Jost and Strome also remained together and were joined by Devils prospect Blake Speers. Canada has produced 21 goals in four games at the world juniors, but almost half the production (10) has come via special teams. "It's pretty obvious we need to create more five-on-five, our whole team, so try to switch it up a bit and hopefully we can create something," said Strome. "It's the quarterfinals and you're playing for your life now so you got to (pull out) all the stops." Speers played with Strome in the first pre-tournament game while Jost and Strome were a dynamic duo during the summer camp.
-After missing the last two games with an ankle injury, Mitchell Stephens is poised to return to the lineup on Monday. "Yeah, he's going to be in," Ducharme confirmed. Stephens and Michael McLeod shared reps as the fourth line right winger at practice. Ducharme indicated that Stephens will likely get a regular shift early in the game. "We'll see how he reacts before we see how we use him."
- It wasn't a very pleasant video session for Team Canada on Sunday as the players and staff sifted through the rubble of an underwhelming New Year's Eve effort. "I don't think we had a good game overall," Ducharme said. "We were not at our best. We didn't use our speed as well. We lost way too many battles. We missed some assignments that were clear. We're going to be at our best tomorrow." Practice on Sunday wasn't long, but it was intense with battle drills resulting in Fabbro taking a stick to the face and Dillon Dube taking an awkward tumble. Both would be OK. "Just harder on battles," said Strome when asked where the group can improve. "We didn't execute our game plan well from the first face-off, to the penalties at the end of the game to not executing on the power play, including a five-on-three, we have to be better all over the ice." Clague believes there's lots of room for the defensive group to improve in the wake of Saturday's defeat. "We can be harder down low and I think us D can have tighter gaps and also be harder in our own end and maybe play a little quicker, get going up ice quicker on transitions and get more shots to the net. We had a few too many shots blocked last night so we'll funnel more pucks, get more shots and that will create more chances for us."
- Canada beat the Czechs twice – 8-0 in a selection camp scrimmage and 5-0 in a pre-tournament game – in the days leading up to the world juniors. "They're going to be a different team, but so will we," said Strome. "You can't take anything for granted. It was a 2-3 seed game last year, it's a 2-3 seed game this year." The five returning players certainly haven't forgotten what happened at this stage of the tournament last year when Canada fell 6-5 to Finland. "Every guy who came back from last year knows how mad and bad we were feeling about ourselves when we lost in the quarterfinals," Chabot said. "Nobody wants the same thing to happen. We're focused on tomorrow night and we'll be ready."
- Per usual, Ducharme will wait to game day to name a starting goalie. Connor Ingram faced the Czechs twice in the last few weeks shutting them out both in the scrimmage at selection camp and pre-tournament game. Taking into account the three selection camp scrimmages, three pre-tournament games and four preliminary round games, both Ingram and Carter Hart have made six appearances for Team Canada. Hart's save percentage is .917 while Ingram's is .913.
Lines at Team Canada's practice on Sunday
Forwards
Jost-Strome-Speers
Joseph-Barzal-Raddysh
Dubois-Roy-Gauthier
Dube-Cirelli-Stephens/McLeod
Defence
Chabot-Clague
Bean-Juulsen
Lauzon-Fabbro
Goalies
Hart
Ingram