Cantlay, Rose win after back battles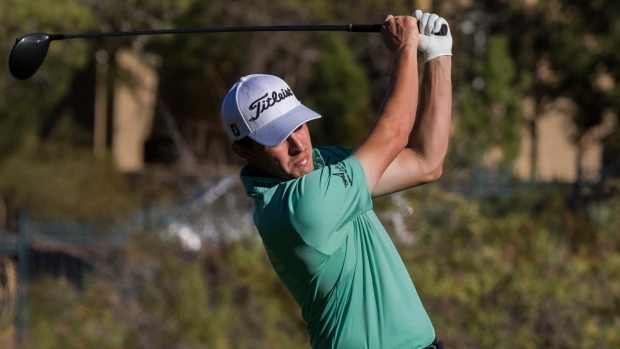 Any professional golfer with a bad back (hello Tiger Woods) can take some hope in the weekend performance of two golfers.
Patrick Cantlay and Justin Rose, who have both endured back issues in their careers, posted wins on different tours.
Cantlay was victorious at the Shriners Hospital for Children Open in Las Vegas, Nev., defeating Whee Kim and Alex Cejka in a playoff, while Rose won the Turkish Airlines Open with a birdie on the final hole. It was the second consecutive week Rose has won, having also captured the World Golf Championship-HSBC Champions event in Shanghai, China last Sunday.
Cantlay was an outstanding amateur player, ranked No. 1 in the world and before turning professional, shot 60 in the Travelers Championship, the lowest round by an amateur in a PGA Tour event.
But in 2013 he cracked the L5 vertebrae in his back and made just six starts from 2014 through 2016. Finally recovered, he was able earn his status back this season and capped the year off with his victory in Vegas.
Rose has been bothered by a herniated disk and has missed long stretches of play as he dealt with the pain.
The Olympic gold medallist sat out eight weeks after last year's Ryder Cup and played the final few holes of this year's Masters, where he lost in a playoff to Sergio Garcia, in some agony after a tweak on the 15th hole.
The number of golfers on the PGA Tour with back problems, both large and small, is high. For some, such as Woods, Graeme DeLaet and Fred Couples, the issue requires surgery. Others deal with it on a week-by-week basis with something as simple as over-the-counter pain killers. But as Rose and Cantlay show, with the right treatment, it can still allow for fine performances.
***
Speaking of injuries, Henrik Stenson may have incurred one of the more bizarre ones while playing in China two weeks ago.
After finishing up the Turkish Airlines Open, the Swede said his status for the rest of the European Tour's season-ending Race to Dubai was in doubt due to a rib injury.
While he didn't come right out and confirm it, Stenson hinted that the problem may have been a result of a strange photo shoot put on by organizers of the WGC-HSBC Champions where he, Dustin Johnson and Li Haotong were hoisted into harnesses to make them appear as if they was flying like a super heroes.
"I'm not Superman even though certain people thought I was Superman," Stenson joked after finishing up in Turkey.
***
In spite of the injury, Stenson has been added to the field of the Hero World Challenge in the Bahamas. He was given the spot after Jason Day withdrew to spend time with his pregnant wife.
Day and his wife Ellie are expecting their third child in June, which may also prevent him from playing in the U.S. Open.
He is the second Australian to withdraw from the Hero World Challenge. Marc Leishman will also take a pass, instead heading Down Under to tee it up in the Australian PGA Championship. His spot in the Bahamas will be filled by Kevin Chappell.
***
In January, Bubba Watson announced he'd signed a multi-year deal to play the Volvik golf ball, best known for its bright hues, like pink and yellow.
Now, less than a year later, the two-time Masters champion says that deal has ended.
"My contract is done with Volvik," Watson told reporters at the Shriners Hospitals for Children Open. "I do not have a ball deal as we sit here today."
Watson played with a Titleist Pro V1 at the Las Vegas tournament. That's the ball he used to win his two Green Jackets. He ended the week ranked third in driving distance with an average of 336.9, finishing up tied for 51st.
Last year was not a good one for Watson who finished 75th in the FedEx Cup standings. His best finish was a tie for sixth and he made it through just the first two legs of the playoffs. He also missed the cut in three of the four majors.
Significantly, while using the Volvik ball, Watson's driving distance was down about five yards from the previous year and 10 from the 2015 season. He is perennially among golf's longest hitters.
The Volvik web site doesn't list any PGA Tour players among its stable of sponsored pros however there are four Champions Tour players and 22 female golfers from various tours around the world.
***
Canadians have been logging victories in great numbers this year, on professional and amateur circuits. Another one came over the weekend when two members of the Canadian national amateur team logged a victory in Argentina.
Josh Whelan and Joey Savoie won the prestigious Tailhade Cup in Buenos Aires by a whopping 16 shots. Savoie from La Prairie, Que., was the low individual in the team event, finishing things off with a five-under 66 in final round to end up at eight under.
Napanee, Ont.'s Whelan ended up fourth with a score of four under.
Both Whelan and Savoie were named to the national team for the first time earlier this year.
This marks the third time in the last four years that a Canadian squad has won the Tailhade Cup.