Canucks' Dorsett overcomes adversity to reach meaningful milestone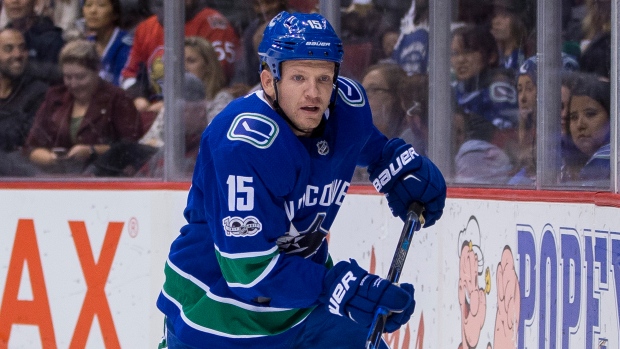 OTTAWA – Tuesday night in the nation's capital, Vancouver Canucks winger Derek Dorsett will play his 500th National Hockey League game. It's quite an achievement for anyone who grew up ever wanting to play just one game in the league. But in Dorsett's case, it's a triumphant story of an underdog on many levels.
Consider this: the 30-year-old from Kindersley, Saskatchewan with the pitbull mentality will become just the 22nd member of his 2006 draft class to reach the milestone. Remarkably, the other 21 were all taken in the first three rounds of that draft held at Rogers Arena while Dorsett was a seventh rounder – the 189th player taken that year. So he's defied the odds in that regard and in many ways has done it again given what he's been through the past 12 months.
While he was on target for his 500th game at this time last season, a neck injury suffered just 14 games into the 2016-17 campaign put those plans on hold. After cervical fusion surgery last December, Dorsett admits there were some sleepless nights wondering if he'd have the chance to resume his NHL career.
So when he skates onto the ice at Canadian Tire Centre, where he and the Canucks open a five-game road trip looking to put an end to a three-game losing streak, Dorsett is well aware that the fifth game of this season is more than just another game on the schedule.
"We had a couple of guys hit 600 (Brandon Sutter) and 700 (Sam Gagner) last game, so we were going through the stats book," Dorsett said after practice Monday when asked if he knew of his pending achievement. "It's a big game for me. Obviously, being a seventh round pick I never thought I'd play 500 games. Maybe it should be a few more, but I've had a couple of seasons where I've had some injuries. I'm looking forward to it. Any time you can play 500 games in the National Hockey League it's a great honour, it's been a lot of fun and seems like it was just yesterday it (his NHL debut) happened.
As is so often the case in professional sports, one man's injury is another's opportunity. Such was the case with Dorsett, who suited up for his first game with Columbus only because a familiar name to Canucks fans was hurt and unable to play. A late cut from the Blue Jackets training camp, Dorsett got the call he was looking for to rejoin the hockey club and was inserted into the line-up for a game in Phoenix.
"It's a small world -- it was Manny Malhotra who got hurt and I came in and it was quite a game," he recalls with a smile. "In the first period, I hit Keith Yandle kind of from behind and a line brawl ensued. It was a memorable one, that's for sure."
In the melee he sparked, Dorsett fought Coyotes veteran Daniel Winnik. According to hockeyfights.com, that was the first of his 101 scraps in the NHL. Never the biggest guy on the ice, the former Medicine Hat Tiger enters Tuesday fifth among active players with 1248 penalty minutes. That includes a league-high 235 when he dropped the gloves a staggering 19 times in the 2011-12 season – a year in which he scored a career-best 12 goals, too.
Over his career, Dorsett has spent time with the Blue Jackets (280 games), New York Rangers (51) and is now in his fourth season with the Canucks (168). He scored his first goal of the season in Saturday's 5-2 loss to Calgary and has found a backer in Canucks head coach Travis Green who has used Dorsett as one of his top penalty killers in the early going as well as on a shutdown line with Brandon Sutter.
In three of the first four games he's played, Dorsett has already logged more ice-time than in any game he dressed for last season. He trails only Sutter in short-handed time on ice and with another penalty killing forward -- Loui Eriksson -- out for an extended period with injury, it's an area Dorsett is likely to continue to be utilized heavily.
Now in his ninth NHL season, Dorsett is back doing what he loves to do. While the game has changed and he no longer goes looking for fights, he'll never back down from a challenge. It's what got him noticed by scouts in the first place more than a decade ago and it's kept him employed much longer than many who play the game the way he does.
"I think this 500th game means a little bit more with the injury I'm coming off of," he says. "When I got hurt, my agency was going to get a suite and bring my family in last year. Obviously it didn't work out because of the injury. It was going to be a home game, so it was going to be easier to get everyone out to Vancouver. I won't be surprised if there are a few family members here. I'm not sure if they're coming, but I feel like something is up."
While loved ones may surprise Dorsett with their presence here on Tuesday, no one should be surprised if he's in the middle of things when the Canucks square off with the Senators. He's reached 500 the hard way – but that's the only way he's ever known.