Canucks face Coyotes as countdown to trade deadline continues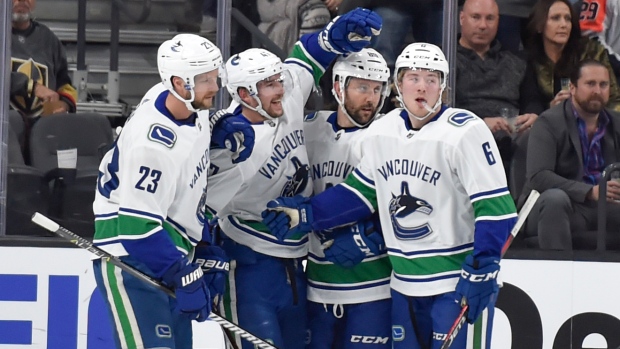 GLENDALE, AZ -- On the eve of the National Hockey League's trade deadline, the Vancouver Canucks (23-31-7) face off against the Arizona Coyotes (18-33-10) at Gila River Arena. The Canucks have 21 games remaining on their schedule and four of the next 20 are against the Coyotes. The teams will meet March 7th and April 5th in Vancouver and March 11th back here in Glendale.
The Canucks return to action after a 6-3 setback in Las Vegas on Friday night. Sven Baertschi, Thomas Vanek and Daniel Sedin had the goals. Anders Nilsson surrendered five goals and took the loss and was replaced by Jacob Markstrom after 40 minutes of play. Defenseman Philip Holm logged 15:12 in his NHL debut.

The loss dropped the Canucks to 1-3-1 in their past five games and 2-7-1 in their past 10. Friday was also the 19th time in 61 games this season the Canucks have surrendered the game's first goal in the opening five minutes (Tomas Hyka scored at the 2:29 mark of the first period).

With his goal Friday, Daniel Sedin has scored in three of his last four games, has three goals and four assists for seven points in the past six outings and has eight goals in his last 19 games. Sven Baertschi has scored in two of three games since being a healthy scratch in San Jose last week. He also has seven points, including three goals and four assists, in his past seven contests. Thomas Vanek, whose name continues to swirl in trade talk, has two goals and two assists in his past six games.

As a team, the Canucks have scored 13 goals in their past three games and have scored three or more in each of the outings. It's the third time this season and first since November 18-22 they have recorded three or more in three consecutive games. Nine different players have scored the last nine Canucks goals (Dowd, Eriksson, Archibald, Goldobin, Sutter, Horvat, Baertschi, Vanek & D. Sedin). Interestingly enough, team scoring leader Brock Boeser isn't one of them. The rookie has gone four games without a goal and has just one marker in his past six games since missing an outing two weeks ago in Carolina with a hand injury. Boeser, who turns 21 today, has scored three goals in his past 12 games.

Jake Virtanen had a share of the team lead with five shots on goal Friday. Playing on a line with Baertschi and Sam Gagner, the Abbotsford native also had 10 shot attempts in that game.

Jacob Markstrom will get the start in goal tonight. His last start was February 14th at home against Florida. He lasted 20 minutes that night after giving four first period goals. Markstrom stopped all seven shots he faced in relief on Friday night. Ben Hutton replaces Philip Holm on defense and will likely be paired with Derrick Pouliot.

Canucks are 1-7 in their past seven on the road and 3-11-2 in their past 15 as visitors.

The Coyotes return to action 24 hours after a 2-0 home ice win over Anaheim. Antii Raanta made 26 saves for his second shutout in three games. Jason Demers and Max Domi scored the goals last night as Arizona outshot Anaheim 38-26. Alex Goligoski led the team with 25:45 in ice time.

As a team, the Coyotes have blanked the Oilers and Ducks in the past week. Although 31st in the overall standings with 46 points, the Desert Dogs have won five of their last six and are 6-1-1 in their past eight games. Arizona is the lowest-scoring team in the NHL with 146 goals on the season. Both the Yotes and Canucks have allowed 197 goals this season – tied for 26th in goals against.

Despite Raanta's strong play of late, newcomer Darcy Kuemper is expected to make his Coyotes debut in goal tonight. Kuemper was acquired from the Los Angeles Kings on Wednesday. Among goalies that have made 10 starts this season, he is tied for second in the league in both goals against average (2.10) and save percentage (93.2%) trailing only Carter Hutton of St. Louis in both categories.

Rookie Clayton Keller leads his team in both goals (17) and points (44). Brendan Perlini (16) and Christian Fischer (13) are the only other Coyotes with more than a dozen goals on the season. In 11 games since February 1st, former Vancouver Giant and one-time Canucks draft pick Kevin Connauton leads the Coyotes with five goals. Among all NHL defensemen, only Calgary's Dougie Hamilton has scored more goals (6) this month.

Keller is fourth in NHL rookie scoring. He is two back of Trevor Letowski's team record for goals in a season by a rookie. He is eight behind teammate Max Domi's record for points in a season by a freshman.

The Coyotes have scored the first goal of the game in each of their past seven outings. They have won just four times in 29 games this season when giving up the first goal (4-20-5).

Arizona is second in the league with seven overtime wins this season. They have had 12 games decided in overtime (7-5) and 18 of their games have gone beyond regulation time. They are 1-5 in shootouts.

According to ESPN, the Coyotes are 30th in the league in attendance averaging 12,984. Last night's announced attendance was 11,959.
Canucks lines for today's game:
Goldobin-Horvat-Boeser
Sedin-Sedin-Vanek
Baertschi -Gagner-Virtanen
Archibald-Sutter-Eriksson
Extra: Dowd

Coyotes lines:
Perlini-Stepan-Keller
Martinook-Richardson-Cousins
Rinaldo-Hamilton-Archibald
Extra: Dauphin