Canucks take a curious approach to free agency
Vancouver's addition of depth forwards Antoine Roussel and Jay Beagle make little sense in terms of timing and fit, Travis Yost writes.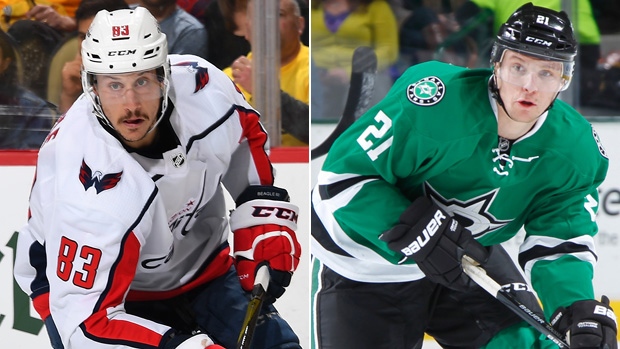 Two Canadian franchises made aggressive, "win now" moves on the opening day of NHL free agency.
The first was, of course, the Toronto Maple Leafs. Landing superstar centre John Tavares is a franchise-altering move that will reverberate across the league. The fact that Toronto can now deploy three separate lines anchored by Tavares, Auston Matthews and Nazem Kadri is terrifying, and there's little doubt that Toronto has moved near the top of the list of Stanley Cup contenders for next season.
The second was the Vancouver Canucks. I say this mostly facetiously, but understanding what they tried to accomplish in free agency is a challenge. Vancouver, with 73 points last season and clearly in the middle of what should be a youth-driven rebuild, opted to spend $24 million dollars on two depth forwards in Antoine Roussel and Jay Beagle.
These moves, generally speaking, tend to be reserved for contending teams that are looking to upgrade in some small area. Roussel and Beagle aren't going to give you many minutes – Roussel was playing 12 minutes a night last year with Dallas, Beagle the same in Washington. This is where they are at in their careers: Veteran depth forwards (29 and 33 respectively come November) who have a skill or two valued in the marketplace. Nothing more, nothing less.
Vancouver was obviously concerned about the state of locker room leadership following the Sedin exodus. Roussel and Beagle have been around a long time, and the latter now has a Stanley Cup to his name. Leadership is an awfully vague and ambiguous term, but I won't discount how long both of these guys have been around the game and the dividends that could pay for the younger players Vancouver is trying to bring through the system.
The offset is you now have two guys in front of younger players who will likely soak up minutes for a non-contending Vancouver team for a few years now. More problematically, neither is really getting results at this point in their career.
Let's look at where both players sit after last season's performance. Beagle, the signing from Washington, was a pure fourth-line option for Barry Trotz. He was deployed in defensive situations, perhaps more so than any other player in the league. That, of course, will have a detrimental impact on performance numbers.
Here is what Beagle's resume looks like (via Corsica):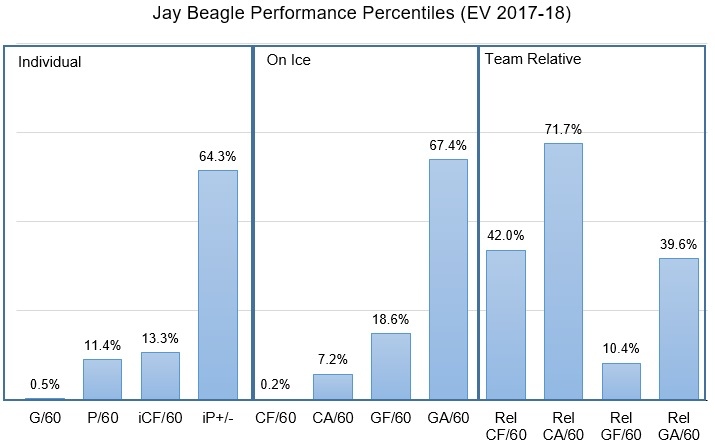 To say Beagle provides no offence would be an understatement. Beagle's individual scoring rates were as low as any player in the league (he had just seven goals last season, four of which came at even strength). Again, some of this is tougher deployment, but it's hard to explain away all of Washington's lifelessness with Beagle on the ice by saying he had a lot of defensive zone starts. But this isn't so much about Beagle's inability to produce as it is an entire team's inability to produce with Beagle on the ice. No unit in the league generated fewer shots per-60 minutes than any unit featuring Beagle, and more than 80 per cent of forwards saw more favourable goal rates.
Beagle is relatively better on the defensive end. Although 93 per cent of forwards – yes, 93 per cent – gave up less shots than Beagle per-60 minutes, the goal rates were much more favourable. Beagle finished in the 67th percentile there.
In the end, Beagle was -272 shots (39 per cent Corsi%) and -5 goals (44% Goal%) in the red last year. Pretty poor performance numbers with pretty difficult assignments, with a small bonus accredited to the fact that he can soak up some penalty-kill minutes for any team. A lot of the issues with him on the ice really amount to team inability to generate offence – if Beagle and company were able to break out of the defensive zone more frequently and sustain offensive zone time it's likely that all of their other performance measures would look better.
Let's move on to Roussel: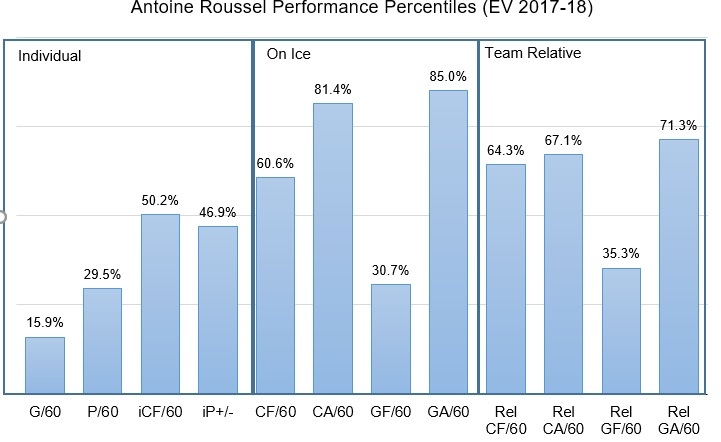 There's little doubt that Roussel is more of an impact player at this point in his career than Beagle. In many cases these are the type of numbers you'd love to see for any depth forward around the league. Roussel's individual point production is third or fourth-line calibre, but Dallas did quite well from a territorial perspective with him on the ice last season. Dallas generated shots and goals more frequently than the average team around the league with Roussel on the ice, and even within their team, Dallas was more threatening when Roussel was out there.
For context, Roussel's most common teammates on the year included Radek Faksa, Tyler Pitlick, Dan Hamhuis, Greg Pateryn and John Klingberg.
By season's end, Roussel finished +71 in shots (52 per cent Corsi%) and +1 goals (51 per cent Goal%).
They are two players in two completely different situations. Beagle's contract already looks like dead money. I know Vancouver is going to value what he can bring to the table off of the ice, but it's impossible to square that with a guy who simply isn't getting any results at this point in his career. Doubly so when you consider that he's barring at least one Vancouver skater from entering the lineup – his four-year, $12 million contract guarantees he's going to see significant ice time under Trevor Linden and Jim Benning's watch.
Roussel has a much more impressive resume – he looks every bit the part of a depth forward you would probably want to target and overpay if you were a legitimate contender who needed to fill out a couple of holes further down the lineup. Roussel has been effective for years now and had a quietly strong season for Dallas last year. There's little doubt in my mind that Roussel can make Vancouver marginally better next season.
The timing question remains, though. Why Roussel, and why now? Vancouver has no window for contention, and he and Beagle present hurdles for some of their younger prospects who may now have to spend additional time in developmental leagues.
Even if Vancouver is a better hockey team two or three years from now, Roussel will be well into his 30s and likely a far less effective player than what he is today. The timing and fit doesn't really make sense, even if Roussel has some real value.
Curious times in Vancouver.