Canucks' team defence well-prepared for Penguins test
Sidney Crosby and the Pittsburgh Penguins come to town Saturday with the Vancouver Canucks planning to counter their potent attack with a team defense that has served them well through the first 12 games of the season.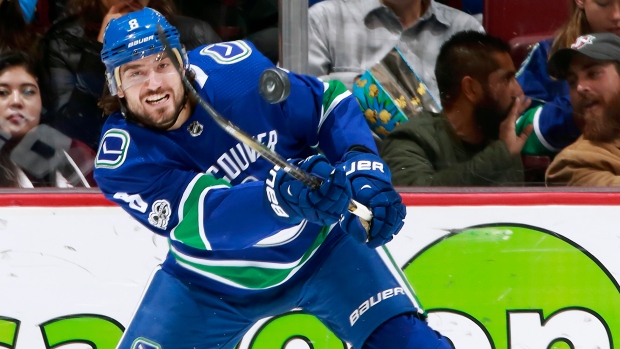 VANCOUVER – Already in the early stages of this National Hockey League season, the Vancouver Canucks have faced Art Ross trophy winners Connor McDavid, Jamie Benn and Alex Ovechkin – and survived to tell the tales. Truth be told, the Canucks have done more than hold their own against three of the brightest stars in the league, holding McDavid off the scoresheet on opening night while Ovechkin and Benn managed just single assists.
Tonight, the stakes go up as the Canucks test themselves against Sidney Crosby, who has an Art Ross himself to go along with a pair of Hart Trophies, two Rocket Richard Awards, and Conn Smythe honours in each of the past two seasons for leading his Pittsburgh Penguins to consecutive Stanley Cup titles.
Of course, the Penguins are more than just number 87. They roll into town with Evgeni Malkin, Phil Kessel, and Kris Letang to contend with too.
The Canucks, however, plan to counter that potent attack with a team defense that has served them well through the first 12 games of the season. Heading into action tonight, the Canucks sit second only to the Los Angeles Kings in goals surrendered (28) and third behind the Kings and St. Louis Blues in goals-against average (2.33). Vancouver is also second only to the San Jose Sharks in shots surrendered per game (28.8).
It's a far cry from last season when the team ranked in the bottom six in all of those statistical categories. And the Canucks are posting the impressive defensive numbers without the services of Alex Edler and Troy Stecher – both of whom have resumed skating after suffering knee injuries earlier in the season.
"The best way I can describe it is it's fun and I think everyone is having fun playing the games," said defensive stalwart Chris Tanev. "We're taking it to teams and we want to dictate the way the game is played. Obviously it's not going to happen every night, but that's how we'd like it. We want to get up the ice and push the pace."
The Canucks did that on Wednesday, launching 80 shot attempts and 37 shots on goal in a 2-0 loss to the New Jersey Devils. It was the way they want to play even if it didn't yield the result they were looking for. In their last six games, the team has outshot opponents 209-154. At even strength, they are controlling 51.7% of all shot attempts which puts them 11th in the league by that metric – a marked improvement from their 26th place showing last season (47.9%).
Brandon Sutter and linemates Derek Dorsett and Markus Granlund have embraced the role of shutdown specialists and will be charged with that task again tonight. Sutter knows the Penguins well from his three seasons there (2012-2015) and expects to see plenty of Crosby and Malkin throughout the night. Well aware of the firepower they possess, Sutter hopes to put the Penguins stars on the defensive and keep them as far away from the Canucks net as possible.
"We want to play with the puck," he explained. "We want to create offense and spend time in their zone and just worry about playing our game. If we do that, our defensive side kind of takes care of itself. We've been pretty sharp back there. If we spend a little more time with the puck, those guys usually don't want to play too much defense so we'll try to use that to our advantage."
A big part of the Canucks defensive success this season has been an improved penalty kill which ranks eighth in the league (84.1%). Aside from getting blitzed for four power play goals in Boston on October 19, the Canucks have surrendered just one power play marker in the six game since – a run in which the team has gone 4-1-1 and collected nine of a possible 12 points in the standings.
That penalty killing will have to be sharp on Saturday as the Penguins bring the league's second best power play to Rogers Arena.
"It's easy to say you've got confidence in your group – which we do – but we're playing the best team in the league for the past two years," said head coach Travis Green. "It's going to be a great matchup. It's not just Crosby. They've got another guy in the middle who's pretty dynamic himself. I like it. This is a really good challenge. I love it when as a coach your team has a big challenge in front of it. I think it's good timing to have such a tough game here. You learn a lot about your group when they're challenged and there is probably no bigger challenge than the Pittsburgh Penguins coming into town."
The past few seasons, the Canucks were spinning their wheels while the Pens were winning Stanley Cups. This season though, the Canucks feel much better about their chances of holding their own with a team all the others measure themselves against.
NOTES: The Canucks recalled goalie Thatcher Demko from AHL Utica on Saturday morning with Anders Nilsson's wife due to give birth. Injured defenseman Troy Stecher skated on his own for the first time since suffering a sprained knee in Detroit on October 22. His time frame for a return to the line-up remains at four to six week.