Capitals have Lightning in a precarious position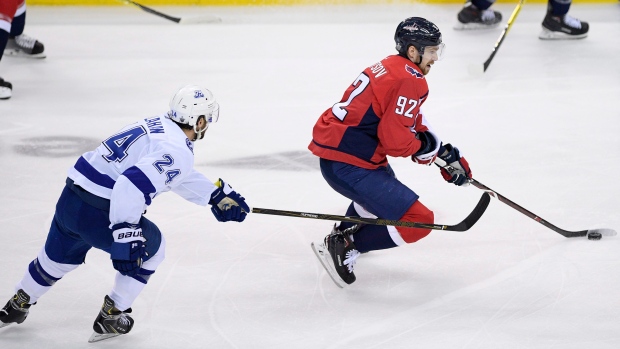 Even with a Game 3 victory in D.C., the Tampa Bay Lightning are in a precarious position.
That's not to say that Tampa Bay can't erase a 2-1 series deficit. Plenty of teams have done it. The concerning part is that they've been legitimately outplayed and outclassed by a Washington Capitals team many thought to be of lesser quality coming into the Eastern Conference final. Quite frankly, we haven't seen Tampa Bay play this poorly very often over the last three seasons.
That's not an exaggeration, and it's most noticeable at 5-on-5. Through the first three games, Tampa Bay has 27 per cent of the goals, 42 per cent of the scoring chances and 47 per cent of the shots. Maybe the goal numbers are a shade unlucky, but when you're getting outchanced and outshot by that type of margin, it's usually indicative of something – a matchup issue, a personnel issue, a workmanship issue, and so on.
To illustrate how infrequent this is, I graphed out the distribution of Tampa Bay's performance by those same scoring chance and shot attempt numbers over three-game segments in the last three years. Let's look at scoring chances first (via NST):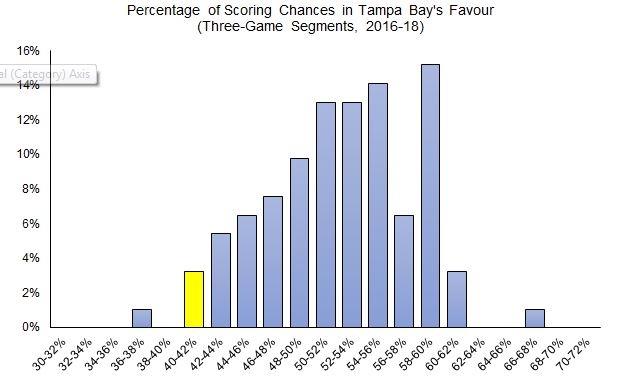 You can see that the average three-game segment sees Tampa Bay get over 52 per cent of the scoring chances. And sure, they have had a few rough patches during their run, but getting 42 per cent of the scoring chances – where they are through three games – is rare. Tampa Bay has only had five worse stretches during this interval, and almost all of those came in their injury-riddled 2016-17 regular season.
Shots aren't much better and reemphasize the point about being outplayed.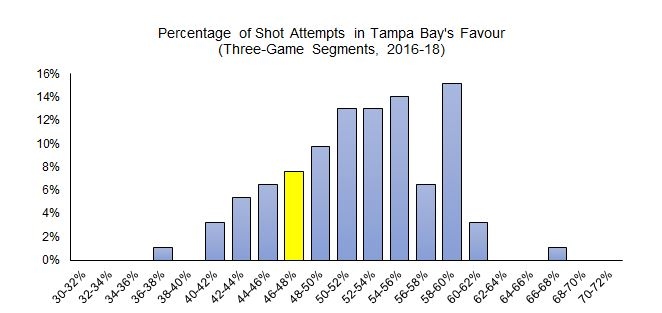 It's marginally kinder to Tampa Bay, but still a far cry from where they historically are. The average Tampa Bay team over the last three years has held 52 per cent of the shots. In the Eastern Conference final, they are hovering around 47 per cent.
The next logical question is: What's driving this? Washington is a quality team but their bread and butter, particularly in the last couple of seasons, has revolved around elite special teams and goaltending. Even strength, especially during the 2017-18 season, was never a strong measure by territorial standards. (At the end of the regular season, Washington owned 52 per cent of the goals, 48 per cent of the scoring chances and 48 per cent of the shots.)
I've been curious about the scoring chances in the series because the ice seems incredibly tilted. The below data tables show each player on the Lightning and Capitals by Chance% in the Eastern Conference final versus their regular season average. As you might suspect, most Lightning skaters are down. But what's interesting is how many are down by a considerable margin.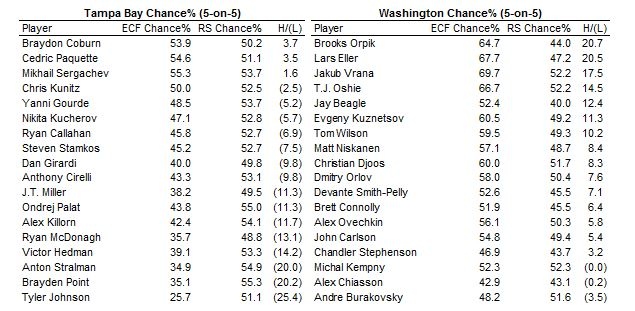 We're dealing with small samples here, but the reality is a playoff series is, at most, seven games and you just can't play poorly for very long. That's what Tampa Bay is looking at right now.
For starters, it can't be a good sign when so many of your key players – as is the case with Tampa Bay – are getting crushed at 5-on-5. Ryan McDonagh, Victor Hedman, Anton Stralman, Brayden Point and Tyler Johnson are (a) double-digit percentage points below regular-season averages; and (b) getting outchanced by a 60-40 margin or larger.
These are the players paid to make a difference. These five names alone account for about $31 million against the salary cap, or 40 per cent of all of Tampa Bay's expenditures. If they aren't moving the needle against Washington's best players, it's going to be the biggest reason why the Lightning don't rally back and claim the East.
The issue here is the fact that only four guys are breaking even by scoring chance measures, three of which really aren't players of material. Braydon Coburn is sixth amongst Tampa Bay defencemen in 5-on-5 ice time this series. Cedric Paquette has been the least deployed Bolts forward. Chris Kunitz is seeing only marginally more ice. It's good that these guys are holding up their end of the bargain, mostly against Washington's depth, but there just aren't enough goals in those limited minutes to steal a series from the bottom of the lineup. (Note: Mikhail Sergachev has been awesome and almost certainly the biggest difference maker, in a good way, for the Lightning.)
On the other side, you have all of Washington's big weapons – from Evgeny Kuznetsov to Alexander Ovechkin to T.J Oshie and so on – seeing heaps of scoring chances in their favour. Washington, despite being an average puck possession team during the regular season, managed to finish with the NHL's seventh-most productive offence. If you give these types of playmakers and shooters extra offensive zone time you're asking to be burned.
This is, as they say, why they play the games. I'm not sure anyone could have predicted this sort of ice tilt in favour of Washington a week ago, but the Capitals have owned just about every matchup possible. The only question now is whether or not the Capitals can hold on to this sort of puck dominance.
If Barry Trotz and company can repeat their magic over the next few games, we could finally see an Ovechkin-led Capitals team play in a Stanley Cup final.