Caps' Kempny could be one of best value trades in history
The February deal that sent the speedy defenceman from Chicago to Washington barely registered a blip, but Michal Kempny may turn out to be one of the biggest steals in recent NHL history, Frank Seravalli writes.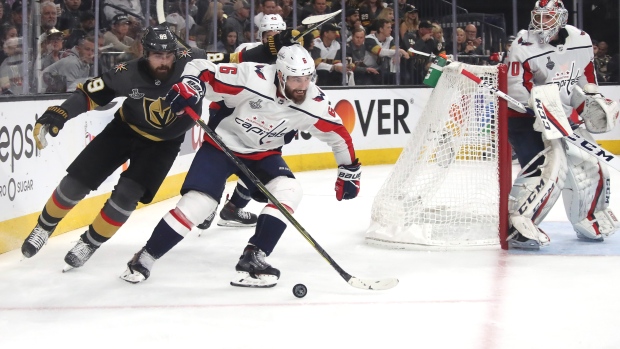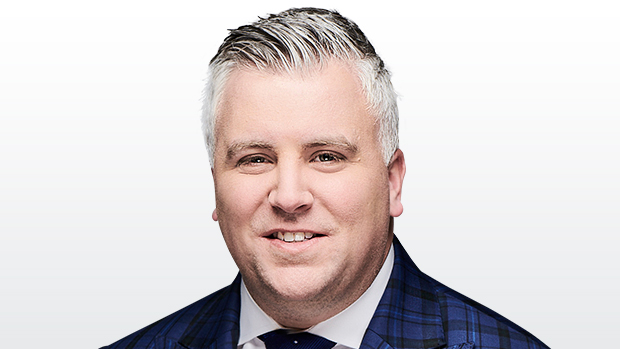 ARLINGTON, Va. — Barry Trotz admitted that when the Washington Capitals traded for Michal Kempny, there was no fist-pumping or jumping up and down in the coach's office. More like scrambling to find video of him.
"I'm like, 'Hmm, that's a little bit of an upgrade, not a big one,'" Trotz said. "You never thought about it being much of a deal."
There are under-the-radar trade deadline acquisitions, and then there is Kempny – whose trade from the Chicago Blackhawks for a conditional third-round pick on Feb. 19 barely registered on the SportsCentre ticker.
But when it's all said and done, if the Capitals hoist the Stanley Cup, Kempny may turn out to be one of the best value buys in recent NHL history.
The speedy defenceman has skated alongside John Carlson in Washington's top four from virtually the moment he arrived.
"It's been huge," Trotz said. "He's come in seamlessly for us. He's played big minutes against top players, be it the Malkins and the Crosbys, and he's done a really good job. He's one of those players that is effective – efficient, effective, gets it done."
The Capitals are 29-16 since the trade and the rest of the NHL knows his name now. Kempny, due to be an unrestricted free agent on July 1, was a hot topic among teams at last weekend's NHL Scouting Combine in Buffalo.
"I think he's a big part of our evolution to another level," Carlson said. "About two to three weeks after the deadline, we started evolving ourselves and getting better as a team and that was kind of the same point he started getting comfortable."
It's a turn of events that has shocked even Kempny, who requested the trade from Chicago after languishing as a healthy scratch under Joel Quenneville.
He was already plotting his route home to Europe, brutally honest in saying that he was unsure if he could hack it in the NHL.
"The trade probably saved me," Kempny said. "When you don't play 13 games in a row, you just work out and skate, you don't feel like a part of the team. I felt like the last warm body on the bench. You feel like nothing."
The amazing part of the Kempny story is that he even made it to the NHL. He grew up in small town Hodonin, Czech Republic, and made a nice quiet living for himself playing six seasons in the top Czech league. Kempny played in the World Junior Championship in 2010, but wasn't on anyone's NHL Draft radar.
Kempny tried his hand in Russia's KHL in Omsk for one season. He caught the eye of the Chicago Blackhawks, who brought the undrafted free agent over to North America to make his NHL debut last season at the ripe age of 26.
There are roughly 240 defencemen in the NHL. It's a small fraternity. Carlson has played in the league since 2009, but he too had no idea about Kempny. Carlson was curious, so he had the Capitals' coaching staff pull video of Kempny's games with the Blackhawks.
One thing jumped out to Carlson: "His speed is amazing," he said.
"The assets that he brings are modern," Carlson said. "I think he's got a lot of room to grow, too. He's just getting comfortable. He hasn't been over here too long, even though he's not a young guy."
Kempny, now 27, complements Carlson well because he makes his life easier. He helps with puck retrievals so Carlson can play more aggressive. Kempny's gap control is in symphony with Carlson and the two transition the Caps up the ice with ease.
Both Trotz and Carlson said the style the Capitals play is vastly different than Chicago, which is maybe one reason why Kempny has flourished.
"He's a really good pro," Trotz said. "He moves the puck. He's such a strong skater. He's one of those guys who really works at his craft. I think the way we play, his diligence on learning how we play, I think it's given him some freedom in some areas."
Kempny is averaging a career-high 17:40 per game with the Capitals in the playoffs and he's even chipped in with the odd goal, his first in the Stanley Cup playoffs in the third round against Tampa Bay. He scored just five goals in 103 career NHL regular season games.
"He's jumped in some great holes and he's gotten some of the best looks on the planet," Trotz said. "That's something he's added to his game more so than being in Chicago."
Yes, Kempny is a long way from Chicago, where the Blackhawks are now in the dubious position of potentially supplying two missing links to the last three Stanley Cup champions if you include Trevor Daley. Both Daley and Kempny never earned the trust of Quenneville, necessitating trades.
"I just knew it wasn't working," Kempny said. "I never played in Chicago against top lines. I didn't know if I could play against them or not. But I got a chance here, so I proved to myself that I can play against top lines. That's a really good thing for my confidence."
His long road here is why Kempny, as humble and honest as you could find in today's NHL, is savouring this taste of success. There is not one moment he takes for granted.
"I'm really appreciative," Kempny said. "Especially [because of] those bad days in Chicago. I didn't know what to do. I lost completely my confidence. If I stayed in Chicago, after the season, who knows?"
Contact Frank Seravalli on Twitter: @frank_seravalli