Casey explains Johnson's absence from Game 1
The crowd during Game 1 at the Air Canada Centre was chanting for coach Dwane Casey to put James Johnson into the game. But the coach chose not to. As TSN Raptors reporter Josh Lewenberg explains, it's a tough situation for both the coaching staff and the player but both understand exactly what Johnson's physical role is as the playoffs continue.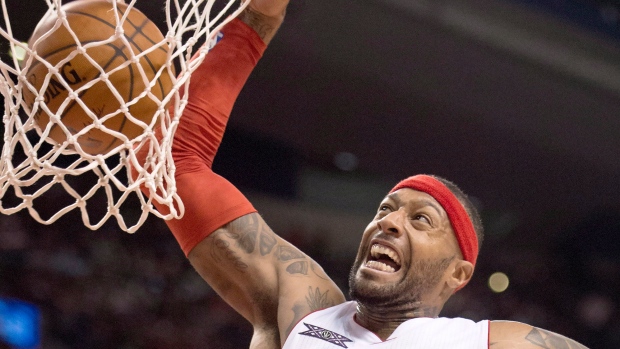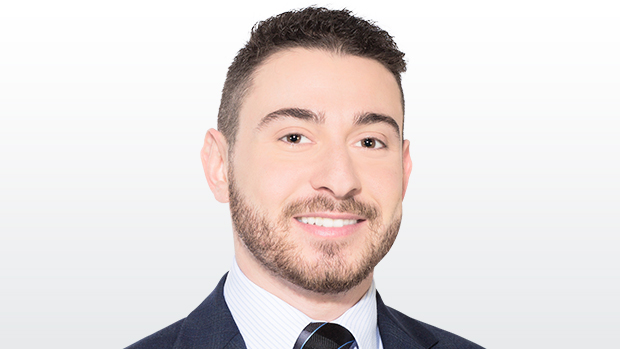 TORONTO - The sold-out Air Canada Centre crowd was getting restless as the Raptors fell behind by 15 points in the fourth quarter of Saturday's Game 1 loss to Washington.
Villainized vet Paul Pierce had turned back the clock, feeding off jeers from the home fans to kill most of the early buzz in the building. Meanwhile, to the dismay of the Raptor faithful, Toronto's red-haired, neck-tattooed cult hero remained glued to the bench.
So they began to chant. At first it was muffled, unclear who exactly they were clamouring for. But before long it had gained enough to steam to be heard around the arena, even from court level. Dwane Casey heard it. His players heard it. James Johnson heard it.
"We want James," they shouted.
"I did [hear it]," said the Raptors' beloved reserve forward. "I did. I did. I love our fans. It gave me a warm spot in my heart. I got the chills a little bit."
"At the same time, I don't want that to affect guys on our bench or guys that are playing in the game, distracting them from what they're doing out there. It's nice of them to do that. I really appreciate it. But, cheer for the Raptors."
Why didn't Johnson see the floor that afternoon?
Aside from the sporadic fourth-quarter usage of Jonas Valanciunas, nothing has perplexed Raptors fans quite as much as Johnson's fluctuating playing time throughout the season. Just about everyone has taken issue with it. Everyone except the player himself.
"There are some games where we need his physical ability and then there are some games where we don't," Casey explained on Monday, the eve of Game 2.
"He's kind of caught in between with us. It's tough and I give James [credit]. It's a very difficult situation for him to be in but it was explained to him when he first [signed] here that that was kind of the role he was going to have. And he's handled his role great. Throughout the whole year he's handled it great."
"Match-ups," Johnson said. "I'm here for match-up problems. I'm here for the long season. When Kyle [Lowry] got hurt or DeMar [DeRozan] got hurt, those were when I had opportunities to play a lot. I'm the fill-in. And I'm okay with that."
Whether you agree with it or not, this is how Casey and the Raptors see Johnson. He's a situational player on this team, as Casey reiterated following Game 1.
After being exposed by Nets forward Joe Johnson in the playoffs a year ago, the Raptors added Johnson to give them a physical presence on the wing this past summer. Johnson wasn't brought back to be a star. Casey and GM Masai Ujiri had met with him, explained the role they needed him to fill and unlike his first stint in Toronto he fully bought in.
Pierce would appear to be a favourable match-up for the 6-foot-9, 250-pound Johnson, especially when Wizards coach Randy Wittman shifted him to the four early in the second quarter. The Raptors anticipated Washington's small ball and according to Casey, Patrick Patterson was their first option to guard Pierce in that scenario, Amir Johnson was the second - both versatile and capable defenders. James was third in line.
"They went small," Johnson said. "[Casey] is going to stick to his principles. He continued playing big. Pierce went on a little rampage. At first we were containing him well. That's hard to do on a guy like that. We had to go small. I'm not the greatest at [playing] the four, running the plays - the [offensive] aspect of the game. It's kind of hard for a coach to tell me to be here, screen here, come do this, and then [there is] a 24-second shot clock. I understood."
Johnson has not taken to playing the four as much as they had anticipated early in the season - he spent most of his time working as a three-man in training camp. With Terrence Ross back in the starting lineup and the Lou Williams-Greivis Vasquez duo backing up Lowry and DeRozan, Johnson is often the odd man out.
At best he's their ninth man. Right now, with Tyler Hansbrough starting and logging regular playing time in the frontcourt rotation, Johnson is their 10th. The reality is, it's not unusual for the ninth or 10th man on just about any team in the NBA to get inconsistent playing time, or even receive the occasional DNP-CD (did not play, coach's decision). The question is - and it's a fair one - should Johnson be higher in the Raptors' hierarchy?
As Casey alluded to, Johnson has a very specific skill set. He can power his way into the lane and finish at a high percentage. Thanks in large part to his strength and athleticism, he is one of their best one-on-one defenders and can guard multiple positions on the perimeter. Where he gets into trouble defensively is when he over-helps, gambling off his man and throwing off their scheme. Offensively, he's limited outside of the paint - shooting the three-ball at a 22 per cent clip this season.
For that reason, there's more to it than simply saying, 'give Johnson Terrence Ross' minutes or 'give him Vasquez's'. The coaching staff has to be conscious of who else is on the floor with Johnson to ensure there's a fit on both sides of the ball. For instance, a tandem of Johnson and DeRozan on the wing hurts the team's spacing.
"There's a lot of factors that go into it," Casey said. "It's not just putting one player in the game and saying 'okay, voila, let it work'. It's a lot of things that go into that."
"We've got to be smart with who plays... Those [other] things are [important], other than just the one dynamic skill set that the guy has. A lot of it comes down to what else we need besides that."
Johnson is a dynamic player, which is one of the reasons he's been so universally embraced amongst the fan base. His best moments are big, thrilling plays - a highlight-reel slam, a vicious block or opportunistic steal. His lapses, his mistakes - especially on the defensive end - tend to go unnoticed by most of the observing public. But the coaching staff is keeping track - of the good and the bad.
Casey and Johnson had butted heads over the forward's role during his initial tenure in Toronto but both insist that's water under the bridge. Johnson has matured, something he credits to fatherhood and they both appear to be on the same page.
"I actually have the best relationship with him of any of my coaches thus far in my career," the 28-year-old said of Casey. "It's definitely nothing [wrong] with [our relationship]. Like I said, it's his decision, wanting to win. And he's going to stick to it. He always has. He always will."
"There's going to be a time for him," Casey insisted. "I'm not going to say when it's going to be. It's not me being stubborn. It's a collective decision by our staff. It's a whole team decision. I'm not trying to be stubborn, saying 'hey, we're not going to play James Johnson', no. It's a strategic decision. We understand what we're doing."
Casey also the heard the chants for Johnson on Saturday. He said he loves the team's fans but knows he can't allow them to fill out his lineup card.
"I remember one game," he said. "It was a five-point game and everybody was [yelling] 'get Bruno [Caboclo] in the game' and Bruno was in street clothes. I wanted to turn around and yell 'I can't put Bruno in because he's in street clothes'.
Not surprisingly, the head coach wouldn't indicate whether Johnson will be a part of the game plan for Tuesday's sequel. As for Johnson, he plans on preparing the same way as he always does, staying ready just in case his number is called.
"I want to win," he said. "If I'm not [playing], I want to cheer for my team to win."