Cautious optimism in Ottawa following arena meeting between Melnyk and mayor
Senators' owner appears more open to working with the city and developers on the downtown project following the much-anticipated meeting on Friday, Ian Mendes writes.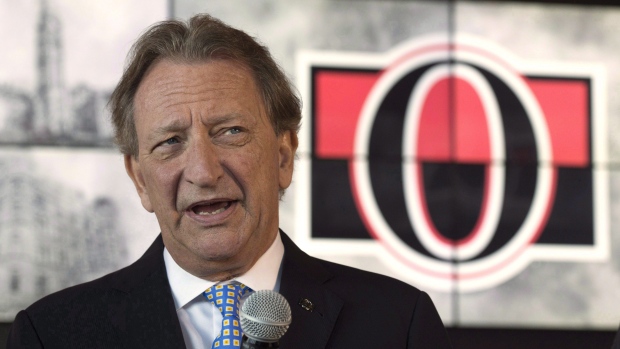 Ottawa mayor Jim Watson knows Eugene Melnyk has taken his fair share of criticism in this market over the past few months.
So to break the ice in their much-anticipated meeting on Friday, the mayor told Melnyk he knows exactly how the embattled Ottawa Senators owner is feeling.
"I was teasing Eugene about the potshots he takes," Watson told TSN 1200 on Friday afternoon. "I said, 'Welcome to my world. You have to develop a thick skin.'"
It took four months for this meeting to materialize after Melnyk publicly showed apprehension about his intention to move his hockey club into a downtown location at LeBreton Flats while speaking to season ticket holders at a town hall meeting in April.
That news did not sit well with Watson, who was prompted to say one week later, "If he's constantly hedging his bets, he'd better tell us."
On Friday, Watson finally had his chance to ask that question directly to Melnyk.
"I asked him, 'Are you serious about this?' He had mused about that in the past," said Watson on Friday.
For his part, Melnyk seemed to change his tone on Friday – appearing more open to working with the city and developers on the downtown project.
To the surprise of many, the Senators owner spoke to a group of reporters at city hall and seemed genuinely optimistic about the team's future in Ottawa with a brand new arena at LeBreton Flats.
"It's not changing my mind. It's a fluid situation – that's all," Melnyk told reporters after the 90-minute meeting that also included local land developer John Ruddy.
"The one thing that is constant is that we're here to stay in Ottawa for a very, very long time. And we want to make sure the LeBreton project, if accomplished, is a success for many, many years – for our children's children."
Melnyk's comments on Friday were a far cry from the statements he made during his last media session in Ottawa in mid-December prior to the Senators outdoor game, where he cast doubt about this market's ability to support an NHL franchise.
For his part, Watson seemed equally hopeful about working together with Melnyk in the months ahead and shared the owner's optimism.
"In a nutshell, I thought it was a good meeting and positive," Watson said on Friday afternoon. "I left feeling more confident Eugene wants to move the arena downtown to LeBreton Flats.
Watson did lament the fact that it took so long for the two sides to get into the same room.
"I wish the meeting happened sooner," he said.
Watson – who says he was "polite, but blunt" with Melnyk in their Friday session – says the two sides are planning to get together again in November.
In an ideal world, the government hurdles – which include a federal element because the proposed land belongs to the National Capital Commission – could be cleared by next spring.
According to Watson, shovels could go into the ground for a new arena and re-development of LeBreton Flats as early as next June.
At a town hall meeting with season ticket holders on April 11, Melnyk seemed hesitant about his intentions to move downtown.
"It's a very difficult — much more than I thought — very difficult process, and it's not the NCC that is holding it up. They've actually been very, very good throughout this whole process. The problems we are finding, they are much more complicated than I could even start to describe to you. It's a huge project with tremendous risk," Melnyk said at the town hall.
"I'm a risk-taker. This one is really rolling the dice, and if we're wrong, we're really badly wrong."
On Friday, the Senators owner admitted that issues still remain with the process, but said he didn't see them as insurmountable.
"There are some hurdles that have to be overcome and we look at those as challenges as opposed to obstacles," Melnyk added. "With the mayor's leadership here, I have more confidence than ever that this is going to go forward."
On the issue of funding the proposed project, Watson was crystal clear in his message to the hockey club – saying they will need to come up with the funds for a new downtown arena.
"We don't have the tax dollars to use to buy or lease an arena. That's the responsibly of the private sector," Watson said.
Melnyk appeared to accept the fact that his group will have to shoulder a major portion of the arena funding.
"We are fully capable of funding what we need to accomplish," Melnyk said.
After months of speculation about the state of the relationship between the hockey club and the city, Friday's meeting at least appears to have the two parties in a state of cautious optimism.
"We all have to be rowing in the same direction. There are a lot of cooks in the kitchen here," Watson added. We gave each other some tasks to do and we'll meet again in November. This can't drag on forever and ever."