Celebrating curling's version of the Hail Mary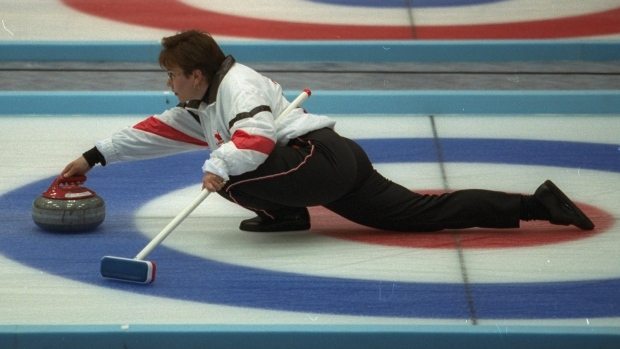 Sometimes, all they've got is one final rock and not much more than a prayer.
Facing long odds and, in most cases, a wall of granite, the best curlers playing for the biggest titles are often left with just one last wild, multiple-rock, multi-angle combination to try and alter the outcome of a game.
It's curling's version of the Hail Mary and it provides the chance for a thrilling conclusion to a contest that many never saw coming. Rocks make contact, then scatter and spin off in all directions. When they've come to rest, we shake our heads and wonder how what we just saw is even possible.
Shots like this don't turn out successfully all that often, but when they do, they can become an indelible part of the game's fabric and alter much more than the final score.
"You look back at it now and look at how much our lives changed to become Olympians and then go and win a gold medal and how that really does change your path in a number of different ways," said Joan McCusker. "Definitely I look back at it now and think 'Thank God you made that shot.'"
McCusker is referring to one of the most memorable rocks thrown in the long history of the roaring game. Twenty years ago, in the final of the first Canadian Olympic curling trials, the late Sandra Schmirler delivered her last rock of the eighth end, re-directing it off another stone barely in play on the edge of the sheet and into an opposition stone in the four-foot to score three.
It didn't win the game but it certainly played a major factor in the outcome. Rather than a sure steal of one and a two-point lead, opponent Shannon Kleibrink was left trying to rally her squad to come back for the last two ends.
Buoyed by her dramatic shot, Schmirler's team, on which McCusker played second, went on to win 9-6, earning the right to represent Canada at the Nagano Olympics where it became the first women's rink to win gold.
Schmirler's toss is one of a handful that stand out for its long-shot possibilities and for how it dramatically changed the course of a game, taking what seemed to be a looming loss and turning it into a stunning win.
These big shots, while all unique, share some common characteristics beyond the massive amounts of granite they seem to get moving. They often involve multiple rocks, feature big weight, require extreme precision and, strangely enough, come as a result of some poor play.
As good as Schmirler's final rock was, the only reason she was throwing it was because of how awful the team played ahead of her.
"People forget that we missed seven shots in a row in the eighth end of that game," recalled McCusker. "That just didn't happen on our team. Usually when somebody stumbled, somebody else picked up the slack. We were in a heap of trouble before [that shot]."
That was the same situation facing Brad Gushue in the 2015 Tim Hortons Brier. In the last end of a round-robin contest against Alberta's Kevin Koe, the Newfoundland and Labrador skip was looking at two opposition rocks sitting behind cover on the four-foot.
"We were in a bit of rough shape early in that end and then I missed my first one," recalled Gushue, "and then we were in real bad shape. After [my stone] I wasn't even sure I'd have a last shot."
All he was left with was to run a guard well in front of the house back onto one of his own, sending it into the two Alberta counters. He hit it perfectly and the Koe stones spun out of the four-foot, leaving him sitting shot and giving him the victory.
"To be honest, even when I threw it, I wasn't sure it was there," he said.
In many situations, the Hail Mary is not just a high-risk option, it's the only option; there's simply nothing else left. At other times, it can be a decision of how big a gamble a team is willing to take.
"In some cases, it's the last shot of the game and you don't have a choice," said Jennifer Jones. "In others it's a risk/reward scenario. You look at the scoreboard and you look at where you are in the game and whether the risk it worth taking and how good you feel about making it."
Jones made what is perhaps the most dramatic final rock in curling history. In 2005, with her final shot in the 10th end of the championship game of the Scotties Tournament of Hearts, she played a very tough in-off to remove a stone buried on the four-foot. That gave her four points and an 8-6 victory.
"I can go there still right now," Jones said of the memory. "The smell of the arena, the feel of the ice... It was a dream come true, a moment I'd dreamed of my entire life. Just to be in that situation to win a Scotties. The one thing we made sure we did was make sure we didn't rush through the moment."
That is another commonality of the Hail Mary: The throwers all try to focus on the execution and put the possible outcome out of their minds. While the odds of success are long, they can be hampered by a nervous slide or a thrower who builds up the shot too much before it's delivered.
"You try not to think about whether it's made or whether it's missed," stated Brad Jacobs, who lists a 10th-end, last-rock, double run-back to score two against Kevin Martin at the 2013 Olympic curling trials as his personal favourite Hail Mary.
"Those are the types of things that when they creep into your mind will actually hurt you. Do what you can to focus on executing a good throw and a good line call and a good sweep and if you can combine all those, you'll most likely make it."
Jones may be the one outlier on this. She loves to live in the moment and think about the magnitude of the shot and what it means for the team. She said she still concentrates on the fundamentals of her delivery, but doesn't want to miss the excitement of what's at stake.
Strangely, when it comes to important shots, the Hail Mary usually causes fewer nerves than others. While it's often a shot to win the game, the long odds mean a miss isn't that disheartening.
"I actually feel less nervous on those than if I had a draw to the eight-foot," said Gushue. "The reason is there's such low expectations that you're going to make it. You just get in the hack, throw it as good as you can, throw it at the broom, throw the right weight and see what happens."
"The thing about those kind of shots is that if you miss, nobody will say you choked," said Al Hackner. "If I hadn't made that shot, nobody would probably have remembered I even threw it."
That shot to which he's referring is often considered the biggest in Brier history. It wasn't as complicated as some of the big shots played these days – it came in 1985, before the free-guard zone – but the degree of difficulty and dramatic turn of events it caused make many refer to it simply as The Shot.
"People still talk about it all the time, still bring it up," Hackner said. "I think I'm known as much for that shot as I am for the two world championships I've won."
In a boring, defensive final, Alberta's Pat Ryan appeared to have won the Brier after his last shot in the 10th end, even walking down the ice with his broom held high in the air.
But Hackner played an almost impossibly thin double takeout to score two points sending the arena in Moncton, N.B., into bedlam. While many fans still think of that shot as a Brier winner, Hackner's Northern Ontario foursome had to steal the next end – no small feat against Ryan's smothering defensive foursome – to win the Tankard.
Something else stands out about Hackner's famous shot – it was hard, but not necessarily impossible for almost any player.
"I've always said that shot could be made by the average curler. Not sure about today's big [shots]," he said.
Today, most of the Hail Mary shots thrown involve complicated angles, knowledge of how the rocks will react when they're hit, and an idea of the ice and perfect execution. A skinny double these days might not even make the TSN Highlight of the Night.
Not only do the throwers believe they can make almost anything these days, when you're the team watching the Hail Mary being played against you, it's almost expected it will be successful.
"Everyone is so good now. Everyone has been good for a few years now," stated Jacobs. "The more experienced you get in the sport and are in some big situations and some big moments, you're almost certainly telling yourself, 'This guy is going to make this.' You're almost preparing yourself for the disappointment if they do make it and if they don't, well, it's almost a surprise."
Twenty years ago, when Kleibrink was considering the options on her last rock prior to Schmirler's now famous throw, it was a different story.
"Back then, we didn't even think of covering that shot," she said of the lone stone way out in the wings. "We missed it but those weren't shots that were made very often that many years ago. Now, you have to cover that shot; it's a routine shot. That's how much it's changed."
Kleibrink, who is skipping Alberta once again at this year's Scotties, estimated that today, the shot Schmirler played would be made nine of 10 times. But back in 1997, she figured the odds were more like one in 10.
"Except for Sandra," Kleibrink corrected with a chuckle. "She was such a good player, she was always close. That one was right on the money. When she let it go, I remember thinking, 'Uh oh.' It looked like she had it made right out of her hand."
Kleibrink will likely face a few more game-changing shots at the Scotties this year. Will any have the impact of Schmirler's or Jones's? In curling, there's always a chance the next great Hail Mary is just a stone's throw away.